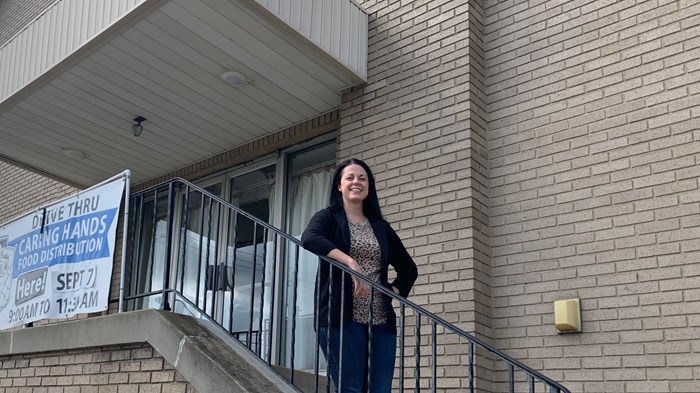 Image: Photo by Emily Belz
Election Day is on Tuesday for many local races, if not national ones, and one town of about 5,000 in northeast Ohio will be electing a mayor. In February, East Palestine was the site of a fiery train derailment of cars that sent hazardous materials into the air, dirt, and water of the town. The disaster brought the small town into the national spotlight, and the cleanup of the town is ongoing .
The current mayor, Trent Conaway, has been the face of the town's response to national media and ran unopposed in the last election. On Tuesday he will be facing off with Misti Allison, a 35-year-old Christian who works in software marketing and is a wife and mom of two. She already serves on East Palestine's library board and on the community advisory board for a scientific study in the aftermath of the explosion. Earlier this year, Allison testified in Congress about the shortcomings of the derailment response.
Allison and her family attend First Church of Christ in East Palestine, the largest church in town and the only one with a full-time pastor. The church has been a staging ground for some of the derailment relief efforts, providing heavy duty air purifiers to the town's residents as well as free legal clinics. CT spoke with Allison at her church back in September when signs were first appearing in yards for her mayoral run.
You and your family decided to stay in East Palestine after the derailment despite the unknowns about the air, water, and everything else?
Home is home, and we have so many roots here. We love East Palestine. We love our house. We love our family being here. We love the neighborly feel. We love our church. My husband coaches youth sports.
How are you feeling about the different reports about whether everything is okay in town?
It's mentally exhausting and spiritually exhausting, because there's so much data out there. And it's so conflicting. It makes you second-guess everything. Everything is fine, but then you or your family members start getting some symptom, and you think, Is this just allergy season? Is it something that's going on in your environment?
I've learned so much in 2023 that I never thought I would care to learn, about trains and what they're carrying and railway safety and dioxins and all of these chemicals. I've learned this year that children are far more susceptible to some of these environmental impacts because they breathe more per minute than adults. Their little bodies are still growing. It is a very big responsibility as a mother to make these decisions for your family. It is very daunting.
Your family's health is good?
My daughter has had a couple of mysterious rashes and had to go to the doctor for that. My son has had sporadic nosebleeds, and he never had nosebleeds before. Overall, we are okay. But there is always that worry. I'm participating in all of the different studies. I've got my blood tested and analyzed. I wore wristbands to test for different environmental exposures.
Did your faith have anything to do with your decision to run for mayor?
This is something that wasn't on my 2023 personal professional development plan at all. And I'm very much more of an introverted person, but I really feel called to do this. God doesn't call the qualified, he qualifies the called.
I have a market research background—that's what I did at Cleveland Clinic for seven years. What you do in market research is you hold the megaphone for people. And so I feel like that's essentially what I'm doing here [in a mayoral run]. I have my own opinions, but I take it very seriously, trying to represent all of the people and all their concerns and opinions. I pray a lot about what to do or not to do.
I also believe in contested elections. The mayor ran uncontested the last time. And women should be equally represented in some of these leadership roles, and they're not.
What events led you to the moment where you decided to run for office?
We're attending church here [at First Church of Christ]. And this has been a very big hub for the train derailment, because this is a small town.
During all this train derailment stuff, my mom passed away in March of cancer, and when you're a caregiver for somebody with cancer, it really opens up your eyes to how devastating that can be. When some of these chemicals can be linked to cancer, you don't want that to happen to anybody else. I don't want our community to be a cancer cluster if we can prevent it.
A lot of the times it's like, "Hey, you have this cancer cluster," and then the EPA [Environmental Protection Agency] will come in and try to figure out what was causing it. But we have a great window of opportunity here because we know what happened from the very first hour and minutes that it happened.
My dad passed away six years ago; he committed suicide. And that was very unexpected. So mental health is a big focus for me in my life too. This derailment has been such a huge trauma for the community. The mental health aspect of the train derailment and this catastrophe is very top-of-mind too.
God has put a lot of different circumstances in my life to really equip me to be able to handle everything that's going on.
What resources have you found to cope with this last year?
I recently started going to GriefShare. I would recommend that for anybody. It's faith-based as well. We attend church here and have a very strong support system through the church.
What do you want the rest of the country to draw from the train derailment?
I don't want this to happen to any other community. But let's face it, it probably will happen at some point. And so hopefully at least some good can come out of this.
I firmly feel that residents should have known what was on the train that night and the dangers. I was under the impression that our government did not know until days later what was really on the train. And then during the NTSB [National Transportation Safety Board] hearing in June, I came to find out that they did know that evening. And I am very mad about that.
That choice was taken away from my family and hundreds of other families—maybe even thousands of other families in the area. If I would have known exactly what dangers were on the train that night, I would have woken up my kids out of bed, and we would have left on Friday night. But I don't fault any of the local leaders; no one could have ever dreamed that this [disaster] is what could happen.
The mayor is the one that was connecting with the media, communicating information out. And I think that that is something that I am uniquely qualified to do based on my education and my work experience.
Have you seen people in town address the difficult parts of the last year together?
Empathy needs to happen more, because there's two very big schools of thought in town—one where, This happened in February, and we need to move forward. And then there's other people on the opposite side that say, How can you move forward?
This community is extremely focused around the kids, and where I have seen the community come together has been around kids. There's so much more about this community than just the train derailment. Last week was the first home football game. And that was very fun.
But anything with the train derailment is very polarizing. We all need to be able to love our neighbors and be supportive. It can be fine at your house. But that doesn't mean that, a mile or two down the road, you don't have some neighbors and friends that are suffering. I think both of those things can be true.
This interview has been edited for length and clarity.