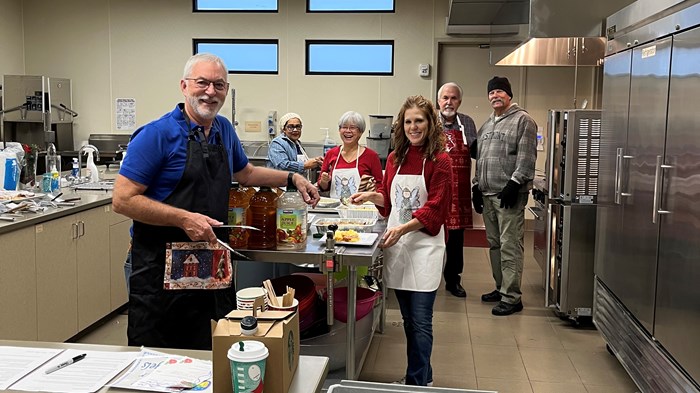 Image: Courtesy Modesto Covenant Church
Did someone say Jell-O salad?
This is the time of year when families pull out their stained recipes to make crowd-pleasing casseroles, cakes, and cookies. Some of those favorite recipes come from church cookbooks, compiled by women over the decades since the 19th century.
These spiral-bound collections of recipes have been a staple in church culture, documenting the tastes and traditions of their communities over the years. But now, as cookbook enthusiasts age, the victual volumes are disappearing.
Tallowood Baptist Church in Houston used to print cookbooks filled with recipes for sheet cakes and soups, and members would make the dishes in a potluck to share. But it's been eight or nine years since their last edition.
"The people who were dedicated to the project are no longer with us, and no one has thought of doing another cookbook," said Joy Cryer, a church librarian at Tallowood.
It only takes one enthusiastic person in a church to compile recipes from members, but the internet has changed the way people cook and gather recipes. And Americans of all socioeconomic statuses generally cook less than they used to.
Though the church cookbook tradition has declined, it might be too early to declare it over. CT surveyed 22 church librarians, and more than a third said they knew of churches that were still printing cookbooks.
In Oshkosh, Wisconsin, 84-year-old Mona Schultz attends Plymouth Church, a nondenominational church of about 250. She wasn't sure if anyone cooked much anymore, or if there would be interest in doing a church cookbook. She asked a young women's Bible study at her church what they thought of the idea.
"I'm 84, I'm out of touch," said Schultz, who has been going to the church since 1948 and has sung in the choir for 60 years. "They were very interested! They wanted recipes from us old timers that were tried and true."
Now she is putting together a cookbook for her church's 175th anniversary next year, titled A Demisemiseptcentennial Treasury of Recipes. One woman in their church always made an appetizer at Christmas, but she passed away recently, and so her appetizer recipe will be included. There are more contemporary dishes, too, like pulled pork BBQ. Schultz is putting photos of the recipe contributors with each recipe and stories throughout.
"Enjoy good eating, not only from your kitchens, but choice spiritual food, daily, from His Word," Schultz wrote in her draft introduction.
Church cookbooks began in the Civil War primarily as fundraisers, where women were raising money for the families of fallen Union soldiers. They were mostly popular among white churches in smaller towns, historian Megan Elias told MinnPost.
Church cookbooks started declining as early as the 1970s, as women were spending more time outside the home, according to Kendall Vanderslice, a baker and scholar who has written books on food and theology. Prior to that, the cookbooks might be "the only place [women] were ever going to see their name in print," she said, and so a recipe was a legacy for many church women. Vanderslice also attributes the decline to the growth of megachurches, which are less likely to produce cookbooks.
Carlisle Printing in Sugarcreek, Ohio, has historically printed cookbooks for churches, and said they still print thousands a year for churches around the country.
"I would say, if anything, it has increased in the last ten years," said Rachel Wengerd at the printing company. Most of their customers now are Amish or Mennonite, customers who cook every day and might not have easy or ready internet access. But Carlisle prints cookbooks for other denominations too. The books now tend to be full color with photos instead of black-and-white, she added.
Vanderslice, 33, began a project on Instagram this fall where she is cooking through more than 100 church cookbooks from every state to document regional and denominational similarities and differences.
The project came about because Vanderslice's grandfather spent most of his career as an interim pastor at various churches. As he bounced from state to state, his wife amassed a large collection of church cookbooks, which she eventually gave to Vanderslice.
Vanderslice began the project by making her grandmother's cinnamon roll recipe from Richardson Heights Baptist Church's 1991 cookbook titled Justified Temptations. Her grandmother would serve the cinnamon rolls at Thanksgiving and Christmas. The recipe was delicious, she said, and transported her to Christmas memories.
So far, Vanderslice's other favorites are a crab casserole from a church in South Carolina and an apple cake from a church in West Virginia. She's dreading making tomato aspic, a gelatin molded vegetable dish, but feels a sense of obligation because it appears in so many church cookbooks.
Though people think of church cookbooks as personal recipes, many post–World War II church cookbooks have recipes that originated from food companies like Campbell's or Jell-O or Betty Crocker's radio show, Vanderslice said. Casseroles and "salad" recipes tend to be the same across cookbooks, she said, which is usually an indication that Campbell's or Jell-O developed the recipes.
But contributors still put their own mark on a recipe, which can be seen when a church prints multiple versions of the same recipes with only slight deviations. One cookbook Vanderslice found had two recipes for Watergate salad—a whipped cream and pistachio pudding dish with pineapple and marshmallows. The recipes were identical, except one called for crushed pineapple with the juice, and the other called for crushed pineapple and in all caps said, "DRAIN THE JUICE."
"It's fun to see that church lady drama play out in the book itself," said Vanderslice.
The cookbooks also say something about the "assumed rhythms of church life," Vanderslice said, by including recipes like punch for bridal showers. Since most cookbooks were fundraisers, the book usually says what they're raising money for, like a church steeple or mission trip.
Schultz in Oshkosh used the cookbook space to tell stories and church history. Plymouth Church began as a Welsh-speaking church, so Schultz plans to include its Welsh history and a Welsh tea cake recipe. And on one page, she shares a "helpful hint" for preparing canned ham, recounting her mother's experience putting a canned ham in the oven when visitors came over and the ham exploding.
"The oven door never shut properly after that event," Schultz writes in the cookbook about her mother, recommending removing the ham from its can before baking it. "She was not known as a great cook, but her singing 'His Eye is on the Sparrow' lives on in many people's memories."
Plymouth Church is hoping to have a potluck supper next year to celebrate the 175th anniversary, with people contributing the dishes of their various recipes from the book.
Norton Baptist Church's 1997 cookbook, titled Seasoned with Love, has a recipe for peanut butter balls where the ingredients are measured in pounds and serve 130. Church recipes are "expected to feed a crowd," said Vanderslice.
Some cookbooks have recipes written in verse (Norton Baptist's doughnuts: "Watch with care the time for turning / Fry them brown, just short from burning."), or a version of "Scripture cake" where the ingredients are listed as Bible verses ("four Jeremiah 17:11" means four eggs).
Most cookbooks were local to a church, but the Mennonite More-with-Less Cookbook, first published in 1976, became a bestseller. The cookbook incorporated Mennonite frugality—like how to make your own soap—as well as commentary on how eating habits affected the rest of the world.
Several church librarians told CT that they have church cookbooks archived in their church libraries. Even before the decline in cookbooks, churches produced cookbooks sporadically, they said. Churches now might find other ways to share personal recipes, like having a chili cook-off.
Vanderslice is curious if the pandemic brought a renewed interest in church cookbooks. Emmanuel Lutheran Church in Venice, Florida, created a cookbook during the pandemic, since they couldn't meet and were at home cooking more.
Modesto Covenant Church in California hasn't made a cookbook in a several years, but it still has copies of its last cookbook that it sells and gives out to newly engaged couples. One butter cookie recipe is famous at the church, and the church members make it every year for their annual Christmas breakfast.
"It's my favorite cookbook!" said Beth Gundlach, associate pastor at the church. "You'll often be talking to someone at a potluck and you'll say, 'This is so good!' And they'll say, 'It's in the church cookbook!' So it's still a thing."