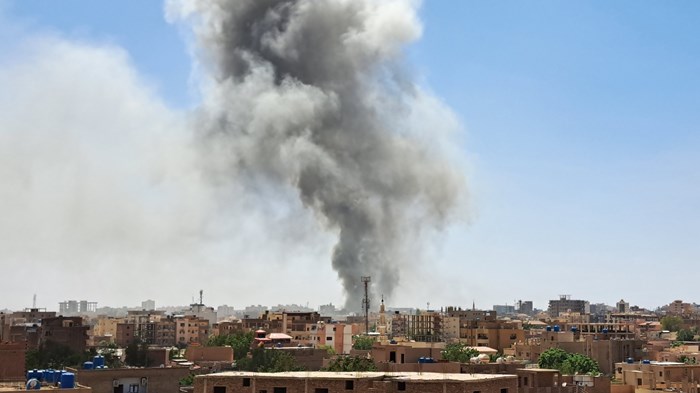 Image: Ahmed Satti / Anadolu Agency / Getty Images
Hajj Atiya, an elderly Sudanese woman living in Khartoum, was already ill.
And then the war started.
"The planes bombed from above; the bullets were flying below," she said. "We stayed in our house, afraid, while all outside was boom, boom, boom."
All she had in the house was flour to bake bread. At least she had that.
Mariam, who came to Khartoum from the Nuba Mountains to get medicine, went several days without water. And then a bomb hit the neighboring building, which collapsed on her own.
"Whenever the airplanes disappeared overhead, we ran outside in search of food," she said. "But we had to hide behind buildings to avoid the gunfire, with corpses strewn on our right and left."
An unnamed doorman had it still worse.
"For ten days we couldn't leave our home," he said. "The shops are closed, and soldiers are in the streets."
Every Sudanese of means in his Kafouri neighborhood of Khartoum had left town at the first sign of violence, which began April 15. He and the other guards were left behind to protect the properties. But when the doorman called to ask for money or help, the building owner hung up on him.
Mariam found someone willing to provide transport out of the capital. But she couldn't afford the 50-cent fare. All she had was oil and soap.
Atiya had only one option left.
"I prayed to God: Save us," she said. "God answered, and someone came to take us away."
Somehow, each escaped with their families 85 miles southeast to Wad Madani. Atiya found a place to rest under a tree. Mariam spent the night on the street. But each now numbers among the 122 families staying in two local evangelical schools, with dozens more sleeping in the city's churches.
"The war is ongoing, and the people keep coming," said Edward Hussein, an evangelical pastor. "The situation is difficult, and it is only getting worse."
Only scant support has come from abroad. But local believers donated funds, food, and beds from their own homes. Until now, every arriving family has been given an aid package that includes lentils, flour, sugar, oil, tea, and soap.
But for how long?
"If the situation continues, what can we do?" asked Habil Thomas, country director for Nigeria-based Calvary Ministries. "God is the only one who can intervene as we pray for peace in Khartoum and all Sudan."
So far, Wad Madani has been spared.
Located three hours from Khartoum along the banks of the Blue Nile, the capital of Gezira state governs an agricultural center once anticipated to become a new breadbasket of Africa. While development has stalled, the abundance of crops and relatively lower cost of living—coupled with employment opportunities on the farms—has drawn many here to safety.
Because Khartoum is destroyed.
"If the fighting doesn't stop, it will be a humanitarian crisis," said Ezekiel Kondo, Anglican archbishop of Sudan. "Nobody can help anyone else here, because all are helpless."
His residence in All Saints Cathedral was situated one block from the Khartoum airport, where the army and its once-partnered Rapid Support Forces (RSF) both maintained bases. As a deal with civilian politicians neared agreement, the two generals turned on each other. Each was wary that stipulated military reform would favor his rival.
Both served under the previous Islamist president, Omar al-Bashir.
In the ensuing battle, the cathedral premises were stormed by the RSF, which damaged both buildings and automobiles. Kondo had to walk 90 minutes with his family to find safer quarters in the capital. They are now 15 people in a 3-bedroom apartment, cooking the little they have over firewood.
From his isolation, he encourages his Anglican clergy with an unexpected verse from Isaiah 43: "See, I am doing a new thing! … I am making a way in the wilderness and streams in the wasteland" (v. 19).
As for the flock, many are traversing the wilderness. Some have settled in the affiliated Episcopal church in Wad Madani, while others have landed in cities such as Port Sudan and Kassala, where there is no fighting, or Gadarif, three hours east of Wad Madani toward the Ethiopian border.
But many aim to eventually reach the Nuba Mountains or even South Sudan.
"There is no help we can give them, from the church or the people," said Sami Rahal, pastor of the Presbyterian church of Gadarif, one of eight denominations in the city. "Those who have money are donating some, but it won't last more than one or two weeks."
There are about 40 people sleeping in his church; he doesn't know the numbers in the others. But several contacted him ahead of time before they came, seeking shelter from the evangelical family.
His message centers on Psalm 23: "Though I walk through the valley of the shadow of death, I will fear no evil" (v. 4).He explains that God has given the displaced a way out of death into eternal life, just as those fleeing Khartoum have escaped the war with their this-world lives.
But Rahal has a different verse for the rest of the country.
"God wants to send a message to the north of Sudan," he said. "Those who sow the wind shall reap the whirlwind."
This passage from Hosea 8:7 is echoed by Jesus and, for Rahal, represents judgment on the people of Khartoum. From the calm of the capital, they watched the violence perpetrated against Darfur and the Nuba Mountains for decades, as if it were a soap opera.
Arab Muslim leadership oppressed darker-skinned fellow Muslims while calling Christians outright infidels, he said. Now the military brass has turned on each other, even though Khartoum residents never believed the distant fighting could happen there.
Now it has.
"We are not happy about it, because there are innocents among them," said Rahal. "But in God's wisdom, this could be a moment of deep transformation in Sudanese attitudes toward war, racism, and discrimination."
Wad Madani Youth for Christ representative Sabet Adam spoke similarly, comparing the situation in Sudan to the times of Habakkuk. Powerful leaders exploited the poor, with injustice rampant. Long did the people cry out to God, awaiting his deliverance.
Then as now, the Lord used the ungodly to deliver it.
"We may not anticipate God's ways of administering justice," Adam said. "But justice will assuredly come."
But by far the passage quoted by most Sudanese pastors interviewed by CT came from Matthew 24: "Nation will rise against nation, and kingdom against kingdom" (v. 7). The two feuding generals are a modern fulfillment, they say, encouraging believers that God warned them in advance—and that he is near.
Abdalrahim Musa, professor of New Testament at Nile Theological College, linked local interpretation with the parallel passage in Luke 21: "When you see Jerusalem being surrounded by armies … flee to the mountains" (vv. 20–21). Many of Sudan's Christians originate from South Kordofan along today's border with South Sudan.
In a region beset by war, their Nuba Mountains have been a beleaguered refuge.
During the period of joint British-Egyptian governance of Sudan, he explained, foreign missionaries and evangelical Copts evangelized the then-animist peoples of the south. And as colonial administration spread, churches were built for English officials and Coptic Orthodox merchants and tradesmen, as well as for migrating believers.
These houses of worship now provide emergency refuge.
But many also reinforce the distinct Sudanese theology of war, Musa said. As Christians in the Nuba Mountains hid in caves from air force bombardment, they developed an application of parousia—the "already, but not yet" presence of God's kingdom—that saw end times predictions in their own backyard. Many rebels found Christ after reading these scriptures and then became ministers.
The theological point is to stay faithful despite suffering.
"War is not strange to us," Musa said of his fellow southern believers. "But now they hope that the people of Khartoum will understand."
One woman, who fled from the capital to Wad Madani, asked forgiveness for their ignorance, he related. Other leaders spoke of similar apologies.
Musa—as did nearly all sources—conveyed his remarks in a voice recording over WhatsApp, as the internet connections in Sudan are too weak and unstable for direct communication. Banks and Western Union provide only intermittent service, preventing most donations from arriving from his affiliated US-based Arabic Bible Outreach Ministry.
Having also relocated to Wad Madani for safety, Musa highlighted the background praise music before joining the believers worshipping in Hussein's church. Before the conflict, it drew about 200 people for services. The influx of displaced families has nearly doubled it.
"We want God's will for Sudan, and he knows why this war has happened," Hussein said. "But we pray it will be the last one."
But others are angry—and call it God's justice.
Fouad Barakat has another explanation.
"Many people say this is God's punishment on the Sudanese people," said the Presbyterian pastor in Wad al-Bashir, a suburb of Khartoum. "But it is instead our fallen nature that causes people to strive for power."
Rafat Samir, however, quoted from John 9: "Who sinned, this man or his parents, that he was born blind?" (v. 2).Such speculation, said the chair of the Evangelical Community Council, gets ahead of God's eventual revelation of his good will.
Still, he acknowledged the suffering of southern Christians.
"Our country is full of the blood of our brothers from Darfur and the Nuba Mountains," Samir said. "They are innocent and kind, but like Job, we have no idea what will happen at the end."
He pointed to Deuteronomy 23, however, to find space to anticipate the curse of war becoming a blessing. God is good, and perhaps like Europe, Japan, and Rwanda, Sudan will eventually be rebuilt.
Spiritually, it may already be underway—as seeds are sown by believers throughout the region. Evidence comes from across the border in Aswan, as the five evangelical churches in the southernmost city of Egypt rally to host Sudanese refugees.
Four guesthouses receive up to 100 people per day, most looking to transit onward to Cairo. The World Food Program and other international aid agencies are present, helping the Egyptian government process over 70,000 Sudanese and other foreigners so far.
Residence is given freely to Christians, and all arrivals are offered free transportation from the bus stop 45 minutes away. Muslims are provided with help to find local accommodation to fit their budgets—welcome help after many were exploited, forced to pay $500 simply to get to the Egyptian border.
From Sudan's Wadi Halfa, after a days-long processing of paperwork, another bus took refugees by ferry across Lake Nasser, landing in the Pharaonic city of Abu Simbel. After another nearly four-hour bus ride to Aswan, many were "astonished" to find Christians waiting to receive them, asking how they could serve.
Over 3,000 received this expression of God's love.
"It touched a lot of people that the church was there," said Joachim Paesler, director of the Evangelical Mission in Upper Egypt, which oversees Aswan's charitable German hospital, founded more than a century ago. "And Muslims said, 'No one in our country helped us, but you have.'"
From Gadarif, Rahal sees evidence as well.
"The war is exposing the truth about political Islam, that it is not suitable to manage the country," he said. "And many Muslims are changing their view about the religion as well, giving us an opportunity to bring them to Christ."
Some young people in his city have already converted, while others turn to atheism. But as the generals tear Khartoum apart—even as they are currently negotiating ceasefires—Rahal, like many others, closed his reflection with a cherished verse from Romans 8: "God works all things together for good" (v. 28).
"The evil we see now in all the killing and destruction will give way to God's salvation purposes," said Rahal. "And Sudan, thereafter, will be better than before."