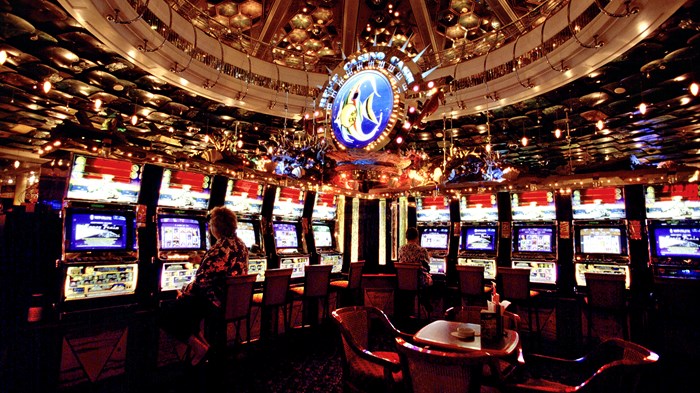 Image: Fairfax Media / Contributor / Getty
The former CEO of World Vision Australia, Tim Costello, often says that no one gambles away money like Australians.
He's not wrong.
Aussies lose more than $25 billion a year to gambling, the largest per capita in the world, according to the Australian Institute of Family Studies. Most is lost on poker machines (pokies) easily available in suburban pubs and service club restaurants, far beyond the destination gambling of casinos. Pokies alone netted a loss of over $11.4 billion in 2021. Add online sports betting and other means of legal gambling, and that's about $1,277 lost every year per person—more than double that of the United States, The New York Times reported in 2018, and around 50 percent higher than second-placed Singapore.
More than one in 10 (11 percent) Australians report they've gone online to gamble at least once in the past six months, an increase from 8 percent in 2020, according to 2022 research from the Australian Communications and Media Authority. And because local governments benefit to the tune of $6.6 billion in taxation revenue across all gambling sectors, legislators find it nearly impossible to ward off lobbying efforts from either side of the gambling industry.
"Whenever I tell people that New South Wales has 40 percent of the world's pokies, people are shocked," Costello told CT. "More so when I tell them over 70 percent of the world's pokies are in Australia's pubs and clubs. I've said for years that gambling is to Australia as guns are to America, especially with the NRA's lobbying influence."
There's a reason for that. Many pokies are located in Returned and Services League (RSL) and surf clubs, community gathering spaces around Australia that raise money for the local government and include bars, restaurants, and activities like lifeguarding programs.
Ten years ago, senior executives for ClubsNSW, the umbrella organization for 1,200 RSL groups and other clubs with pokies, traveled to Washington, DC, to "listen to NRA leaders on how to use a large membership base to force political outcomes." TheSydney Morning Herald reported that they came back and created the Club Local Action Network—or CLAN—to help their 5.7 million members influence their communities against meaningful reform and to promote a "gamble responsibly" messaging campaign.
"That message was evil," Costello said. "Every state government bought it, and it deeply stigmatized anyone with a gambling addiction. It takes the blame off of the machine and puts it on the person. It's now easier in Australia to admit you've got a drug or drinking problem than it is to say you have a gambling problem."
While conservative American evangelicals have had a long history of speaking against gambling (though not guns), Aussie Christian activism on the issue has been inconsistent. The church down under has different perspectives on whether a simple roll of the dice or a bet on the Melbourne Cup is a sin.
But Costello says the problem is not gambling itself; it's the "zone" people say they get trapped in once they've begun—one where they lose all sense of reality, especially when pubs and restaurants don't limit user spending on the almost 100,000 pokie machines across New South Wales, Australia's largest state. In other words, anyone out to dinner at the local pub might be tempted by the pokies behind their tables and then get carried away without the guardrail a cashless card imposes.
"Cashless cards were introduced two decades ago (in casinos), so we all know it's a solution," Costello said. "No criminal will ever reveal their identity to sign up; plus, you have to set up your limit ahead of time so it automatically limits your losses."
Raising the stakes for reform
For 25 years, Costello has been working for gambling reforms like cashless cards. Though the media frequently consults him as an expert on gambling harm, he's also a pastor who has had to preside over six funerals of people who died by suicide because of the shame their gambling addiction brought.
Costello has met with hundreds of politicians, helped organize the Alliance for Gambling Reform (AGR), and asked dozens of other Christian leaders across Australia to join his efforts for reform throughout the years. Few have responded with little more than encouragement.
Until now. With cashless cards for pokies on the ballot this past March in New South Wales, Costello found support in Stu Cameron, who leads Wesley Mission, a historically Methodist ministry serving the poor, and Sandy Grant, dean of Sydney's St. Andrew's Cathedral. Within their denominations, the Uniting Church and Anglican Church respectively, Cameron and Grant began promoting reform for pokies.
"Pokies are created to addict. My heart as a pastor is both sorrowful [and] angry at the practices that enable this ongoing harm," Cameron said. "Like so many Australians, including people in my extended family, I know it touches every corner of (Australian) society. There's not a demographic, ethnicity, or a postcode who have not been impacted by gambling harm."
Last September, in an open letter, Cameron and Grant called on the two NSW premier candidates to join forces in addressing pokies' harm.
"We lament that it could be said NSW and its government have the world's biggest, most destructive gambling addiction, and a growing reliance on a truly regressive and socially destructive form of taxation," they wrote.
Citing Proverbs 14:31 and 31:9, they called for $1 bet limits on all poker machines, cashless gaming cards, longer compulsory shutdown periods for all poker machine venues, a limit to the number of gaming machines in clubs, and the ability for local leaders to limit the number of games in their areas.
"In 2022, people in NSW lost $8 billion to poker machines. It is the highest rate of loss, per person, anywhere in the world," says Cameron. "Wesley Mission knows all too well the impact of gambling harm in NSW. We see the immense hardship faced by individuals and families affected by problem gambling and the ripple effect of gambling harm across communities."
Their public advocacy encouraged other evangelicals to speak up, creating what Cameron calls "a small groundswell of change." Common Grace, an evangelical social justice ministry, has become a key partner to the AGR, citing Costello's leadership in helping them activate churches to advocate for change. The Victorian InterChurch Gambling Taskforce, with formal membership from the Anglican, Baptist, Catholic, and Uniting churches and the Salvation Army, works with congregations across the state to address the harms of gambling in their communities.
Costello has also long called out the gambling lobby's bullying tactics. Australian politics, he wrote in The Guardian this past January, have been "dominated by three major entities—the two major political parties and the gambling industry."
For Cameron, such advocacy is a natural extension of Wesley Mission's work, which established the first gambling counseling service in the country three decades ago.
"Since poker machines were introduced into NSW in 1956, the local industry has had the field to itself and there has been very little debate about it, until now," Cameron said. "That means the gambling industry dominated in pubs and clubs and, in many respects, bullied out of existence any meaningful opposition."
In an effort to begin building this movement, Cameron "got the ball rolling" last September when he and Grant joined The Pastor's Heart podcast and appealed to church leaders with statistics and stories to highlight the issue, especially for the New South Wales election in March. Cameron shared how a member of one of his congregations said his gambling addiction almost destroyed his family.
Cameron and Grant are now galvanizing the Christian community to continue challenging government officials to address what they call a crisis, particularly with pokies. Forty percent of all pokies' losses come from chronic gamblers who usually are low income, ranking Sydney and New South Wales highest in the country in terms of poker machine losses.
"I've talked with many pastors who have had church members or family members feeling suicidal because of the shame of the situation they've got their families into," Grant said. "I can understand Jesus turning over the tables in the temple—different issue because it was blocking access to God. But the anger at the chaos and the carnage done to people through this parasitic misery-making entertainment makes us want to act righteously for justice, not just blow off steam."
The newly elected Labor government campaigned on a promise to implement a "trial" run on cashless cards for pokies in selected spaces across New South Wales. Last week, the government introduced a bill that would ban venues with pokie machines from making political donations.
"I do have hope things will change," Costello said. "[Using cashless cards for pokies] is happening in Tasmania and more [local councils and church leaders are] organizing across other states. We don't have to get rid of all gambling, but we can make this much safer for everyone."