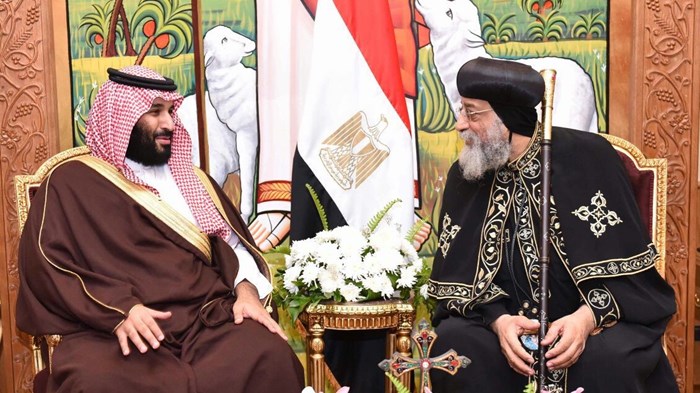 Image: Markas Ishak / The Coptic Orthodox Church Press Office / Anadolu Agency / Getty Images
Saudi Arabia stunned foreign policy observers this month by publicly agreeing to normalize relations with Iran, under Chinese sponsorship. The deal between the neighboring Sunni and Shia archrivals, known for sectarian proxy fights, is expected to ease tensions within Islam.
Meanwhile, the kingdom has recently taken less publicized steps toward another religious normalization: public Christian faith.
In this case, Egypt is the supporting nation.
"Nine years ago, I was told, 'Pray, but don't publicize it,'" said Bishop Marcos of Egypt's Coptic Orthodox Church. "This time, Saudi Arabia is publicizing it themselves."
On January 7, Marcos headlined a month-long pastoral visit by celebrating the eastern Christmas liturgy amid 3,000 Coptic Christians residing in the kingdom. Facilitated by the Egyptian embassy, additional services in Riyadh, Jeddah, Dammam, Khobar, and Dhahran were "held under the full sponsorship of the Saudi authorities."
It was the first public Christmas celebration admitted by the Islamic nation, home to the pilgrimage sites of Mecca and Medina. Muslim traditions cite Muhammad as forbidding the existence of two religions in Arabia, though scholars differ as to the geographic scope.
But Marcos's trip was not the first Christian worship permitted.
He began praying about visits to Saudi Arabia after being sent in 2012 to help solve a dispute between authorities and an Egyptian Christian migrant worker. Marcos estimates there are about 50,000 Copts in the kingdom, among 2.1 million Christians—mostly Filipino Catholics.
None have a church to worship in. Open Doors' World Watch List ranks Saudi Arabia No. 13 among the 50 countries where it is most difficult to be a Christian today. Visiting Coptic clergy used to meet the faithful in neighboring Bahrain.
But when Marcos returned in 2014, he said he conducted liturgies for about 4,000 believers. Leaks covered by the Qatari news network Al Jazeera resulted in some attention, but the Saudis told him they were not troubled by it. Weeks-long pastoral trips continued annually, and in 2016 Saudi King Salman bin Abdulaziz visited Coptic Pope Tawadros II in Egypt.
It was 2018 that led to further openness. Crown Prince Mohammed bin Salman (known as MBS) visited the Coptic Orthodox cathedral in Cairo in March, taking a famous photo with Tawadros in front of an icon of Jesus, the Good Shepherd. He invited the Coptic pope to visit Saudi Arabia and encouraged continuation of Marcos's visits.
That December, the first liturgies were officially reported.
Not everyone was pleased. Medhat Klada, spokesman for the European Union of Coptic Organizations, stated it was an attempt to "whitewash" the kingdom's image after the murder of Jamal Khashoggi. Mina Thabet, a Coptic rights researcher, called the pope's welcoming remarks "disgraceful."
However understood, the change is palpable. In 2011, Saudi Arabia arrested 35 Christians for unauthorized worship in Jeddah. In 2014, 12 Ethiopian Christians were arrested in Dammam. But in 2016, MBS curbed the power of the religious police, and in 2018 he welcomed an evangelical delegation led by Joel Rosenberg.
They discussed the potential building of a church.
The idea had been broached as early as 2008 by Catholic officials. Various Saudi figures have stated "definitely … it's coming" and that it is "on the to-do list" of the authorities. Speculation about its location centers on the diplomatic district in the capital, Riyadh, or on Neom, a $500 million planned megacity in the northwestern desert.
Promotional materials for Neom speak of the mixing of religions under international law.
In 2019, Saudi Arabia opened the area to Christian tourism. Said to be ancient Midian, it is home to an alternate site for Mt. Sinai and a split-rock outcropping resembling the miracle at Horeb, where a strike of Moses' staff made water flow for the Israelites.
Joel Richardson has now conducted five tours of the area through the Living Passages agency, which has overseen 11 overall.
"The government is slowly allowing more religious freedom," said the itinerant pastor, noting Marcos's Christmas liturgy. "The hope is that we will eventually see true religious freedom for any Saudi nationals who have become Christians as well."
Apostasy from Islam is formally punishable by death.
Cautious about the rapprochement with Iran, Richardson said Saudis have always received him with "exceptional warmth and kindness." This has been the norm even as his tours have been accompanied with Bible readings and the singing of hymns.
Theological dialogue is welcome—as with Marcos's Christmas visit with Muhammad Al-Issa, secretary general of the Saudi-sponsored Muslim World League (MWL).
"We discussed the crucifixion and resurrection of Jesus," said Marcos. "He smiled, unoffended."
The warmth goes also to the streets. Clothed in his typical black robe with a cross around his neck and another in his hand, Marcos spoke of ordinary Saudi citizens taking photos with him in the street.
And this year, Christmas trees and Santa hats were sold publicly in the mall.
Also in 2019, Saudi Arabia convened 1,200 scholars from 139 countries to sign the Mecca Declaration, a 30-point charter on international religious freedom. Point 21 commits world leaders to avoid discrimination. Point 22 commits governments to protect houses of worship and rights of minorities. Point 29 calls for implementation.
Three years later, that vision appeared to gain steam. Last May, a smaller MWL-hosted interfaith gathering, this time in Riyadh, included the Vatican secretary of state, the Orthodox ecumenical patriarch, the general secretary of the World Evangelical Alliance (WEA), 15 prominent rabbis, and the US ambassador-at-large for international religious freedom.
They recommended all countries ensure free access to places of worship.
"As the world's largest Islamic NGO, headquartered in the birthplace of Islam in Saudi Arabia," stated Al-Issa, "we have a special responsibility to do this work."
Thomas Schirrmacher was impressed.
"I have attended many international dialogue meetings which were pure show and words," said the WEA head. "This one was not like that."
Schirrmacher noted that with the US-based National Association of Evangelicals invited also, Al-Issa ensured that about half of all delegates were Protestant believers.
He has positive impressions of the Saudi-Iran agreement, noting that all the region's wars have been a "nightmare" for Christians. Peace and justice are equally necessary for Middle Eastern Muslims and Jews.
The latter joined an interfaith delegation this week to plant date palms in Medina, returning to a city Jews last inhabited at the dawn of Islam.
Five years ago, the kingdom permitted non-Muslims to enter the site where, in A.D. 622, Muhammad established religious coexistence for the Abrahamic faiths. Jews were expelled from Medina three years later, reportedly for violating the treaty.
Mecca remains closed, while the Gulf opens incrementally. The United Arab Emirates-led Marrakesh Declaration of 2016 aimed to revive worldwide the original "Charter of Medina," with the Bahrain Declaration a year later specifically invoking a religious "freedom of choice."
Both nations have normalized relations with Israel in the Abraham Accords; analysts wonder if Saudi Arabia might be next.
Regardless, Schirrmacher anticipates further positive news for the half a million evangelicals in Saudi Arabia.
"They started with the Copts—the largest church in the Middle East," said Schirrmacher. "But our discussions make us confident that similar moves for Catholics and Protestants might follow."
Regional dynamics are underway.
Saudi Arabia is now the only Gulf nation without official relations with the Vatican, following the Holy See's establishment of diplomatic ties with Oman last month. Justin Meyers, executive director of the Reformed Church of America-founded Al-Amana Center in Muscat, called Marcos's Christmas visit a "beautiful thing."
The move was also welcomed by Christian leaders in the United Arab Emirates.
"Other countries on the Arabian Peninsula have discovered that openness to Christian churches is a benefit to the country and not a threat to local traditions," said Eric Zeller, president of the Gulf Theological Seminary, founded in 2016. "Saudi Arabia has the opportunity to catch up here, and if this move is a step in that direction, it is an encouraging one."
Marcos did not discuss the building of a church with the Saudi authorities. But he credits MBS as a wise leader who studies everything from a "wide angle." The official Coptic Orthodox Church statement celebrated MBS as representing the younger generation and its openness to global society.
Not everyone does. But rather than focusing on Western critics who see MBS as an autocratic strongman who silences his critics, Marcos highlighted a still-influential regional religious opposition.
"Fanatics in the Muslim world disliked my visit because they view this land as off-limits to churches and Christian services," he said. "The Saudis, however, have welcomed us."