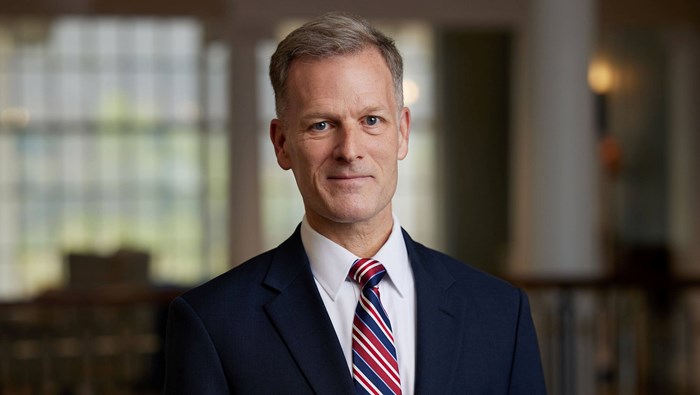 Image: Courtesy of Liberty University
Two and a half years after Jerry Falwell Jr. stepped down in scandal, Liberty University named its new president on Friday: Dondi E. Costin, the outgoing president at Charleston Southern University and a retired US Air Force major general and chaplain who earned a pair of master's degrees from Liberty.
Costin's appointment represents the first time the school hasn't had someone named Jerry at the helm, as he succeeds interim president and longtime board chair Jerry Prevo and the two Jerry Falwells before him. Liberty's founding family is still represented in leadership; pastor Jonathan Falwell—son of the late Jerry Falwell Sr. and brother to Jerry Falwell Jr.—has been appointed chancellor.
Costin, an Air Force Academy graduate who concluded a 32-year military career as chief of chaplains at the Pentagon, spent the past five years leading Charleston Southern, a Christian college of around 3,500 students in South Carolina.
"There are fewer differences than one might imagine between the processes and procedure of the military and higher education," Costin told CT's Creative Studio in 2019. "If you can survive and thrive in a complex bureaucracy like the Pentagon, then you can do it in a complex bureaucracy like higher education."
At the Lynchburg, Virginia, campus, some high-profile challenges linger. Last year, Department of Education officials launched an investigation into the school's handling of sexual assault claims, following a lawsuit from Jane Doe survivors and a campus movement calling for an audit of the school's Title IX office. Former president Jerry Falwell Jr. continues to challenge the terms of his departure, suing earlier this month over millions in retirement benefits.
But Liberty remains one of the biggest and best-known Christian colleges in the world, with a massive student body and an early, expansive presence in online education. Liberty offers 700 programs of study, 600 online. In 2022, total enrollment exceeded a record 130,000 students—many of them, like Costin, military service members and veterans.
"Of the school's current undergraduate online population, 35 percent are military affiliated," Liberty reported last year. "Over 38 percent of students enrolled in graduate online education are military students."
Costin earned five master's degrees and two doctorates, including a master's in religion and a master's in counseling from Liberty in the early 1990s. While a chaplain, he belonged to the Liberty Baptist Fellowship, which was founded by Jerry Falwell Sr.
When he spoke at a divinity school graduation at Liberty in 2015, he told students "Liberty is my home." He shared about his call to the chaplaincy, which eventually led him to lead the 2,000-person Air Force Chaplain Corps.
"When I was called into ministry, I told the Lord 'No thank you' over and over again," Costin said. "Similarly, Moses was in an impossible situation, and God asked him to do things that seemed impossible, and God told him not to worry. God gave him exactly what he needed to get the job done, and He will do the same for you."
Two years ago, Liberty announced that it would split Falwell Jr.'s former role of president and chancellor into two positions. Focused on business and outspoken in politics, Falwell Jr. oversaw and directed Liberty as it expanded from a small Bible college to a major university, with a vision "to build for evangelical Christians what Notre Dame is for Catholic young people or what Brigham Young is for Mormon youth."
The search process for Liberty's new president, through the firm CarterBaldwin, took eight months. Jonathan Falwell, who followed his father as pastor of Thomas Road Baptist Church, currently serves as the campus pastor and executive vice president for spiritual affairs at Liberty. Prior to 2021, Jonathan Falwell had not held a formal position on campus; the new role of chancellor is his highest level of leadership and involvement at the school.
Johnnie Moore, a former campus pastor and senior vice president at Liberty, celebrated the new leadership, saying, "Coupling the appointment of the new president with the reestablishment of the position of chancellor further anchors the university in its founding mission and vision."
Members of the Liberty community and critics have continued to call for more transparency and investigation around the board's oversight of Falwell Jr.'s leadership.
"To this point, Liberty has avoided a reckoning. Instead, it has promised investigations that two years on seem little more than appeasement and impression management," former Liberty professor Marybeth Baggett wrote for CT in 2022. "As more Falwell and Liberty coverage mounts, we have a responsibility to no longer accept those fig leaves."
Others will also be looking to see how Costin handles the challenges he inherits from Liberty's past.
"The new president will arrive at a chaotic time—an ongoing federal investigation, multiple lawsuits—and they need to address some serious problems," tweeted Save71, a group calling for leadership change at Liberty, including around the response to sexual assault. "We hope to meet with them and candidly share what we believe are crucial and common sense reforms."
Correction: An earlier version of this article said Costin was Liberty's first president not named Jerry; Jerry Falwell Sr. was the school's founder and chancellor, and Jerry Falwell Jr. held the position of president and chancellor.