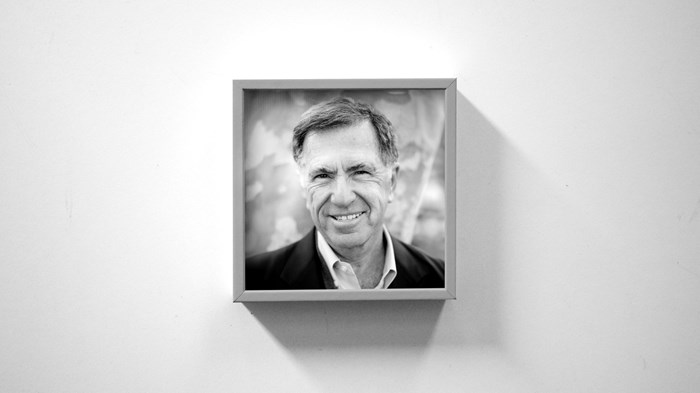 Image: Paul Eshleman / edits by Rick Szuecs
Paul Eshleman, an evangelism strategist who organized one of the largest outreach efforts of the 20th century so that everyone in the world could hear at least once that God loved them, died on May 24 at age 80.
Eshleman was the director of the Jesus Film Project, producing the 1979 feature for Campus Crusade for Christ (now Cru) in partnership with Warner Bros. and overseeing its translation into more than 2,000 languages. Eshleman arranged for the film to be shown across the world, from places in rural Asia and Africa where people had never seen electric lights before, to national television broadcasts in places like Peru, Cyprus, and Lebanon. According to Cru, nearly 500 million people have indicated they made a decision to accept Jesus as their Lord and Savior after seeing the film.
"I'm driven every day to say, 'Who hasn't had a chance to hear yet, and how can I make that possible?'" Eshleman once explained. "We are strategists for Christ, thinking of new ways to reach people with the message of life."
Saddleback Church founder Rick Warren called Eshleman a "dear friend" and praised him for his "global impact." Evangelist Franklin Graham said, "God used his life greatly."
According to Steve Sellers, current Cru president, "Paul was a champion for the cause of Christ and challenged the Church to consider innovative ways to evangelize."
Eshleman was born October 23, 1942, the eldest son of Viola and Ira Eshleman. His father was an evangelical minister who moved the family from Michigan to Florida in 1950 to launch a Christian resort. He purchased 30 acres of a closed army base in Boca Raton for $50,000, starting a church and a vacation community that the evangelist Billy Graham dubbed "Bibletown."
Eshleman committed his life to Christ as a boy, but growing up, he was less interested in ministry than business. He decided he wanted to become the head of an oil company or perhaps an auto manufacturer.
Eshleman went to Michigan State University, where he studied business administration, marketing, and finance. He joined a Campus Crusade fellowship group but wasn't particularly serious about his faith. He later said he only really kept going so he could tell his mom he was part of a Christian group but not have to go to church on Sunday mornings.
Things changed when a girl he had dated told him he was just "fooling around with God" and it was time to get serious or break it off. Eshleman just got mad and told her about all the time he'd spent in church growing up, but later that night he couldn't stop thinking about what she said. He started to worry that God was hardening his heart, like he had hardened Pharaoh's in Exodus 7–11.
"I couldn't sleep," Eshleman said. "I got by my bed, and I said, 'Lord, here's my life.'"
The next morning he called a Campus Crusade leader: "I'm on your side now. What do you want me to do?"
Eshleman was taught how to share the gospel through the four spiritual laws and sent to talk to students in the fraternities. The second one he spoke to committed his life to Christ, and Eshleman was convinced this was more important work than running a large company.
He joined Campus Crusade in 1966 and went to the University of Wisconsin–Madison. The school was roiled by student antiwar protests targeting Dow Chemical Company, which made the flammable gel the US military was using in the jungles of Vietnam. In 1967, the campus became the scene of what some historians say is the first university protest in the country to turn violent. Eshleman found this was "a wonderful environment for doing ministry," he said. In one year, he organized 72 evangelistic meetings in dorms, fraternities, and sororities across campus.
"In the middle of all that chaos," he said, "we had people continually coming to Christ."
A few years later he was tapped to organize a mass youth event that Billy Graham told reporters was going to be the Christian answer to Woodstock. It would be a great Jesus rally, a "spiritual explosion," or "Explo," in Dallas in 1972.
The event had been dreamed up by Campus Crusade founder Bill Bright. He said he had a vision: There would be masses of young people and music, and they could train 100,000 college students to evangelize their peers. Bright's top staff, however, didn't like the idea and deftly ducked the assignment, according to historian John G. Turner, who wrote a history of the founding of Cru.
"It was an old trick," one staffer said. "He'd have a vision and then we'd have to put arms and legs to it."
Eshleman was offered the job. Naïve and passionate, he jumped at the opportunity. He was given a generous budget but little staff support. He managed, nevertheless, to pull it off. He booked Johnny Cash, Andraé Crouch, and newer "Jesus freak" acts like Larry Norman and the Armageddon Experience. He secured the use of the Cotton Bowl for four nights, reserved hotel rooms in 65 locations across Dallas-Fort Worth, and even arranged for three hours of music and preaching to be broadcast on television nationwide.
The event attracted only 30,000 college students, but Eshleman opened it up to high schoolers and managed to recruit another 35,000, for a total of 75,000 young people who, between the musical performances, learned how to share their faith. Another 10,000 came as guests, and Explo '72 was deemed a success.
The Jesus film started, similarly, as a Bill Bright vision that would be difficult if not impossible to pull off. The idea got financial underwriting, however, from oil tycoon Nelson Bunker Hunt and drew the interest of John Heyman, a Jewish film producer in Great Britain who wanted to produce something related to the Bible. The project got a green light, and though Eshleman had never worked in film before, he was given the job of fixer, gofer, and all around problem solver.
The film, which hews closely to the text of the Gospel of Luke, was released in 1980 and shown in about 300 theaters. Critics didn't think it ranked with William Wyler's Ben-Hur or Cecil B. DeMille's TheTen Commandments, but church groups and Christian schools liked it, and it wasn't a financial disaster for Warner Bros.
Then the film was turned over to Eshleman for broader and more creative, innovative distribution. He worked with Campus Crusade staff to translate the film into 21 languages in 18 months and connect with missionary groups around the world to show it in places where people had never seen the life of Jesus on the silver screen—or any movies at all.
For about $25,000, Eshleman could dub the film into another language, produce a new print, ship the film and projection equipment to a mission field—navigating customs and censorship authorities in the process—and set up a showing for as many people as could gather in a field. Ten of the first showings were in India. People walked more than three miles to see the film.
By 1985, Eshleman's team had translated the film into 100 different languages. They planned to produce the film in every language with more than 100,000 speakers. They simplified and sped up the dubbing process with new technology and soon shipped Jesus everywhere from Estonia to Ecuador.
Everywhere, the film seemed to have a powerful effect.
"When soldiers whip Jesus, you could hear grown adults crying," said Brian Helstrom, a Church of the Nazarene evangelist who showed the film in Africa. "'You could see them physically jump back at the sight of the serpent tempting Jesus."
Eshleman, who oversaw a team of 300 people, occasionally got to attend a screening of the film. The experience, he said, was unforgettable.
"You … sit on a log out under the stars," he recalled, "and watch people who have never seen a film before—their first time seeing an electric light—and the person of Jesus comes on the motion picture screen. You see their eyes light up."
A cynical film executive once joked to Eshleman that if he showed Dirty Harry instead of Jesus to people with no exposure to 20th-century technology, they'd fall down and worship Clint Eastwood's vigilante cop as the Son of God. But Eshleman rejected the idea that the power of the Jesus film was its medium and not its message. A Maasai warrior in Kenya might enjoy Dirty Harry, Eshleman said, but to understand that God loved him and had a wonderful plan for his life, he had to see the Word made flesh made celluloid.
By the year 2000, Eshleman's team had translated Jesus into 600 languages and could turn out a new translation in nine days. The Guinness Book of World Records recognized Jesus as the most-translated film of all time.
At the same time, Eshleman had started to track all the people groups that didn't have any Christian workers to help with translations. The number varied, depending on how one counted groups, but he figured that hundreds of millions of people had never been engaged with a gospel message.
At a nine-day gathering of 10,000 evangelists in Amsterdam, Eshleman and several others organized a strategy session to coordinate efforts to reach these "untargeted" people. Out of that session came Finishing the Task, a network of Christian organizations committed to completing the Great Commission, reaching every nation. The goal, Eshleman said, was to make sure everyone in the world had the chance, at least once, to hear that Jesus loves them.
"They have waited long enough," Eshleman said. "It is time for us to finish."
Eshleman became the director, and by 2017, he said Finishing the Task had mobilized missionaries to 2,000 new people groups and planted 101,000 churches. Reaching every nation on earth looked like a real possibility.
"If I could choose any time in which to be alive," Eshleman said, "this would be the time."
Paul is predeceased by his wife Kathy. He is survived by his second wife, Rena, and two adult children, Jennifer and Jonathan.