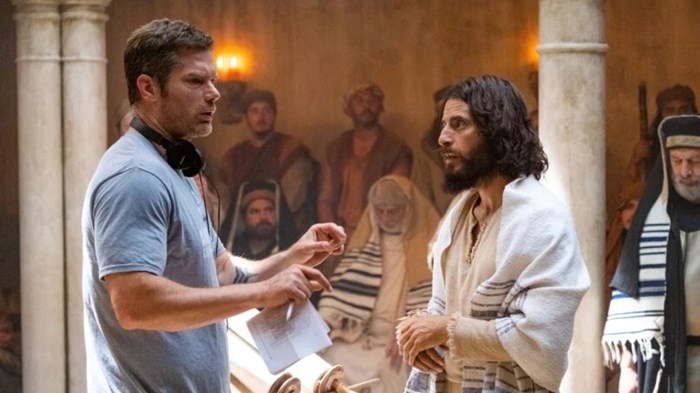 Image: Courtesy of The Chosen
The wildly popular series based on the life of Jesus Christ has crossed what its creator dubbed a "Red Sea Moment" after a labor strike threatened to halt the filming for Season 4 of The Chosen.
On Friday (July 14), director and co-writer Dallas Jenkins sent an email telling viewers The Chosen hadn't yet received an exemption to continue filming during the strike by the Screen Actors Guild-American Federation of Television and Radio Artists. "This is very expensive, unfortunately, and especially frustrating because we've only got two weeks of filming left. Let's pray we can get back on schedule quickly."
Jenkins also tagged SAG-AFTRA in an Instagram post, urging the labor union to approve an exemption waiver. "We're the good guys; we've treated your actors well. Please take the few minutes to approve our application so your actors can get back to work getting paid for the last two weeks of a season they want to finish."
After one day of filming without the cast, on Sunday afternoon, the show's official Twitter account announced it had been approved for a waiver and would resume filming on Monday. The account also noted Season 4 is "entirely independent and 100% funded by donations."
"We've worked hard to accommodate all of SAG's requests and their interim agreement. We appreciate their recognition of us as an independent as well as their hard work in this process," Jenkins said in a statement provided to Religion News Service.
The Chosen was able to secure an exemption to continue filming because it is not affiliated with the Alliance of Motion Picture and Television Producers, the group representing studios such as Netflix, Walt Disney Studios, and Warner Bros. in the contract negotiations. Jenkins told RNS The Chosen decided against associating with AMPTP because of the show's limited scope. Still, all of the show's cast members—including Jesus actor Jonathan Roumie—belong to the Screen Actors Guild. A spokesperson for The Chosen confirmed with RNS via email that in opting for the exemption, The Chosen agreed to be retroactively obligated to the contract terms that will be agreed upon between AMPTP and SAG-AFTRA when the strike ends.
Previous seasons of the crowdfunded show, which has gained over 520 million views worldwide, are available for free on the show's website and app, as well as on heavyweight streaming platforms such as Netflix and Amazon. In May, Lionsgate acquired distribution rights for The Chosen, and on Sunday, The CW, a national TV network, began a weekly broadcast of the show's first three seasons.
As Season 4 resumed filming in Utah, the show became the first TV series to secure an interim agreement to film during the strike, to the best of The Chosen's knowledge.
"Everyone's thrilled to be at work, especially with two weeks left. We're so close to being done, everyone was eager to finish," Jenkins told RNS.
There is no official release date for the fourth season yet, but a spokesperson said it's currently looking like early 2024.
"We were already done filming Episodes 1-4, so these last two weeks allow us to complete Episodes 5-8," said Jenkins. "Some of the most emotional and impactful moments come in what we're now filming, so I'm glad we didn't have to delay it!"