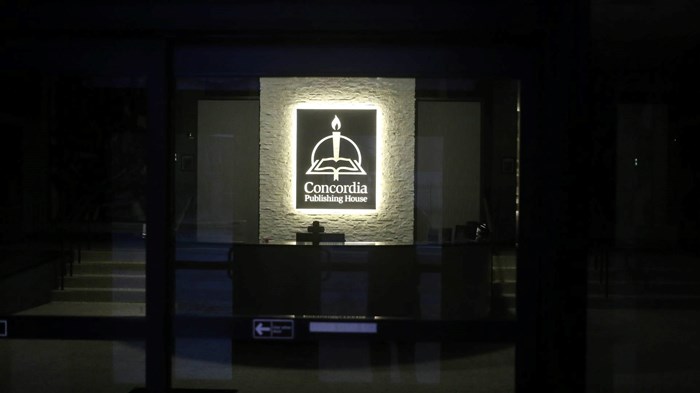 The Lutheran Church–Missouri Synod (LCMS) has resumed distributing its new annotated edition of Luther's Large Catechism over the objections of some of the denomination's most conservative members and pastors.
Luther's Large Catechism with Annotations and Contemporary Applications contains the unaltered text of Luther's Large Catechism, a core Lutheran doctrinal statement, with 80 essays applying Luther's ideas in modern society. The book is over 700 pages long.
Concordia Publishing House released the work in mid-January, but two weeks ago, LCMS president Matthew Harrison announced that he had asked the denominational publisher to stop distribution so they could "evaluate the comments and critiques received and revisit our doctrinal process."
Critics raised concerns that some of the essays, which are not Lutheran doctrine, mishandle current issues like racial justice, human sexuality, and gun rights.
In an email to Christianity Today, Harrison described the controversy as a "handful of quotations were taken out of context to allege some conspiracy to import CRT, sexual ambiguity, and woke issues in general into the LCMS."
By February 2, he had asked Concordia Publishing House to resume distribution.
Harrison said he does not have the authority to halt a publication that has been through the doctrinal review process, and that "while some things might have been expressed more clearly, nevertheless, there is nothing in the content of the volume promoting critical race theory (CRT), confusion of sexuality issues, or any theological position at odds with biblical and confessional Lutheranism."
He condemned "unchristian attacks" on the editors and contributors of the annotated Large Catechism.
In a Twitter thread that received more than a quarter million views, LCMS layman Ryan Turnipseed first outlined 15 objections within the essay collection and urged Lutherans to contact Harrison with their concerns.
For example, Turnipseed took issue with an essay from Concordia Seminary St. Louis professor Joel Biermann, claiming that the fifth commandment (in the Lutheran tradition, the instruction against murder) denies a biblical foundation for the Second Amendment to the US Constitution.
"The recognition of a legitimate place for the use of the sword within God's plan for His creation … certainly does not provide a scriptural foundation for a right to bear arms," Biermann wrote.
The new Large Catechism also includes an essay from pastor and LCMS Black Clergy Caucus president Warren Lattimore on the fifth commandment, with Lattimore writing in a footnote that "the deaths of a number of unarmed Black citizens at the hands of white individuals or police officers sparked widespread protests and turmoil in recent years and especially in 2020. Many churches sought ways to promote racial justice and healing."
Lutheran pastor and blogger Larry Beane called this description "a leftist interpretation of the George Floyd riots, and a deliberate cherrypicking of crime statistics involving racial breakdowns."
In a blog post entitled the "Large CRTechism," Beane said the essays contained "a lot of wokeism" and "a disturbing amount of political leftism being put forth on political hot-button issues." David Ramirez, pastor of St. Paul Lutheran Church in Union Grove, Wisconsin, agreed and called out "pretty clear terminology and red flags."
Once Harrison announced that distribution of Luther's Catechism would resume, Beane urged readers to vigorously attack disagreeable ideas while refraining from attacking people.
"We have the right—and the duty—to write, to make arguments, to express our opinions, and to go after repugnant ideas—avoiding the temptation to go after individuals with whom we disagree," he wrote.
In his foreword, Harrison called the catechism "one of the greatest resources for Christian faith and living ever produced by The Lutheran Church–Missouri Synod."
In the denomination of nearly two million members, some moderates were frustrated that Harrison paused distribution in the first place, appearing to question the LCMS doctrinal review process. The LCMS Commission on Theology and Church Relations reviewed and approved the full text of the book.
"Many long-serving, faithful Lutherans were alarmed by Harrison calling for a halt to the catechism's distribution, perceiving the action as catering to the most extreme far right voices in the LCMS," said Josh Salzberg, cofounder of Lutherans for Racial Justice.
Harrison is up for reelection to a fifth term at the triennial LCMS National Convention in St. Louis this summer. He faces at least one challenger in Pat Ferry, former president of Concordia University Wisconsin and Ann Arbor. Presidential nominations are due at the end of February.