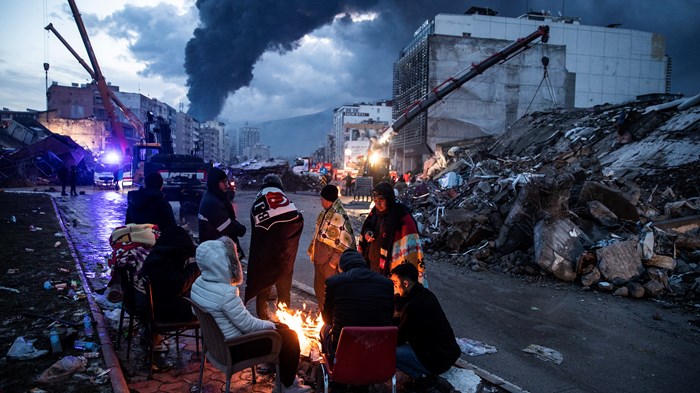 Image: Burak Kara / Stringer / Getty
Update (Feb. 10): The death toll has now exceeded 21,000 people, marking the worst natural disaster since the 9.0 magnitude Fukushima earthquake and tsunami killed 18,400 in 2011. Authorities announced 18,342 dead in Turkey, with 75,000 injured. Syria has suffered more than 3,300 dead and 5,000 injured.
So far 60 nations have contributed 7,000 rescue workers alongside 20,000 Turkish personnel. The government has provided 92,000 tents, 1 million blankets, and is establishing a container city to support the displaced in the 10-province area populated by 13.5 million people.
CT has updated the text below to provide additional information and a more extensive list of aid groups contributing to relief.
---
Local Christians were among the first responders to the massive earthquake in Turkey and Syria that left more than 20,000 people dead and tens of thousands injured. They just don't know how to make sense of it.
"God have mercy on us, Christ have mercy," said Gokhan Talas, founder of the evangelical Miras Publishing Ministry in Istanbul. "This is our only spiritual reflection right now."
His first instinct was to go. But as reports came in of deep snowfall and damaged roads, he shifted gears. His wife stayed up all night making phone calls to believers in Malatya, trying to coordinate aid. And with members of his church and Protestant congregations throughout Turkey, they bought blankets, medicines, baby formula, and diapers to send onward to the afflicted areas.
"From this side of eternity, nothing is clear," Talas said. "But our sweet Lord is suffering with us."
He warned of scams preying on the outpouring of generosity from around the world, even among the small Turkish evangelical community of roughly 10,000 believers.
Their own supplies are being donated through İlk Umut Derneği—in English, First Hope Association (FHA), a Turkish Protestant NGO working closely with the local Red Crescent and AFAD, Turkey's Disaster and Emergency Management Authority.
Officials said more than 5,000 buildings have been destroyed by the 7.8 magnitude quake. More than 13,000 search and rescue personnel have been deployed, supplying 41,000 tents, 100,000 beds, and 300,000 blankets. Almost 8,000 people have been rescued so far.
This includes pastor Mehmet and his wife Deniz in Malatya, longtime friends of Talas, who spent half the day freezing under the rubble until neighbors succeeded in pulling them out.
Founded in 2014 to assist the refugee flood from Syria, FHA works "shoulder-to-shoulder" with the Association of Protestant Churches, said Demokan Kileci, chairman of the FHA board.
Conveying the first batches of aid in a solid 4x4 vehicle, it took him 14 hours—double the standard time—to drive 440 miles southeast from his home in Turkey's capital Ankara to Gaziantep, a scant 20 miles south of the epicenter.
One of FHA's five mobile hygiene units—and a mobile bakery—stayed there. Another two were dispatched to Antakya, the ancient biblical Antioch, and a fourth sent to Kahramanmaras, site of a 7.5 magnitude aftershock.
The fifth went to Diyarbakir, another 200 miles east. Overall, 10 Turkish cities suffered devastation. With Syrian cities included, the distance covered is greater than an imagined epicenter in New York City destroying the eastern seaboard from Boston to Washington, DC.
"We are doing whatever we can to help our country," said Kileci. "And right now, prayer is the most important."
Also bringing supplies is Shema Media Group, a Turkish evangelical radio station. Soner Tufan, the general manager, visited Antakya, where the local signal is offline due to lack of electricity. But listeners elsewhere will hear a somber tone.
"Turkey has declared a seven-day period of mourning," he said. "We have changed our broadcast to slow Christian music, scripture, and news updates."
Updates are also consistently provided in Turkish and English by SAT-7 Turk, the evangelical satellite TV network with reporters from churches in the affected areas. And Homemade, the first live program aired the day of the earthquake, invited any viewers who needed spiritual support to call.
"Now is the time to bring the light, right at the darkest of times," the station wrote in a post-earthquake newsletter. "We are raising awareness on how we can help, and continuing to bring Jesus to those who need him the most."
They can be found in the multiple houses of prayer that have been badly damaged.
The list is long. In Turkey, it includes a Protestant church and the nearby Agape bookstore in Antakya, as well as the Latin Catholic, Greek Orthodox, and Armenian Apostolic churches in Iskenderun. In the same city, Hakan Konur, the longtime pastor of the largest evangelical church in the area, and his wife died in the quake.
Their son survived.
In Syria, Emad Daher, a Greek Orthodox priest, died when the Melkite cathedral in Aleppo collapsed. Emeritus Archbishop Jean-Clement Jeanbart narrowly escaped and was hospitalized. The St. George Syriac cathedral was also damaged, as was a Franciscan church in Lattakia.
But also in Aleppo, the entire base of the Presbyterian church shifted.
"Children were screaming, women were crying, and men were unable to take decisions," said Ibrahim Nseir. "No one knew what to do."
Pastor of the church, he went out to the streets, telling people to get back inside for safety. But within a few minutes a nearby apartment building collapsed, sending more panic through the crowds of people—who then scurried to the public parks.
Knowing the pressing need for shelter, Nseir opened the church-affiliated evangelical school to receive the homeless and people afraid their homes would collapse next. By nightfall he was turning away harried families, with his shelter's capacity maxed out at 600 people—old and young, Muslims and Christians, from every economic segment of society.
Elders, Sunday school teachers, and women's ministry leaders provided food and water. Most of his church community resides inside.
"I don't know if I have feelings, I have no time for feelings," Nseir said. "There is so much trauma, the challenges are huge, and the church must help."
This includes the global church. Donations can be given through the National Evangelical Synod of Syria and Lebanon, but solicitation was not his main message. Instead his focus was on US-imposed sanctions which have crippled the local economy. Inflation is skyrocketing amid severe shortages of medicine, and observers say the international relief effort will be impacted.
Nseir's plea was echoed by Syrian patriarchs John X, Ignatius Afram II, and Joseph I, representing the Greek Orthodox, Syriac Orthodox, and Melkite Greek Catholic churches. The theme was taken up by Michel Abs, general secretary of the Middle East Council of Churches (MECC).
"It is a natural disaster in principle, but, by virtue of the imposed blockade, it is to be considered as a man-made disaster," he wrote in an open letter. "My Christian faith does not accept that."
The World Council of Churches expressed solidarity with his missive.
President Joe Biden offered assistance to the government of Turkey, as did its often-at-odds neighbors Greece and Armenia. But of Syria, he mentioned only "US-supported humanitarian partners."
The first United Nations convey finally entered through the one approved corridor between Turkey and Syria.
World Vision has worked with MECC to help get aid into government controlled areas of the latter. With offices just ease of Gaziantep most of its facilities were spared. One of its 200 volunteers and her family perished in the earthquake, as the 48 staff in northwest Syria carried on helping all they can.
The afflicted regions of Turkey are home to many Syrian refugees, while jihadist-linked militias control the bordering area in northwest Syria. Casualties there now exceed 1,500, with slightly more in cities still under the sovereignty of Damascus. The US-backed Autonomous Administration of North and East Syria suffered little.
But people are still terrified—and for good reason. A 5.6 magnitude aftershock was measured the next day. The Syriac Cross is working with the Kurdish Red Crescent to provide temporary shelter in public parks until the displaced are ready to return to their homes. The organization is not registered by Syrian authorities, and thus unable to work in the hardest hit areas.
"In some way we are all connected," said Metin Rhawi, spokesperson for the European Syriac Union and based in Sweden. "This is why we are affected so much."
During a telethon to support victims on the Syriac Suroyo TV station, a volunteer cameraman received a phone call that his brother had been rescued from a collapsed building in Adiyaman, Turkey. They had been chatting as the tremors started, when the line suddenly went dead.
The Syriac community is larger in Syria but most aid is going to the suffering in Turkey, through a consortium of local ministries. Dedicated to "the indigenous people of the land," too often larger aid ministries and local governments overlook the Christians, Rhawi said. Even so, they are helping everyone, as in 2013 when the Syriac Cross' first relief went to Yazidis displaced by ISIS.
Their press release honored the deceased Protestant pastor Koner, while the Presbyterians of Aleppo were troubled by the death of Fr. Daher. But too often, said the spokesman, Christian sects are not united.
"Catholics, Orthodox, and evangelicals all seem to be on their own side, and to take care of their own dead," said Rhawi. "But in Christianity, we are all dead in Jesus."
The alive of all faiths are gathering in churches. Similar to Nseir, the Armenian Evangelical Bethel church in Aleppo has welcomed 500 people every night since the quake. And in Antakya, where 200,000 live in what was once the Roman Empire's third-largest city, the Sts. Peter and Paul church is one of the few buildings left standing, and taking in the displaced.
Other international Christian relief organizations responding to the crisis include Send Relief, Caritas, and Aid to the Church in Need.
Evangelical church networks include the World Evangelical Alliance, the Middle East and North Africa Evangelical Alliance, and the Convention of Evangelical Churches in Israel.
Also involved are the Armenian Evangelical Missionary Association, the Baptist World Alliance, and Missio Nexus. Orthodox associations include the Antiochian Orthodox Christian Archdiocese of North America and the Greek Orthodox Archdiocese of America.
Indeed, the challenge is immense. The earthquake was the strongest to hit Turkey since 1939, when 30,000 people were killed. And the death toll—certain to rise higher—is the largest in Turkey since 17,000 people were killed by an earthquake in 1999.
But this time, the local church is better equipped. Kileci's FHA participated in an earthquake workshop in Izmir last October, and has experience in both refugee relief and smaller natural disaster responses.
"Now is the time when people will be reaching out to God," he said. "And the church must be ready to show them the love of Christ."
For now, Talas is waiting—and praying. In a week, he hopes to reach the area and encourage local believers spiritually. Once he makes a better assessment of the situation, Miras will begin publishing reflections. Their next bimonthly print magazine will appear in March, dedicated to the earthquake.
His only aim, he said, is to give people hope.
But God's aim is bigger. Talas expects stories of miracles—as happened in 1999. Mourning now, there will soon be space to rejoice. Christian doctors and engineers are already on their way to the front lines. And like the people of Turkey altogether, believers rallied to help their neighbors.
"This is the test of the church," he said. "I am proud of my brothers and sisters in Christ."
Editor's note: Readers wishing to give donations may access the links under each organization's name.