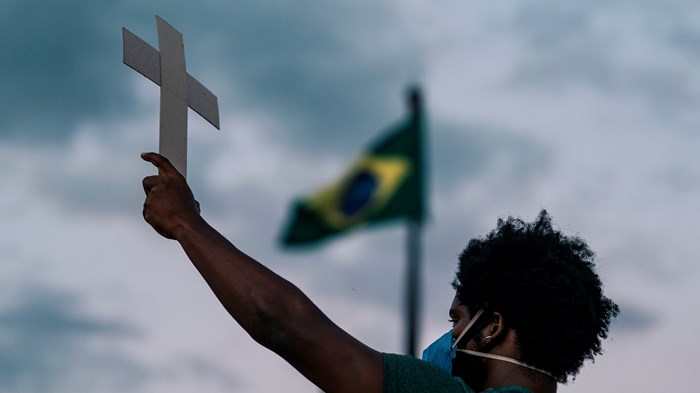 Image: AGIFP / AP Images
At just 14 years old, Lavínia Fernandes competes with the other young people in her church, located in Recife, Pernambuco, northeast Brazil, to see who can bring the most friends from school to the Saturday services. There are now more than 10 people from her class at school who started attending church through her.
"My friends comment that I became kinder and happier after I became a Christian and that they can see God in my life," said the teenager.
Like Fernandes, millions of other Christian teenagers throughout Brazil and other Latin American countries are experiencing something special in their journeys of faith. Recent research by the Barna Group reveals that Latin America is home to a "connected, digitally enabled generation" that is committed to their faith, engaged with the Bible, and hungry to learn more about Jesus.
Barna surveyed 3,320 young people, ages 13 to 17, from July 21 to August 24, 2021, in Brazil, Honduras, Mexico, and Colombia. Young people in all four countries revealed an enthusiasm and passion for their faith consistently higher than the global average. (Barna polled 26 countries around the world for this survey.) Brazilian teens, in particular, showed an especially heightened awareness of Christ and the Bible.
When asked what they really think about Jesus, 74 percent of Christian Brazilian teenagers said they believe he offers people hope, and 60 percent said Christ makes a real difference in today's world.
Just over half (55%) of Brazilian teenagers, however, believe that Jesus was God in human form.
Brazilian teenagers are more likely to believe in Jesus' miracles and his return.
Barna classifies committed Christians as those who identify as believers and claim to have a personal commitment to following Christ and nominal Christians as those who identify as believers but do not have a personal commitment to following Jesus. By those definitions, just under one in four teenagers around the world is a committed Christian, but among those surveyed in Latin America, that number rises to 37 percent—and among Brazilians, it rises even higher, reaching 45 percent.
The research also shows that teenagers who are more committed and engaged are more likely to have a significant experience of faith. When confronted with the statement "My relationship with Jesus brings me deep joy and satisfaction," 76 percent of adolescents surveyed around the world strongly agreed, but this number increased to 84 percent among Latin Americans surveyed.
The number of evangelical churches in Brazil has jumped from 17,033 in 1990 to 109,560 in 2019, an increase of 543 percent, according to the latest data available. In 2019 alone, an average of 17 new evangelical churches opened per day in Brazil, according to researcher Victor Augusto Araújo Silva, at the University of Zurich, Switzerland.
Long a country dominated by Catholicism, the arrival of Baptists, Lutherans, and Calvinists to Brazil at the end of the 19th century helped usher in the arrival of the evangelical movement. In the 20th century, missionaries from the US brought the Pentecostal movement, predominantly to the north and southeast parts of the country. By the 2030s, evangelicals may outnumber Catholics, projects demographer José Eustáquio Diniz Alves.
For Nathan Zortéa, a youth pastor at the CCvideira church in Fortaleza, Ceará, a congregation in the northeastern part of the country, Brazilian teenagers reap the fruits of evangelical churches whose reach crossed socioeconomic and racial lines.
"The social inequality that exists in Brazil ends up showing our teenagers that the gospel is good news of justice and righteousness, of a God who is for you and not against you. Our churches have played a fundamental role in presenting these teenagers with a gospel that invites them to live something new," said the leader of the A13, a youth ministry that currently has an average weekly attendance of more than a thousand teenagers.
In addition to being very engaged now, Brazilian and Honduran teenagers have been more motivated to keep learning about Jesus. The Barna survey shows that globally only 38 percent of those surveyed said they are "very motivated" to learn more about Christ, while that number jumped to 63 percent in Latin America and nearly doubled in Brazil (73%) and Honduras (74%).
For Jacó Adonias, pastor of teenagers at Cidade Viva Church in João Pessoa, Paraíba, a neighboring state, Gen Z is thirsty for the truths that only the gospel can offer.
"I can see in my ministry how true the numbers that were presented in the survey are. I know teenagers aged 13, 14, and 15 who have made a real difference in their communities and environments," said the leader of Rede Livre, a ministry that brings together more than 600 teenagers weekly. "I always encourage the leaders we have here at the church not to underestimate the potential of these boys and girls."
Increasing Bible engagement among young people is one area where church leaders will need to continually invest their efforts. Altogether, while 85 percent of teenagers studied in Latin America claimed to have a Bible at home, one in five (19%) never use one. Despite this, Brazilian and Honduran teens think highly of the Scriptures.
In Latin America, only 12 percent of Christian teens surveyed said they read the Bible every day. In Brazil, 66 percent said they prefer to read a printed version of the Scriptures versus 33 percent who read through an app on their smartphone or tablet.
Additionally, the survey reveals that 67 percent of Brazilian Christians not only believe the Bible is the Word of God, compared with an overall 59 percent of Latin American teens who use or own a Bible, but also show a higher level of engagement with the Bible than believers from any country in the survey. Barna defines "engaged" as having a "high view" of the Bible (believing it to be the inspired and unerring Word of God) and reading it several times a week.
Those considered to be "open" to the Bible are defined as either having a "high view" of it and reading it less often than Bible-engaged teens (but more often than three or four times a year) or having a neutral view of the Bible.
Teens in Latin America are highly motivated by a sense of social justice; 49 percent of committed Christians and 56 percent of Bible-engaged teens are "justice motivated."
(This term refers to teens who strongly agree with all of the following: that it is important to "change conditions that cause individual suffering" and "protect the well-being of all people"; that they are confident that they can "make a positive impact on others' lives" and "influence others to promote fairness and equality"; and that in the future they will "engage in activities that promote justice" and "work collaboratively with people in need.")
The more the teenagers are engaged with the Bible, the more they feel motivated to seek justice.
Brazilian and Honduran teens also receive further training regarding their Bible studies from family and church leaders.
According to Barna, "Though teens are usually reluctant to precisely name barriers to Bible reading (the plurality selects "none"), Bible users and Christian teens in Latin America may sometimes struggle to understand or stay focused on the text." Concentration difficulties may also be connected to increased smartphone use after the pandemic.
(A 2022 report analyzing data collected by 46 studies and involving nearly 30,000 children from various countries showed that the average amount of time teens spend in front of screens every day has skyrocketed by 52 percent since 2020. It has increased from 2.7 hours to 4 hours—an additional hour and twenty minutes of daily consumption.)
For leaders, Barna's findings underscore the importance of their work in educating young people on the necessity and relevance of the Bible. For pastor Lucas Nagib, from Lagoinha Baptist Church in Niterói, Rio de Janeiro, one factor that has led young Brazilians to stand out in relation to those from other countries is these teenagers' high commitment to expose their faith with their peers and friends through social media.
"Here in our church, we believe a lot in this generation, and we give them a lot of opportunity to grow and develop. We have many leaders who are teenagers, and they make a total difference in the life of the church," said the leader of the Nexteen ministry, which has a weekly attendance of more than 500 teenagers.
Back in Recife, Fernandes has also organized a Bible study at her school, and it currently brings together more than 40 teenagers to pray, worship, and read the Bible together each week.
"It's a huge responsibility, because everyone at my school is paying attention to my actions now," she said. "If they won't go to church, I want to bring the gospel to where they are."