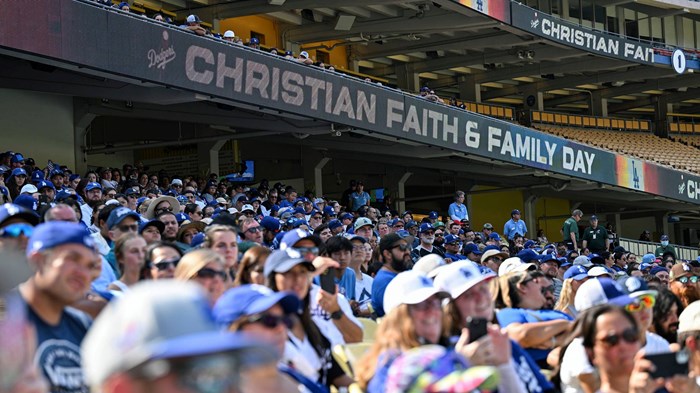 Image: Kate Foultz / Los Angeles Dodgers
At 8:15 p.m. on a recent Saturday, Texas Rangers catcher Mitch Garver swung and missed at an 86-mph slider from San Diego Padres closer Josh Hader.
Garver's strikeout secured a 4-0 victory for the home team in front of 42,677 fans at Petco Park. Three minutes later, an electric guitarist and keyboardist from The Rock Church—an evangelical megachurch in San Diego—stirred on the Gallagher Square stage behind center field.
The church's pastor, Miles McPherson, sported a pinstriped Padres jersey as he grabbed a microphone.
"What's up? What's up? Y'all ready to worship the Lord?" said McPherson, a 1980s-era San Diego Chargers football player who developed a cocaine habit before dedicating his life to Jesus Christ during his NFL days.
About 3,000 men, women and children—almost all clad in Padres hats and attire—bought special tickets for the team's annual Faith and Family Night.
On a 74-degree evening, in the shadow of statues honoring Padres greats Tony Gwynn and Trevor Hoffman, attendees listened to praise music, heard testimonials from Padres and Rangers players and lifted their hands toward heaven in prayer.
"It's very nice to be able to celebrate our faith in public without criticism," said one of the fans, Nicole Soto, who is not related to Padres star Juan Soto.
Roughly 19 hours later—and 125 miles to the north—a similar scene played out at Dodger Stadium in Los Angeles. Except that the Dodgers lost their Sunday afternoon home game, 9-0, to the Cincinnati Reds before a disappointed crowd of 45,936.
Still, thousands of fans stuck around for a special postgame program on Christian Faith and Family Day, highlighted by a performance by contemporary Christian music artist Jeremy Camp.
Despite losing, 10-time All-Star pitcher Clayton Kershaw, manager Dave Roberts, and other Los Angeles players took seats atop the team's third-base dugout as sweat dripped from spectators' faces on a sunny, 85-degree day.
"We like the Dodgers, but we also wanted to support the fact that they're promoting Christianity," said Cindy Carcedo, whose family of five came to the game, "because I feel like our faith is so strong, but to hear it coming from the players and knowing that we're all in this together, it just makes it so much stronger."
"It's really nice to see them talking about Christ and God in public, just spreading the word," agreed Sergio Carcedo, Cindy's husband. "Nowadays, I believe a lot of people that are Christian try to hide it. … So this is a very good thing."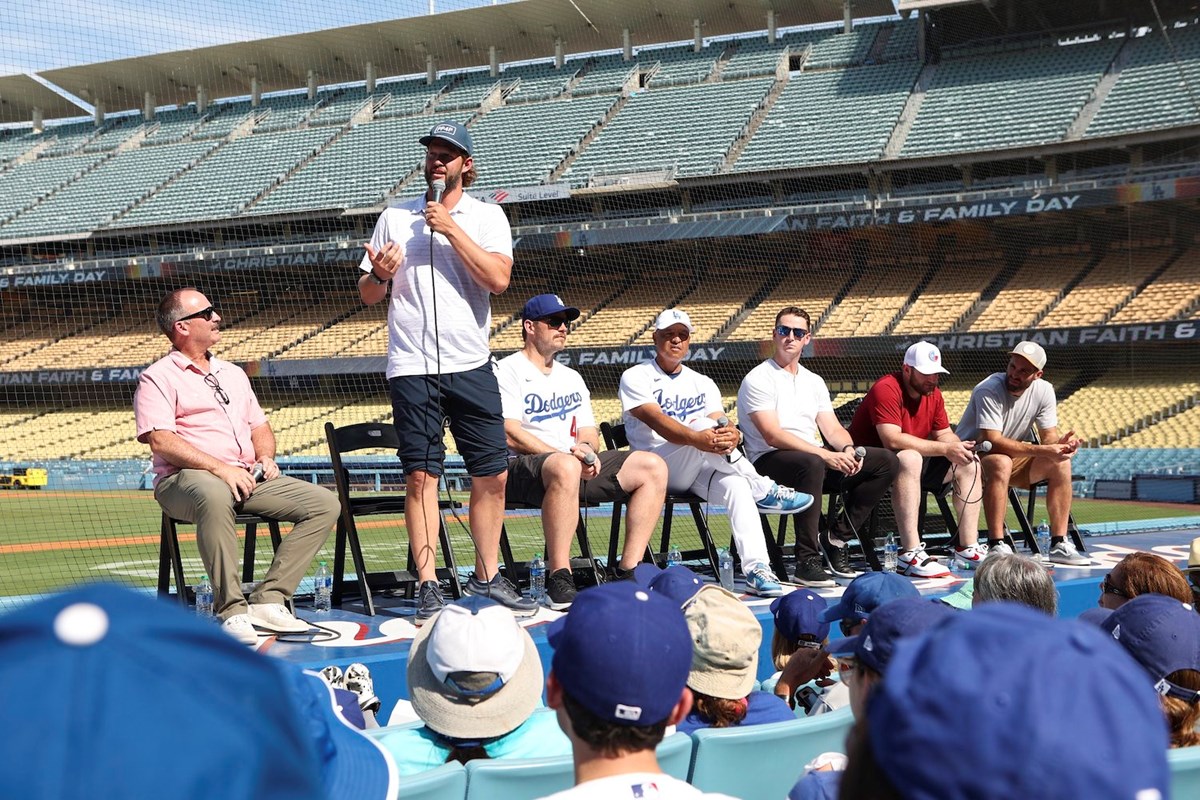 Image: Jon SooHoo / Los Angeles Dodgers
A marketing strategy
At least 18 of MLB's 30 franchises—60 percent—will host faith nights during the 2023 season, research by ReligionUnplugged.com found. A handful of other teams have done so in recent years.
The Colorado Rockies (Aug. 20), Arizona Diamondbacks (Aug. 25), Seattle Mariners (Aug. 26), and Washington Nationals (Sept. 2) are among those with recent or upcoming faith-and-family promotions.
"He Gets Us," a media campaign touting Jesus, is sponsoring the Rockies faith event as well as others by the Atlanta Braves, Chicago White Sox, Miami Marlins, and St. Louis Cardinals. In addition, He Gets Us is advertising at Rangers and Los Angeles Angels games.
"He Gets Us' goal is to reintroduce people to the Jesus of the Bible and his confounding love and forgiveness," campaign spokesperson Jordan Carson said in a statement. "The best way to do that is to meet people where they are. That is why you see our ads at a variety of events, including sporting events."
In past seasons, other teams have organized Catholic Nights (Boston Red Sox) and Muslim Heritage Nights (Oakland Athletics).
From Star Wars nights to NASCAR days, MLB franchises rely on themed events to boost ticket sales. That strategy encompasses faith nights, which typically gain little attention outside the target audience. Organizers generally focus sales pitches directly at church groups and Christian radio listeners.
The Dodgers event attracted wider notice after controversy earlier this season over the team honoring the Sisters of Perpetual Indulgence—a group that satirizes sacred Catholic rituals—during its Pride Night game. (Twenty-nine MLB teams—all but the Rangers—sponsor Pride nights.)
The furor over the drag nuns prompted Kershaw, a future Hall of Famer, to urge the team to speed up its announcement of Christian Faith and Family Day, the pitcher told the Los Angeles Times. The Dodgers promoted the Christian event, the first since the COVID-19 pandemic, on the team's main social media channels.
But some fans accused the team of playing favorites by not scheduling a Jewish Community Day, as it has in the past. For example, the Padres did offer a Jewish Community Day this season.
History of faith nights
Baseball's marketing to people of faith stretches back many years, even if the contemporary faith nights—typically involving evangelical Christian worship and testimonials by stars such as Houston Astros second baseman Jose Altuve—developed more recently.
In reviewing the history of religion and baseball, Paul Putz, assistant director of Baylor University's Faith & Sports Institute, discovered that teams such as the Baltimore Orioles organized what ticket stubs called "Inter-Faith Night" in the 1950s.
Before a 1958 Inter-Faith Night game between the Detroit Tigers and Washington Senators at Griffith Stadium in the nation's capital, a newspaper columnist wrote that the "whole purpose … is to remind human beings that they belong to the brotherhood of man."
"This was the height of the Cold War, and there's the fear of communism, and there's this belief that America needs to have some religious identity," Putz said, recalling that Inter-Faith Night promoted pluralism among Protestant, Catholic, and Jewish believers.
Later, baseball teams—particularly in the minor leagues—implemented "all-faith days" where anyone presenting a church bulletin got a discounted ticket, the scholar said.
Faith nights incorporating Christian music and player testimonials originated in 1991, when a St. Louis Cardinals fan named Judy Boen organized the first Christian Family Day at the old Busch Stadium.
Although a foundation begun by Boen, now 81, no longer sponsors the event, it has continued for three decades.
"It was my mom's idea," said Christe Boen Mirikitani, Judy's 50-year-old daughter. "She loves Jesus with all her heart, and she loves Cardinals baseball—that's a close second. I had been babysitting for a bunch of different baseball players, and my mom knew that a lot of them had a faith in Christ."
But persuading players to share their faith publicly was a challenge in the beginning.
"That was a big step for some of those guys," Mirikitani recalled. "But then it kind of paved the way for the rest of the players in the years to come. People felt comfortable in doing that."
Albert Pujols, an 11-time All-Star who retired in 2022, is a Boen family friend. Pujols paid special tribute to Judy at last year's Cardinals faith day.
"I just want to thank you for being here today," he told her as the crowd cheered.
'Fans of purple cupcakes'
Brent High didn't know about the Cardinals faith day when he pitched a similar idea to the Atlanta Braves in 2005.
High, who had helped the minor league Nashville Sounds improve attendance with promotions such as handing out bobblehead Moses figures and camouflage Bibles, simply saw an opportunity for the Braves to boost ticket sales in an area with lots of churches.
On a Thursday afternoon in July 2006, the Braves hosted their first faith day—with attendance up 15 percent from normal—and star pitcher John Smoltz made national headlines by preaching on the same field where his team lost earlier in the day.
Nearly two decades later, High said his Third Coast Sports Foundation, a nonprofit ministry, has partnered with more than 60 professional sports teams—including 11 MLB franchises—on faith-based events.
"Interestingly enough, I have always been a big proponent that if you are a group of any kind, and you want to do something at the ballpark, you should have the freedom and ability to do that," High said. "If you can come and cut a deal with a team and convince them that you can put 10,000, 12,000 or 15,000 people in the seats—say, you're going to have a night for people who are fans of purple cupcakes—you ought to have the ability to do that."
But in High's view, there's a smart way—and a reckless way—to do ballpark faith nights. He's not a proponent of what he refers to as "ambush evangelism."
"When you start interfering with the normal baseball fan experience—they just came to watch a game—that's where I think you can get sideways," High said. "And if you're not careful, you can kill the opportunity because enough people will complain. And the team will just kill it off."
Praying, but not for baseball
Back in San Diego, the players who gave Faith and Family Night testimonials included Padres center fielder Trent Grisham, a two-time Gold Glove Award winner, and Rangers first baseman Nathaniel Lowe, a 2022 Silver Slugger Award recipient.
Geoff Horn, the Padres team chaplain, asked Grisham, Lowe, and other players and coaches to talk about their relationships with Jesus.
"I feel like following Jesus gives you a different perspective, right?" said Lowe, who went 0 for 4 with two strikeouts in that night's game, "because it gives you a different lens to look through, OK?
"So on a day like today when you guys smoked us," he added to laughter from the Padres fans, "there are guys in the clubhouse that are putting their hands on you, saying, 'All right, man, you'll hit it next time.' And with the perspective that God gives us, we can pay attention to things like that."
Grisham said he finds peace in the Lord through his morning Scripture readings.
"I mean, you have to get in the word," he said of the Bible, "and you have to stay in the word."
The fans applauded in agreement.
As the night ended, McPherson invited the crowd to extend its arms toward the players and coaches. He described the gesture as a symbolic "laying on of hands."
"We're not praying that they play baseball better, especially that guy," the pastor joked, referring to Lowe. "We're going to pray that they follow Jesus better. Amen?"
"Amen!" the fans responded.
Dodgers' blue heaven
At Dodger Stadium the next afternoon, Kershaw thanked the crowd—a sea of blue-and-white jerseys and T-shirts—that stayed for the postgame program.
The All-Star pitcher, who has a 208-91 career win-loss record with a 2.48 ERA, emphasized that he and teammates are baseball players, not pastors.
"We're not great at talking about Jesus in a public way," Kershaw told the fans, each of whom received a custom white hat with the Dodgers logo, a gold cross and "John 3:16" inscribed on the side. "But what we do want to mention is that we are baseball players that love Jesus, and we wanted to share a little bit about …"
The crowd's cheers drowned out the rest of what he said.
The Dodgers manager joined Kershaw in welcoming the fans. Win or lose, Roberts said he finds his anchor in Jesus.
"I hold him dear to my heart, and in everything I do, I want to represent Jesus," Roberts said. "I'm not perfect. I'm far from perfect. But I will tell you that I really don't believe I could … pour into players and do my job if I didn't have Jesus Christ."
Jesus provides a solid foundation, even on days when the team loses, said third baseman Max Muncy, who went 0-for-4 with a strikeout in that afternoon's game.
"Today is a perfect example," Muncy said. "We kind of got our doors blown off today, and yet we still have thousands of people out here. And we have teammates out here sharing the word and sharing our testimonies."
Before a final few songs by Camp, Kershaw led the crowd in a prayer.
"Jesus, thank you so much for this day," Kershaw said from the top of the dugout. "What an opportunity to get to be here and glorify you and talk about you and how much you mean in our lives. Help us every single day to follow you as best as we can.
"And thank you for this day," he continued. "It is truly a special day to be at Dodger Stadium with this many people talking about you, worshipping you, and just being so grateful for you in our lives. We love you. And it's in Jesus' name. Amen."
This article was originally published on Religion Unplugged.
Bobby Ross Jr. is a columnist for ReligionUnplugged.com and editor in chief of The Christian Chronicle.