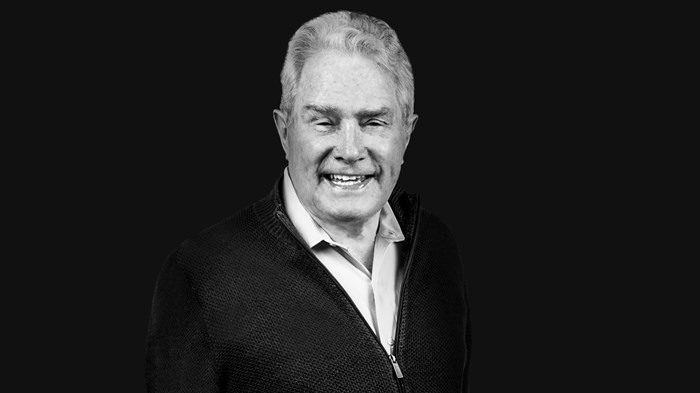 Image: Courtesy of Luis Palaus Association / Edits by Rick Szuecs
Evangelist Luis Palau has died at age 86 of lung cancer. An immigrant from Argentina who made his home in the United States, Palau became one of Billy Graham's most prominent successors and shared the gospel in more than 80 countries around the world. His ministry led millions of individuals to make personal decisions to follow Jesus.
Palau preached the gospel to heads of state in Latin America and as the Iron Curtain fell in the USSR, his crusades bringing together a diverse array of Christians, including Protestants, Orthodox, and Catholics. As a young man, Palau interpreted for Graham, who later helped fund Palau's evangelism organization when it officially started in 1978.
Palau began evangelizing during a historic moment for Latin American evangelicalism. Pentecostalism had first arrived in the region in the early 1900s. By the 1960s and '70s, Ecuador's Rene Padilla and Peru's Samuel Escobar began arguing for misión integral (comprehensive mission), challenging an evangelicalism that they believed too narrowly focused on individual personal salvation at the expense of larger social concerns. Palau did not follow this trajectory. His writings in Spanish critiqued liberation theology, and his ministry focused on conversions. Much of his later work, however, sought to actively engage the community, especially in his home city of Portland, Oregon.
"Palau had a great way of preaching the gospel in an accessible manner and planting spiritual priorities aimed toward personal salvation in Christ, but he also had a certain social awareness," said Notre Dame history professor Darren Dochuk. "If not a full-fledged social gospel, a message nevertheless that was aware of social concerns."
In the 1990s, Palau's global ministry began intentionally focusing on the US. Under the influence of his sons, who took active leadership roles in the ministry, his evangelistic events increasingly became marked by rock concerts and community service projects. In 1999, The New York Times asked who might succeed Graham. Palau was the first candidate.
Despite living out his adult life in the US, Palau remained connected to Latin America largely through the radio—the same medium through which he first heard Graham preach as a teenager, an event which inspired his evangelism. He often bought simultaneous primetime coverage to televise his crusades. Outside his public preaching, he also appeared on the region's local television, taking viewer questions and leading locals to the Lord.
Palau grew up in Ingeniero Maschwitz, a small town about 30 miles outside Buenos Aires. He was born in 1934, the only boy in a family of seven children, in a bilingual family to a father whose parents immigrated from Spain after World War I and a mother with Scottish and French family. Palau's parents, Luis Palau Sr. and Matilde Balfour de Palau, became Christians after Edward Rogers, a high-ranking British oil executive, gave Palau's mother a Bible. Rogers served as a key spiritual influence on Palau during his childhood, and when Palau's father unexpectedly died, Rogers financially helped the family out.
Palau's own conversion experience happened while he was at summer camp in 1947, when a camp counselor led him to Christ.
"You don't have to have a jaw-dropping story of how you received Jesus. It just must be yours," Palau later wrote in a memoir. "Some have the light falling from heaven, the Damascus road experience that takes them from the 'chief of sinners' into the arms of Jesus. Some of us are kids just starting to learn what sin means, and the light from heaven looks like a shaky flashlight beam on the page of a Bible as chilly rain falls around. All that is important in our conversion is the reality of it."
Palau first learned English from a young age through his parents, who were bilingual. Much of his education was also in English, first at a British boarding school and later at a prestigious academy associated with Cambridge University.
After finishing school and finding work at a Bank of London branch, Palau first encountered Graham's voice over the radio as a teenager in Argentina. Within several years, Palau himself had petitioned his local radio to allow him to give sermons. Having initially aspired to become a lawyer, Palau now began dreaming of ministry with the global scale and mass evangelism that marked Graham's crusades. Around the same time, he attended a Bible study led by visiting American pastor and writer Ray Stedman, who over the next couple months urged the Argentine to move to the US to train for ministry.
When he arrived in California's San Francisco Bay Area, Palau lived with Stedman, who was also simultaneously mentoring a young Chuck Swindoll. Stedman's mentorship extended beyond assigning books or imposing advice. He brought Palau with him to congregant counseling sessions, teased him about his legalistic background, and regaled him with his surprisingly frank and seemingly taboo-broaching stories. Stedman encouraged Palau to attend Dallas Theological Seminary, but Palau felt daunted by the four-year commitment and opted for a one-year program at Multnomah School of the Bible (now Multnomah University).
At Multnomah, Palau met his wife, Patricia, an Oregon resident who had her own dreams of global evangelism. After they married, the couple moved to Detroit before spending time in Costa Rica, Colombia, and Mexico with Overseas Crusades mission agency. As they expanded their family—they ultimately had four boys—the Palaus decided to raise their children in Oregon. Palau continued to travel while Pat stayed at home. He once calculated, 57 years into their marriage, that they had spent a cumulative 15 years apart because of his traveling.
"Never was it lost on me that many of the most precious moments, the treasures of my sons' lives, came and went without me," later wrote Palau. "I don't regret the choice. I do mourn the many memories that had to be made without me there."
Palau had briefly met Graham when the latter visited Argentina, but their paths crossed again as Palau approached 30. Palau looked up to Graham, emulating his city-centered strategy, naming successful businessmen to his ministry board, populating his sermons with current events, tapping prominent athletes to give testimonies at his events, and not attempting a crusade unless a diverse coalition of churches invited him. At the beginning of his ministry, he translated for Graham, and over the course of their decades' long ministries, they partnered together at various times.
Palau's crusades often followed decades of ministry by local churches and Bible societies, many of them Pentecostal. Beyond addressing the crowds, Palau and his evangelistic team sought meetings with the region's leaders. "A scheduled twelve-minute conversation with President Carlos Arana Osorio of Guatemala lasted an hour; the president accepted a Bible from Palau, stating he wanted to study it," reported CT in 1974.
Perhaps Palau's most notorious friend was Guatemalan dictator Efraín Ríos Montt (who counted a number of evangelical leaders as pals), who was later convicted of genocide. (The verdict was overturned.) "It's great to have a Christian president as a model," Palau told CT in 1983. "The hand of God appears to be on him."
Despite his international ministry and the political upheaval that Latin America endured in the second half of the 20th century, Palau gained a reputation as one who rarely commented on politics.
"Those who are called to enter the political arena should take it as a ministry from the Lord. I don't care if he or she is left wing, right wing, an atheist, or a religious leader; I always tell politicians, 'Your position is a delegated authority from God, and you are a minister of God,'" said Palau in 1996. "So I encourage them to think of justice and righteousness, and to defend the poor and the needy. That's the role of a politician."
Beyond his connections with political leaders, Palau was also longtime friends with the man who would become the most famous Argentine in the world: Jorge Bergoglio. When that friend became Pope Francis in 2013, Palau cheered the appointment.
"It was exciting because of Argentina, because of his personality, and because of his openness toward evangelical Christians," he told CT in 2013. "I got kind of emotional, simply having known him."
This spirit of ecumenical partnership also marked Palau's crusades, which often reflected months of on-the-ground partnership with local churches and trust building between long-estranged Christians. Routinely, these collaborations extended beyond reaching out to Protestant congregations. In countries like Egypt and Russia, where evangelicals and Orthodox Christians had long been at odds, the crusades served as catalysts for partnership. In Central America, Catholics and charismatics attended his events.
This camaraderie did not necessarily extend to his adopted country. In 1976, Palau canceled a Chicago crusade targeted toward Hispanic Christians over division between Pentecostal and non-Pentecostal Christians.
"Interestingly enough, America is the toughest country in the world to get denominations to work together. America talks up the 'one nation under God' theme, but it's pure theory," Palau told CT in 1996. "The major work in a citywide crusade is not touching the nonconverted. It is bringing the churches together to touch the unconverted."
Despite his Argentine heritage, when he left South America, Palau's theological training, relationships, and ministry structure meant that much of the world regarded him as an American.
"He adopts the Billy Graham model. He has this great organization behind him that provides accountability, managerial expertise, fundraising, legitimacy," said Daniel Ramirez, associate professor of religion at Claremont Graduate University. "That comes from the US. That doesn't come from Latin America."
Over time, Palau's US presence became stronger—and began to differentiate itself from the model that many of his international events had taken. His sons convinced him to drop the word crusade for festival—a suggestion he at first fought. He, like many of his contemporaries, began swapping venues from sports arenas to downtown city parks. Many events also began to include community service projects. Over one spring break, he broadcasted at dozens of churches via satellite, with the congregations encouraged to reach college students through beach parties with local bands, speakers, and local sports.
"He was clearly orthodox and simultaneously not obnoxious," said Ed Stetzer, executive director of the Wheaton College Billy Graham Center. "That's something not everyone pulls off on a national stage. He did."
Several years later, his Portland-area based ministry also drew attention for building intentional relationships with the mayor at the time, who was openly gay, and for collaborating with a city that boasted a secular and progressive reputation. At times, Palau felt concern that the ministry's growing focus on serving the community might overshadow the evangelism he felt called to.
"We run the risk of going full circle and becoming like the liberals," he told CT in 2008. "We mustn't water down the gospel because we are having lunch with politicians. I'm committed to preach the blood of Jesus and the cross of Jesus."
Through his American festivals, he also sought intentional relationships with the Latino community.
"Latinos are in the best position to get the gospel message out to this country because of our high commitment to the family and because Hispanics have a sense of abandon to the gospel," Palau said. "I just mention a Bible verse and they break into applause!" At University of Illinois–Chicago Pavilion rallies, Palau threw out the first part of a Bible verse and the audience roared back the rest of it.
Palau also believed Latinos could bridge polarized white and black communities. "We have not isolated ourselves like the whites have from the city's problems, and we don't have the same historical hurts that the African-American community has," he stated.
"The Latino surge into evangelicalism will also change the evangelical church itself," said Palau. "The mainstream evangelical church has become too comfortable in this culture. It has lost its fire, its sense of conviction of right and wrong."
Despite the polemic political situation in many of the countries in which Palau traveled, he largely avoided offense, with some exceptions. In 1977, Palau spoke to more than 60,000 people in Wales over the course of the month. But in 2005, the city of Cardiff canceled a reception for Palau over his "extreme evangelical beliefs." That same year, Palau urged Chinese house churches to officially register their churches in order to "receive greater freedom and blessings from the government." His remarks drew sharp pushback from religious freedom advocates.
Even as his ministry expanded in the US, Palau lamented the West's lack of passion for evangelism.
"In North America and Europe, however, I find that while there is much discussion about evangelism, real evangelism is hard to detect," he told CT in 1998. "The evangelical Christians of North America cheerfully pay any amount to go to a concert. They fill the civic center for worship sessions and even intercessory spiritual warfare conventions. But when it comes to face-to-face warfare, which is talking to people kindly but directly about their need for Christ, suddenly the numbers diminish. In too many churches the response to the challenge to proclaim the gospel to their city is, 'Why should we be doing this?' and 'This is expensive.'"
More than 15 years later, Palau doubled down on his convictions.
"We Christians—and especially Anglo-Saxons—have this notion that we know what the other guy is thinking before we even begin to talk to him. We really don't," said Palau. "The Holy Spirit said he would convict the world of sin, righteousness, and judgment. Do you believe that? I believe it."
Palau is survived by his wife, four sons, and many grandchildren.