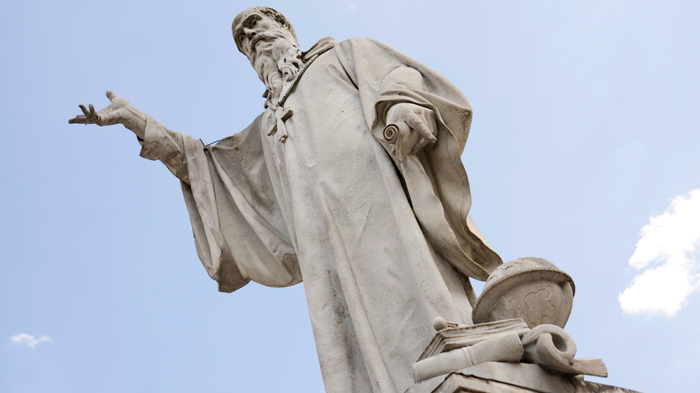 Image: tulla / Getty Images
Given Christianity's precarious position in Silicon Valley, it's hard to tell who'd be more surprised to find the teachings of St. Benedict as the code of conduct for one of the most ubiquitous pieces of software on the planet: believers themselves or the crowd of digital programmers who recently balked at the divinely inspired guidelines.
SQLite—a database management engine used in most major browsers, smart phones, Adobe products, and Skype—adopted a code of ethics pulled directly from the biblical precepts set by the venerated sixth-century monk.
This week, many programmers discovered SQLite's unusually religious guidelines, which include the Great Commandment and the Ten Commandments, as well as teachings such as "devote yourself frequently to prayer" and "prefer nothing more than the love of Christ."
Founder D. Richard Hipp responded by defending and explaining the relevance of the historic monastic rule to this modern-day tech landscape. He said he found typical codes of conduct to be "vapid." So when clients began to request one for SQLite, the Christian developer preferred to create something more substantial than "trendy, feel-good statements."
Hipp does not require users of the public domain software to follow Christian teachings, but instead "pledged to govern their interactions with each other, with their clients, and with the larger SQLite user community in accordance with the 'instruments of good works' from the fourth chapter of The Rule of St. Benedict," the code's introduction reads.
"This code of ethics has proven its mettle in thousands of diverse communities for over 1,500 years, and has served as a baseline for many civil law codes since the time of Charlemagne."
All of SQLite's developers agreed to follow the spirit of the Benedictine rule, enumerated in 72 points [see below].
"I could have edited the list down to just those aspects that seem relevant to coding," Hipp told The Register, a tech news site. "But that would put me in the position of editing and redacting Benedict of Nursia, as if I were wiser than he. And I considered that. But in the end, I thought it better to include the whole thing without change (other than translation into English). In the preface, I tried to make clear that the introspective aspects could be safely glossed over."
St. Benedict is known as the father of Western monasticism, largely because of the community guidelines he established which balanced both compassion and discipline among monks.
"In drawing up these regulations, we hope to set down nothing harsh, nothing burdensome," he famously said. "The good of all concerned, however, may prompt us to a little strictness in order to amend faults and to safeguard love."
Lately, the open source software community has been considering whether improved codes of conduct could help curb harassment and other bad behavior; the Linux system recently updated its behavioral guidelines for developers after a controversy involving its founder.
Though SQLite posted its Benedictine code of conduct back in February, it became a topic of discussion this week when it was brought up on the site Hacker News, a Reddit-type message board run by the creators of the prestigious entrepreneurship incubator, Y Combinator.
"My first reaction was that it was a satirical joke when I read it on Hacker News," Jeffrey Davis, a Christian who works as an engineering director for a tech company in Dallas, told CT. "To be blunt, it was a relief to know such a statement was not being used in a mocking and satirical manner. You can read that thread to get a grasp on what it's like as a Christian in the day-to-day SF/Valley Tech world."
While plenty of commenters endorsed the spirit of the Rule of St. Benedict, or respected SQLite's right to adopt whatever code it chooses, critics challenged it as evangelistic or exclusionary.
Some of the teachings espoused in the ethical code resonate as universal calls to kindness and respect; others stand out as particularly unusual in the industry, including encouragement to pray, repent, "Be a stranger to the world's ways," and "Attribute to God, and not to self, whatever good you see in yourself."
"I am quite baffled by this," one commenter wrote in response. "I mean this is some strange place to promote Christianity."
"Religious discrimination isn't ok, and being annoyed by it isn't blowing things out of proportion," wrote another.
The criticism reflects an ongoing tension in the tech landscape: the sense that Christians will experience bias, or at least some social discomfort, in a largely secular, progressive community.
Earlier this year, the HBO series Silicon Valley, known for its cringeworthy ability to capture the drama of startup culture, included a plot point where a CEO was accidentally "outed" for being Christian. According to one line in the episode, "Here, you can be openly polyamorous, and people will call you brave. You can put micro doses of LSD in your cereal, and people will call you a pioneer. But the one thing you cannot be is a Christian."
"This discussion of faith and work is more relevant than ever," even if "things aren't as bad as the episode portrayed," concluded one Silicon Valley believer and venture fund associate, John Drexler, on the site Faith Driven Entrepreneur. "If Silicon Valley is Nineveh, we've got a lot of Jonahs already hard at work."
But due to social pressures, a lot of those Jonahs may remain behind the scenes when it comes to their faith. When reporting on believers in the Bay Area for CT's This Is Our City project, Andy Crouch observed that there were plenty of prominent Christians in startups, companies, and nonprofits, but they were more hesitant than sources in any other highlighted city to be publicly identified.
SQLite's Hipp—a 57-year-old living in Charlotte—has been open about his Christian faith long before the code of conduct debacle. His Twitter bio reads, "Christian, Creator of SQLite and Fossil-SCM. Often wrong but seldom in doubt," and his profile picture feaatures the Arabic letter "n," a symbol of solidarity with the persecuted church in Iraq and Syria.
Hipp has written his values directly into the source code for SQLite, which is accessible in the public domain. In the space where copyright notices typically appear, he included the line: "The author disclaims copyright to this source code. In place of a legal notice, here is a blessing: May you do good and not evil. May you find forgiveness for yourself and forgive others. May you share freely, never taking more than you give."
On the site RedGate hub, he explained:
"May you find forgiveness for yourself and forgive others" is a loose interpretation of Matthew 6:12, part of what is commonly called the Lord's Prayer and more recognizable as, "Forgive us our debts as we forgive our debtors." The third sentence tries to capture the concept of paying debts forward. The "never take more than you give" part is a paraphrase of one of the lyrics from The Lion King. The first (hokey) sentence is there because it seemed like a good benediction needed three sentences.
On his personal website, Hipp endorses the work of Wycliffe Bible Translators. His wife, Ginger G. Wyrick, is a church choir director, music ministry consultant, and member of the Fellowship of United Methodists in Music and Worship Arts.
Hipp converted to Christianity while a freshman at Georgia Tech and attributes his success in the industry to the Lord's work. "Everything that I am is by Grace alone. The longer I live and the more I see, the more obvious this fact becomes," he said in a 2008 interview.
"There have been many times in the past (and, no doubt, there will be more occasions in the future) where I have looked upon 'my' accomplishments with pride, thinking that 'I' have done well. Such thinking is utter foolishness. I would be less than nothing but for the unmerited favor of God."
When questioned on an SQLite message board this week, he stood firm: "The values expressed by the current [code of conduct] have been unchanged for decades and will not be changing as we move forward. If some people are uncomfortable with those values, then I am very sorry for them, but that does not change the fact."
Fellow believers in tech were pleased to see Hipp uphold scriptural teachings as the source of his values.
"As a Christian, I do believe that 1) while we shouldn't expect non-Christians to live like Christians, 2) when we live according to God's design, it generally goes better for us (whether a person is a Christian or not)," said Brian Seagraves, a software developer and Christian apologist.
"If we jettison God and his standard, we're more likely to use software to exploit and people… If companies and individuals followed even just the first 10 principles on 'The Rule,' the industry and the world would be a better place."
Here is the version of the Rule of St. Benedict, as listed in SQLite's code. It follows a caveat: "No one is required to follow The Rule, to know The Rule, or even to think that The Rule is a good idea. The Founder of SQLite believes that anyone who follows The Rule will live a happier and more productive life, but individuals are free to dispute or ignore that advice if they wish."
First of all, love the Lord God with your whole heart, your whole soul, and your whole strength.
Then, love your neighbor as yourself.
Do not murder.
Do not commit adultery.
Do not steal.
Do not covet.
Do not bear false witness.
Honor all.
Do not do to another what you would not have done to yourself.
Deny oneself in order to follow Christ.
Chastise the body.
Do not become attached to pleasures.
Love fasting.
Relieve the poor.
Clothe the naked.
Visit the sick.
Bury the dead.
Be a help in times of trouble.
Console the sorrowing.
Be a stranger to the world's ways.
Prefer nothing more than the love of Christ.
Do not give way to anger.
Do not nurse a grudge.
Do not entertain deceit in your heart.
Do not give a false peace.
Do not forsake charity.
Do not swear, for fear of perjuring yourself.
Utter only truth from heart and mouth.
Do not return evil for evil.
Do no wrong to anyone, and bear patiently wrongs done to yourself.
Love your enemies.
Do not curse those who curse you, but rather bless them.
Bear persecution for justice's sake.
Be not proud.
Be not addicted to wine.
Be not a great eater.
Be not drowsy.
Be not lazy.
Be not a grumbler.
Be not a detractor.
Put your hope in God.
Attribute to God, and not to self, whatever good you see in yourself.
Recognize always that evil is your own doing, and to impute it to yourself.
Fear the Day of Judgment.
Be in dread of hell.
Desire eternal life with all the passion of the spirit.
Keep death daily before your eyes.
Keep constant guard over the actions of your life.
Know for certain that God sees you everywhere.
When wrongful thoughts come into your heart, dash them against Christ immediately.
Disclose wrongful thoughts to your spiritual mentor.
Guard your tongue against evil and depraved speech.
Do not love much talking.
Speak no useless words or words that move to laughter.
Do not love much or boisterous laughter.
Listen willingly to holy reading.
Devote yourself frequently to prayer.
Daily in your prayers, with tears and sighs, confess your past sins to God, and amend them for the future.
Fulfill not the desires of the flesh; hate your own will.
Obey in all things the commands of those whom God has placed in authority over you even though they (which God forbid) should act otherwise, mindful of the Lord's precept, "Do what they say, but not what they do."
Do not wish to be called holy before one is holy; but first to be holy, that you may be truly so called.
Fulfill God's commandments daily in your deeds.
Love chastity.
Hate no one.
Be not jealous, nor harbor envy.
Do not love quarreling.
Shun arrogance.
Respect your seniors.
Love your juniors.
Pray for your enemies in the love of Christ.
Make peace with your adversary before the sun sets.
Never despair of God's mercy.