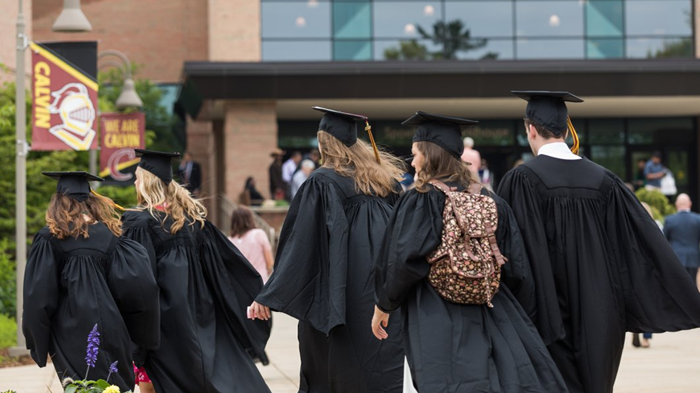 Image: Courtesy of Calvin College
Update (July 10, 2019): Calvin College officially changed its name to Calvin University on July 10, 2019, on the 510th birthday of the school's namesake, John Calvin.
-----
Original post (May 22, 2018): Almost 900 students graduated this past weekend from Calvin College, taking home diplomas that in just a couple years will be relics from the school's history. Two weeks ago, the Christian liberal arts college announced plans to change its name to Calvin University by 2020.
Schools across the United States have gradually transitioned from college to university as a way to indicate graduate offerings and compete for clout in the packed higher education landscape—particularly with the influx of international students. Calvin is the latest in a string of evangelical colleges to make the move.
"This direction enables us to live into what has already been true about Calvin, and it will better position us for the innovative work that is necessary for the future," said Calvin President Michael Le Roy in a press release. "We see this move providing a great opportunity to introduce more people to Calvin's distinctive Christian mission."
The Grand Rapids, Michigan, college launched its first graduate degree program in 1974. Informal talks of adopting the university designation have gone on for decades, formalizing over the past year with a unanimous vote from the faculty senate and the board of trustees.
But name changes are not merely branding moves requiring updated letterhead and new school T-shirts. Over the next two years, Calvin will make its change to a university official through legal and accrediting institutions, then will shift its governance structure. Unlike the streamlined college setup, universities typically have leadership in place for each of their schools and programs.
Counting Calvin's upcoming name change, 15 percent of colleges affiliated with the Council for Christian Colleges and Universities (CCCU) have dropped college for university in their names over the past five years.
Most recently, Warner Pacific College in Portland became Warner Pacific University at the start of 2018, and Dordt College in Iowa revealed plans earlier this month to transition to Dordt University in 2019. Both schools cited similar reasons to Calvin: expanded academic programs and appeal to a more international student body.
"Typically, the change stems from an increase in graduate degree offerings and/or the desire to attract more international students," said Rick Ostrander, CCCU vice president for academic affairs and professional programs.
"In the US, the terms college and university are used interchangeably to denote institutions of higher education, whereas students coming from abroad to study in the US often understand 'university' to denote higher education." College, on the other hand, may be associated with junior college or community college-level schooling.
The number of foreign students coming to the US for college has spiked by over 70 percent in the past decade, according to the Institute of International Education. Last year, the total number of international students enrolled in US colleges topped 1 million, making up 1 in 20 college students in the country. Christian organizations at secular colleges and Christian colleges themselves have embraced the shift as an opportunity for "diaspora missions" on campus. (So have Christian high schools.)
Calvin's international enrollment, at 12 percent of its 3,800-member student body, has reached about double the US average. LeRoy cited the school's global partnerships as well as its shifting student population as key factors in its transition to becoming a university.
As Calvin stated, "The college … has a large international student population for whom 'university' is more visible and better understood than 'college.'"
In the last several years, Greenville University, Ambrose University (Canada), University of Valley Forge, The King's University (Canada), University of Northwestern–Saint Paul, King University (TN), and Carson-Newman University also made the transition to become universities.
Schools keeping college in their names—think of prominent evangelical institutions such as Wheaton College, Gordon College, and Calvin's nearby rival Hope College—still make up a third of the CCCU's 170 members and affiliates.
Calvin's upcoming name change, its first since becoming Calvin College in 1931, is timed around its 100th anniversary as a four-year college.
"A move to a university with a liberal arts foundation both names what we already do and liberates us to do that work better," said Kevin den Dulk, Calvin political science professor. "I'm especially enthusiastic about using the university structure to expand our global reach, which is already considerable yet has a lot of room to grow."