World Cup Evangelism Has Flourished. What Comes Next?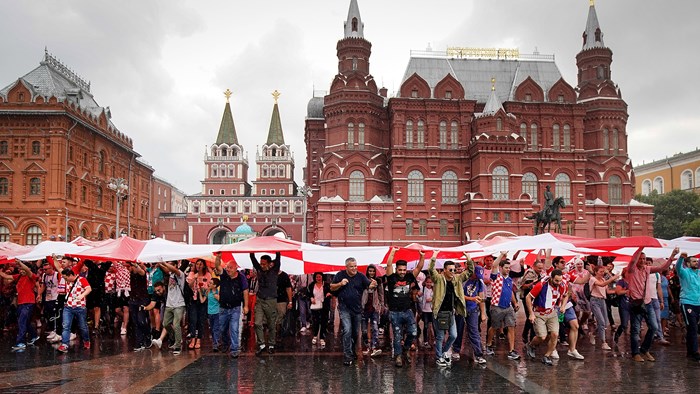 Image: Christopher Furlong / Getty Images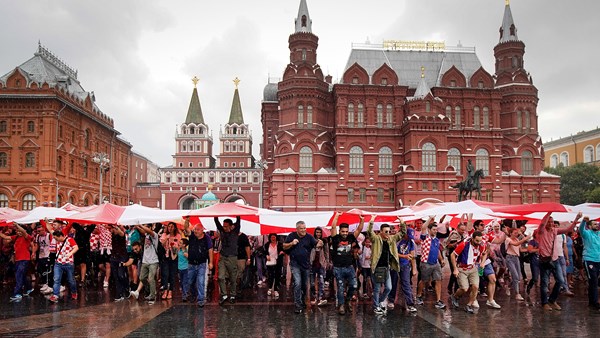 World Cup Evangelism Has Flourished. What Comes Next?
Even as Russia's national soccer team was eliminated from its own World Cup last week, concluding a surprisingly strong run at the globe's biggest soccer tournament, the country's Protestants have made their own mark on this year's Cup. They have high hopes to see their striking evangelistic project go beyond the championship game on July 15.
That project—a nationwide effort to use the tournament as a platform to share the gospel—has already reached hundreds of thousands of Russians, according to Mission Eurasia, a ministry that has equipped Christian leaders in the former Soviet Union for the last three decades.
Across Russia, about 400 churches have attracted more than 10,000 people to live screenings of World Cup games so far. The screenings and their accompanying programs double as outreach events. Over the course of the tournament, half a million pieces of evangelistic literature, including Russian Bibles and special editions of John's gospel that include directions to local churches, have been handed out.
That the Russian team made it so deep into the tournament, knocked out by Croatia in the quarterfinals, only helped the churches' mission.
"People are excited, and that has provided a real opportunity for sharing the gospel," said Pavel Tokarchuk, director of Mission Eurasia's Russia office, in a recent press release.
National pride, both in hosting the world's most popular sporting event and the success of the home team, has fueled an optimism around Russia. People are more willing to engage in spiritual conversations, Tokarchuk said.
"People are much more open to the gospel when they are celebrating together," said Konstantin, a coordinator with Mission Eurasia's School Without Walls (SWW) program, its leadership training ministry. "For our SWW students, this is a wonderful opportunity to put into practice what they've learned during the school year. Almost every day, we go out and talk to people about Jesus and share Scripture."
About 70 percent of Russians identify with the Russian Orthodox Church; nearly 20 percent are religiously unaffiliated.
"Many Christians have found a new courage and boldness for sharing their faith," said Tokarchuk. "We are praying they will continue to be encouraged to spread the good news."
The evangelistic uptick comes amid increasing persecution from the Kremlin.
The Yarovaya law, a 2016 policy that bans evangelism outside of government-approved churches, has hampered believers from sharing the gospel—and landed scores with heavy fines and even some deportations. Jehovah's Witnesses have been officially banned from worshiping in Russia since last year, with more than 50 now facing criminal prosecution, according to Forum 18, a service working for religious freedom. And for the second year in a row, Russia was listed as a Tier 1 country of concern for religious freedom in the US Commission on International Religious Freedom annual report.
Clever (and sometimes evasive) evangelism has boomed during Russia's soccer mania, but Moscow's crackdown on missionary activity has been visible even during the World Cup, asthe nation has been careful to keep press positive.
Three evangelical teams have been detained by Russian authorities since the start of the tournament, according to a Mission Eurasia press release. The teams, based in Moscow, Kaliningrad, and Yekaterinburg, were eventually released, but their materials were seized and what consequences may await after the World Cup fanfare and cameras are gone are uncertain.
Still, Mission Eurasia's president Sergey Rakhuba said the backlash hasn't been as intense as anticipated. Nor has the missiological zeal waned.
Foreign missionaries are forbidden, but that hasn't stopped groups from around the world, including Colombia, Ukraine, and South Africa, converging around the 11 host cities of the World Cup to partner in the campaign.
"Yesterday was supposed to be a day where we get oriented on how to use the metro," described an outreach team leader from South Africa. "It ended up being four hours of ministry as everyone wanted to take photos with us."
Another evangelist from South Africa told Gateway News about an impromptu altar call after the Brazil-Russia game that led to more than a dozen people giving their lives to Christ.
In Moscow's Red Square, a team of 25 students carried out "an evangelistic flash mob" at the start of the tournament, according to the Mission Eurasia Facebook page. "The goal of these flash mobs is to share the gospel quickly and spontaneously in a public place (since open evangelism is now illegal in Russia). As soon as the first flash mob started, people from all over the square came running over to watch it."
Christians with the mission organization Steiger were amazed at what they've experienced in Russia. "What happened on the streets of Moscow and St. Petersburg is beyond our understanding," said Steiger leader Angela Tkachenko. "Bold proclamation of the true Gospel, flash mobs, preaching in Red Square—it caused so many Christians in this country to decide that they too can take a step of boldness now, and go the streets to share Jesus!"
During just the first 10 days of the Steiger team's tournament outreach—featuring creative ways to pass out Scripture, a "cross procession," and flash mobs—hundreds of people were engaged in conversations about Jesus and 41 became Christians, according to a Steiger international newsletter.
The end of the World Cup will only mark the beginning of a new stage of the evangelism begun during the month-long tournament. Leaders with Mission Eurasia have planned an extensive post-Cup campaign that includes 1,800 home Bible study groups and kids' camps to reach up to 15,000.
"Our annual summer Bible camp outreach will be used as a follow-up to the World Cup outreach," Mission Eurasia's vice president of ministries and church relations Walter Kulakoff told Missions Box.
"Behind [the] World Cup tournament and geopolitical game, it is important to see a more important competition—for the souls of people, for their freedom and dignity," the organization's executive field director Michael Cherenkov wrote on his blog. "That's why what is happening in Russia is really worthy of our very close attention—during the tournament and especially after it."

07/12/2018