Iranian Christian Refugees Are Still Stranded in Austria. But Are Things About to Change?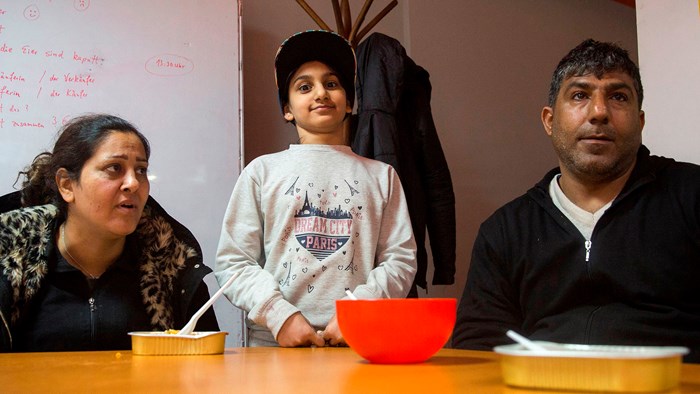 Image: AFP / Getty Images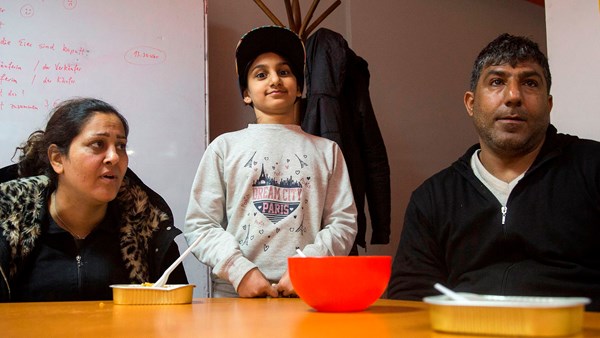 Iranian Christian Refugees Are Still Stranded in Austria. But ...
Around 100 Iranian refugees who were invited to resettle in the United States and then denied entry after a year of waiting in Vienna have two reasons to hope.
After being rejected from America, the migrants have applied for asylum in Austria and four have already been approved. This latest development occurred after many had already exhausted their savings and been divided from their families—the denials separated two women from their fiancés and cut parents off from their children.
Earlier this year, Austrian member of parliament Gudrun Kugler learned of the refugees' plight and invited the group to meet with her.
"With tears in their eyes, these people were telling me how much they wanted to start to work and live meaningful lives," Kugler said. "One young woman told me that she had not been to a school in two years. She could not sleep, and she was self-medicating. This uncertainty was very difficult for them."
Kugler, who believes helping the community is part of following her call as a Christian, reached out to a number of NGOs to help the migrants find health insurance, enroll in German classes, and take advantage of job training options.
One of her partner organizations, the Nazarene Fund, offered rent support and aid for medical and psychological care and legal services. In addition, it reached out to the US government to learn why the group had been denied entry after their initial acceptance. Since then, the US State Department has asked that the group to resubmit their requests for asylum.
Another reason for hope: Earlier this month, a US district court judge for the Northern District of California sided with the refugees, challenging the US government's blanket denial that left them marooned in Europe—afraid to return to the country they fled and unable to proceed to the country that had offered them refuge.
In the refugees' case, Doe v. Nielsen, Judge Beth Labson Freeman ordered the government to review its mass rejection of the Iranian religious minorities—most of whom are Christians. The refugees may now file appeals and, if the Department of Homeland Security (DHS) still elects to refuse them entry, it must provide reasons for each individual separately.
"DHS retains an enormous amount of authority and discretion to adjudicate refugee applications," the judge wrote in her decision, "but they do not have the discretion to violate the law."
The law that initially granted passage from Iran to America is the Lautenberg Amendment, a decades-old policy facilitating the resettlement of persecuted religious minorities, especially Jews and Christians from the former Soviet Union. In 2004, the addition of the Specter Amendment added Iranian religious minorities to those eligible under the program.
"The US government had abandoned our Iranian refugee clients in a terrible, Kafkaesque situation," said Mariko Hirose, litigation director for the International Refugee Assistance Project, which represented the plaintiffs alongside Latham & Watkins. "They had left their homes in Iran, sold their belongings, and traveled to Vienna with every expectation that they would soon be united with their family members in the US, only to be told that their admission was denied 'as a matter of discretion.'"
The details of the "matter of discretion" behind the bulk denial were not elaborated, even though the government is obliged under the Lautenberg Amendment to explain denials "to the maximum extent feasible."
More than 30,000 persecuted Iranians have come to the United States since 2004 via the Lautenberg Amendment, which claims close to a 100 percent acceptance rate.
Currently, there are 108 total Lautenberg refugees in Vienna. Of this number, 87 were included as part of the US blanket denial. The remaining 23 have not received denial or acceptance yet—they have heard nothing. Of the Christians, 45 are Armenian Christians and 30 are Assyrian Christians.
Vienna serves as the primary stopover point for the refugees, all of whom have application and financial backers in the United States and have been screened. Historically, they have traveled from Tehran to Vienna, where they stay for a short time—typically a few months—while their documents are processed and they go through background checks, interviews, cultural orientation classes, and further screening, and then on to the United States.
Applicants and their sponsors must cover the costs of their travel to Vienna and their living expenses once there.
"That's how this program used to be, and it was really a surprise and completely unprecedented when these mass denials happened in February," Hirose toldThe Washington Free Beacon.
The group of 87 Iranians fled their home country, leaving homes, families, and jobs to come to the United States, which had offered them entry under Lautenberg rules. They were stranded for a year in Austria, where their refugee applications were to be finalized, when their asylum requests were denied en masse on February 18.
"The Iranians in Vienna are in desperate circumstances," Hans Van de Weerd, vice president for the International Rescue Committee's US programs, toldForeign Policy when the denial was first announced. "Without income or the right to stay in Austria, they have but no choice to be deported to Iran, unless another nation steps up or Austria grants them asylum."
The unexpected denial has separated families and kept persecuted refugees, included the elderly and disabled, in limbo.
"It was the worst day of my life," a 23-year-old Iranian student toldThe New York Times regarding the day of the denial.
His parents and sister had been accepted by the program 14 months earlier and waited with him in Vienna for nine months after that, eventually going to the US with the assurance their son would be close behind. That day never came.
"I wish this nightmare ends," he said, "that I can open my eyes and see my family. I just want to be with them again. I don't care what it takes."
Under the new ruling, his case, along with those of the other asylum seekers, will be reconsidered. And quickly. "The court ordered the government to reissue the notices within 14 days," said Hirose. (The order was issued on July 10.)
After that, the Iranians will have up to 90 days to appeal, guaranteeing their cases will be reassessed.
"Congress originally enacted the Lautenberg Amendment to shelter and safeguard vulnerable populations, so we are thrilled to see the amendment being applied in this instance, thereby ensuring that our clients can find safety and security in the United States," said Belinda Lee, a lawyer at Latham & Watkins. "It's not an exaggeration to call this a victory for the rule of law."
Due to the Trump administration's executive orders halting the resettlement of most Iranian refugees to the United States, the rate of admission decreased from more than 1,000 in the first quarter of fiscal year 2017 to 29 in the first quarter of fiscal year 2018. Only two Iranians were admitted in the most recent quarter.
No new candidates have been approved via the Lautenberg Amendment since the inauguration of the Trump administration, despite the program's massive success in aiding persecuted refugees in the past. Currently, there are more than 4,000 Iranians waiting for their applications to be processed.
In addition to public sympathy and their American family members and sponsors, the Iranian refugees have found some support in Washington.
"DHS and State must make every effort to continue to accept thousands of Iranian religious minorities currently waiting in Iran and take steps to prioritize and expedite any relevant security checks," wrote the leaders of Congress's Human Rights Commission in a letter to Vice President Mike Pence.
"Mr. Vice President, you have been so eloquent in your defense of Christians persecuted in Iran and throughout the Middle East," they continued. "You have made clear that the Trump administration will take the lead in helping to end these persecutions."

07/20/2018