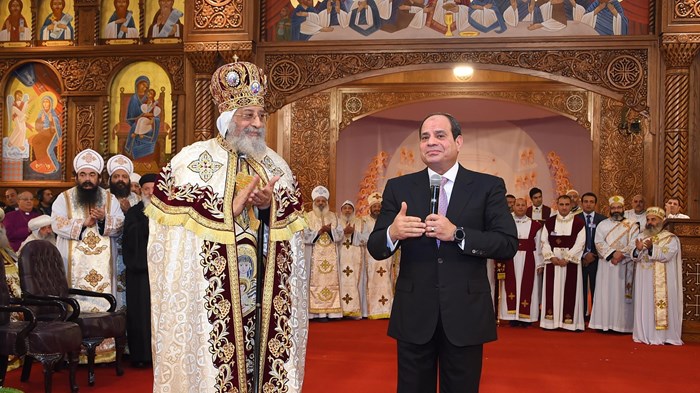 Image: Egyptian Presidency - Handout / Anadolu Agency / Getty Images
Celebrating Christmas with Egyptian Christians for the fourth consecutive year, President Abdel Fattah al-Sisi presented the largest gift under the tree: A new cathedral.
Sisi was the first president in Egypt's history to even attend a Christmas mass. During last year's celebration, he promised to build Egypt's largest church and largest mosque in a yet-to-be-developed new administrative capital.
Three weeks earlier, 27 people had been killed in a suicide bombing in a chapel adjacent the old cathedral and papal residence, St. Mark's in Cairo.
"Evil, destruction, and killing will never defeat goodness, peace, and love," Sisi said at this month's cathedral inauguration. "We are one, and you are our families. No one can ever divide us."
Coptic Orthodox Pope Tawadros II called the new church, named The Nativity of Christ, a "divine arrangement." Fifty years earlier, St. Mark's was built by President Gamal Abdel Nasser and Pope Kyrillos VI.
Egypt's new administrative capital lies 28 miles east of Cairo, and is a flagship project of President Sisi, set to be completed in 2020.
Built on land donated by the state, the cathedral covers roughly 30 percent of a four-acre campus. Christmas mass filled the ground floor with 2,500 worshipers, bussed out by the Orthodox church. Total capacity will eventually reach 8,200 people, while its twin spires rise over 200 feet.
"I am so happy," said Andrea Zaki, president of the Protestant Churches of Egypt. "Built together with a mosque, it is a step that strengthens citizenship and equality."
Zaki is confident that Protestants will also receive a land allotment in the new administrative capital, as three churches have already been authorized for their denomination in other newly planned cities.
Hany Lotfy, a juice stand owner in Cairo, was overjoyed to see such a beautiful church in an area of priority for the government.
But he recalled also last year's attack.
"The old cathedral is in a crowded area, needs more space, and is harder to secure," he said. "The president wants to compensate us for our difficulties, and make us happy."
The new cathedral will not stop terrorism, Lotfy said, and may even incite extremists further as a tempting high-profile target. Over 100 Copts were killed this past year in terrorist attacks.
Christmas Day (which was January 7 for Egyptian Christians) passed safely, with more than 230,000 security personnel assigned to guard the nation's churches.
But less than two weeks earlier, eight Copts and a policeman were killed in an attack on a church in Helwan, in southern Cairo.
Given the grief suffered by martyrs, Ishak Ibrahim believes it was not the appropriate time to celebrate a new cathedral. But the religion officer with the Egyptian Initiative for Personal Rights (EIPR) also did not appreciate how its image contrasts with an ongoing reality.
"The state is building a big church," he said, "at a time the smaller churches are being attacked, or closed."
One week prior to the Helwan incident, a church in Atfih, 60 miles south of Cairo, was ransacked—not by terrorists, but by dozens of local Muslims offended by the rumor that a bell would be installed in the unlicensed village church.
In a recent report by EIPR, Egypt witnessed 20 similar sectarian incidents at churches over a 13-month period. Ibrahim said the total is now up to 24.
EIPR's reporting timeframe began with the issuance of Egypt's new church building law, meant to eliminate such problems.
The traditional pattern following conflict is for the state to sponsor "reconciliation sessions" between Muslims and Christians. While sometimes this results in agreement for local worship, often criminal charges are dropped in the process.
Bishop Macarios of Minya has said that 15 churches were closed in his diocese alone, due to security reasons.
Many Copts celebrate the cathedral and other successes in building churches, Ibrahim said. "But building churches can distract from the importance of building people," he said. "It is better to be able to pray in freedom."
Lotfy, the juice seller, says Sisi is a good man who saved Egypt from much worse. He believes the president will address these issues as Egypt stabilizes.
"But to fully feel security, there has to be punishment for those who attack churches," he added, "or else this wheel will keep spinning."
Egypt is divided, said Bishop Serapion of the diocese of Los Angeles, in a widely circulated message on Facebook. He contrasted the crowd of Muslim neighbors who attacked the church in Atfih with the crowd rallied against the Helwan church attacker by the imam of the neighboring mosque.
But of the church building law, he worried that its promises were failing.
"It started as a law to build houses of worship, then it changed to a law to build churches, now it has become a law for the closing of churches," Serapion said.
"The church adapts an attitude of citizenship—and even higher—but nothing gets solved. We put the matter in God's hands."
In advance of Christmas and the opening of the new cathedral, six members of the US House of Representatives submitted a resolution calling for equal treatment of the Coptic community. It raised the ire of many in Egypt, but also led to calls for the state to quickly address the issue.
Shortly thereafter, the acting prime minister met with church officials to discuss the more than 3,700 unlicensed churches and church properties submitted to the state for legalization.
Egypt's Ministry of Housing responded today by authorizing worship in all such buildings as they await formal approval, in line with the church building law.
Zaki attributed the problem of church closures to local officials who are not in line with the overall vision of the Sisi administration. No Protestant churches have been shuttered, he said, but he is optimistic these problems will be solved in cooperation with the government.
But though real, this issue should not be blown out of proportion, he said. "Look at the total number of churches, and compare them with the number of problems."
Official statistics from 2011 show Egypt is home to 2,869 churches. It is not clear how this number relates to the list of unlicensed churches, as many have been built in the past several years.
And Magdy Malak, a Coptic member of parliament from Minya, told Ahram Online that of the province's 2,688 villages, only 2 percent suffer from sectarian strife.
Even 2 percent is too much. But Tawadros chose to use his Christmas sermon to point back to the biblical origin.
"Since the time Adam and Eve left the garden, the world has been filled with evil and conflict and violence and terrorism," he said. "The question remains: What can we do?"
Become like a child, the pope answered, repeating Jesus' command on how to enter the kingdom of God. He drew on the Nativity story to highlight the needed virtues of simplicity, faith, purity, humility, and joy.
"And here we are, as children in their first years, beginning in this new cathedral in this first liturgy and this first prayer," preached Tawadros, who hailed a "new era" earlier in his address.
"We are all witnesses, present and rejoicing together."