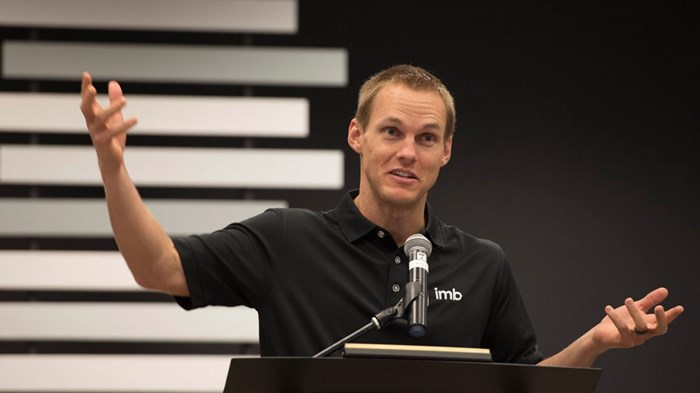 Image: Roy Burroughs / Courtesy of IMB
When David Platt became a teaching pastor at a DC-area megachurch last year, onlookers wondered whether the president of the International Mission Board (IMB) could really do both jobs.
Platt answered them this morning, announcing that he will end his three-and-a-half-year tenure at the IMB to work at McLean Bible Church as soon as the Southern Baptist missions agency can find his replacement.
"I have come to the realization that it is not viable long-term for me to lead as president of the IMB while serving as teaching pastor in a church," said Platt, who brought his radical approach to faith to the IMB during a major budget crisis.
"This realization has been sobering, for I don't believe I can choose between preaching and leading in the local church, and mobilizing and shepherding people in global missions," he said. "Therefore, I have come to the conclusion that if I am going to serve in this way in the local church, then I need to serve in different ways for the cause of global missions."
Platt has clarified the news is not an immediate resignation; he has asked trustees to begin the search for a new president, and will resign once his successor is elected.
Prior to being named IMB president in 2014, Platt led the Church at Brook Hills in Birmingham, Alabama, as one of the youngest megachurch pastors in America.
He soon instituted major changes at the IMB, drawing in record missionary offerings and balancing the budget after several years of overspending. The organization—based in Richmond, Virginia—is one of the country's biggest missionary-sending groups, with a $300 million budget and 3,500 missionaries around the world.
When Platt assumed the presidency, the IMB faced a $21 million deficit due to giving in the Southern Baptist Convention (SBC) not keeping up with the expense of sending more and more missionaries overseas over the decades.
In 2015, Platt announced plans for 600 to 800 staff layoffs, fewer missionaries, and a tighter budget. The following year, the IMB ended a six-year deficit streak that had drained $210 million from reserves—though it lost almost 1,000 missionaries in the process.
The author of The New York Times bestseller Radical, Platt also loosened restrictions that once disqualified missionaries from serving with the IMB—including a ban on speaking in tongues.
"Platt sought to implement his vision of a new IMB, but his short tenure means we will never know if that vision was going to succeed," wrote Dave Miller, editor of SBC Voices and an Iowa pastor who "took over" the SBC's annual pastors conference last summer.
"The IMB needs a new leader now, one who has both a passion for world missions and an understanding of Southern Baptist cooperative missions. I do not envy the trustees of the IMB in their difficult task of finding the next leader for our world mission effort."
Southern Baptists celebrated the 38-year-old Platt's impact during some of the most tumultuous years for the agency, which dates back to 1845.
Daniel Akin, Southeastern Baptist Theological Seminary president, tweeted that he was "grieved and saddened" by the announcement. Several fellow leaders, including Chuck Kelly, president of New Orleans Baptist Theological Seminary (Platt's alma mater), Russell Moore, president of the Ethics and Religious Liberty Commission, and Daniel Yang, director of the Send Institute, praised Platt for his dedication to international missions.
Even critics commended Platt for the IMB's financial turnaround and for his humility in choosing to preach rather than stretching to do both.
"I sympathize with his desire to preach and I appreciate how he has improved the finances of the @IMB_SBC," tweeted Texas SBC pastor Bart Barber. "I have BIG TIME respect for a guy who, of his own accord, would look in his heart and say, 'I'm committed to preaching and @IMB_SBC needs more than I can give.'"
Last September, Platt was installed as a teaching pastor at McLean Bible Church, a suburban DC congregation that ballooned as an influential nondenominational church under the leadership of his predecessor, Lon Solomon. (The New Republic once called it "a holy destination for GOP senators and Bush aides.")
McLean is new to the Southern Baptist realm. It ended up joining the SBC in 2016, following its involvement with North American Mission Board (NAMB) church planting efforts in the DC area, and affiliated with the SBC of Virginia the following year.
The church, which broadcasts to five campuses, lists Platt at the top of its pastor page, with the title of "pastor-teacher." Others on the team include a lead pastor, a teaching pastor, and Solomon as pastor emeritus. Platt is also among the eight elders of the church, tasked with "financial oversight, doctrinal integrity, policy matters, and overall strategic direction."
When Platt took on the preaching role, he said he did not take a salary from McLean and assured Southern Baptists, "I am all in as IMB president. Me teaching God's Word in the local church is not in any way indicative of a desire to do less at IMB. I am not changing anything when it comes to my commitment to the IMB."
IMB trustees said they would continue to evaluate Platt's commitment, as he traveled during the week and returned to Virginia to preach on weekends. In September, CT blogger and SBC expert Ed Stetzer gave three reasons why Platt could do both.
The previous IMB president, Tom Elliff, had a short tenure too, of just three years.
"We are sad, but also feel confident in the future as we move forward," said trustee chairman Rick Dunbar, who will lead the search for Platt's replacement. "We trust that David's gifts of preaching, teaching, and writing will continue to bless the work of the IMB for many years to come."
Platt's senior aide said he remains hopeful about the agency's future, following Platt's creation of a "guiding missiological document" for IMB outreach and his vision to explore new avenues for sending missionaries.
Still, Paul Akin wrote, "Organizational leaders come and go, but the real heroes of the IMB always have been and always will be the anonymous and unknown missionaries (and the national brothers and sisters they partner with!) who are faithfully serving Christ around the world."
Missionaries themselves weighed in on the merits of these shifts from their perspective in the field at SBC Voices. One noted that the initial bump in giving under Platt has sinced leveled out and critiqued some of the disadvantages of appointing a leader without direct experience in missions administration.
The day after Platt's announcement, the outgoing president spoke to state-level convention leaders about the work of the IMB.
"This week is not about me," he said. "Don't miss the salvation testimonies from around the world that happened too. That's the real story."