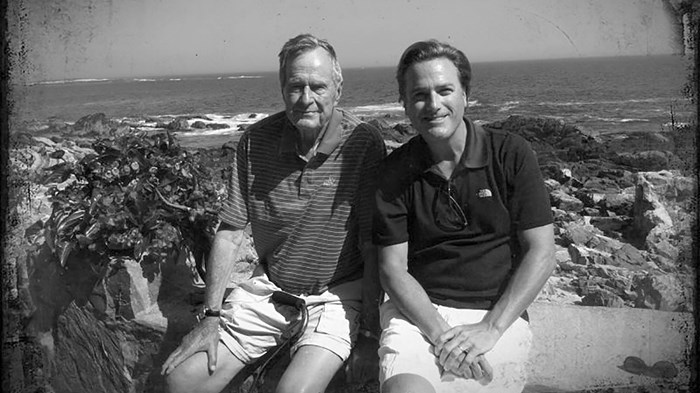 Image: Courtesy of Michael W. Smith
Michael W. Smith's hit song "Friends" has been sung thousands of times over the decades, but never quite like today's performance at the funeral service for President George H. W. Bush at the National Cathedral in Washington.
Not only was Smith backed by a full orchestra and a 150-person choir, but he also sung it as a personal farewell to the leader who, to his surprise, became his longtime friend and fan. Bush died on Friday at age 94.
"First and foremost, I hope the song is very honoring of the president because he loved the song," Smith said in an interview with CT. "The last time I saw him, when we said goodbye, he gave me a hug, pointed his finger in the air, and with a twinkle in his eye, said, 'Friends are friends forever.'"
The contemporary Christian music (CCM) chart-topper first played for President Bush in the White House after a Christmas special in 1989. They struck up a friendship that led to regular visits to the late president's home in Kennebunkport, Maine; relationships with the rest of the Bush family; and even travel together.
"He's just been an inspiration to me," the three-time Grammy winner said. "We didn't talk about politics much. But we did have a lot of conversations about God and faith."
"One thing that tied us together was his relationship with Billy Graham. There were times we would get Billy Graham on the phone and talk," Smith said, remembering them standing on the deck conversing with the late evangelist, whose memorial service and funeral the singer performed at earlier this year.
Bush requested "Friends," his favorite song of Smith's, for his funeral. Smith sang an arrangement with the Armed Forces Chorus, the National Cathedral Choir, and the United States Marine Orchestra.
Smith described the 41st president—a lifelong Episcopalian—as a humble leader and a man of deep faith: "He was so kind. He was gentle. He was for the underdog. If he did something great, he never bragged about it."
The singer-songwriter also became close with Bush's sons George W. and Jeb, before either had set their sights on running for governor or president. The first time Smith met George W. Bush, Smith beat him and the senior Bush in a doubles tennis match. "I thought, 'I'll never be back,'" he said.
But Smith went on to sing during a White House prayer service for George W. Bush's presidential inauguration in 2001—the first time he ever performed "Above All"—and for Jeb's inauguration as governor of Florida. (The younger President Bush calls him "the real dubya.")
When the Smiths and Bushes traveled together on vacation to Greece, Smith said the late President Bush would request he lead a worship service on Sundays—"nothing too long." He always called him "Mr. President," and his late wife Barbara "Mrs. Bush," even though they were close enough to be on a first-name basis.
Even after all these years, "It's sort of surreal," said Smith, who has sold more than 15 million albums over his career. "I think God ordained it. For some reason, God has given me favor with kings. It certainly has nothing to do with my credentials."
Smith's wife Debbie wrote "Friends" in honor of someone leaving town. "Little did I know I would be singing the song my entire life," the CCM pioneer said.
From his 1983 solo album, The Michael W. Smith Project, "Friends" struck Christian listeners and grew to become a staple for goodbyes, graduations, and memorial services. (The chorus, in part, goes: "Though it's hard to let you go / In the Father's hands we know / That a lifetime's not too long / To live as friends.")
CCM Magazine ranks "Friends" among the greatest songs in Christian music. It's become so popular that it's part of Smith's brand, inspiring his 1997 devotional book, Friends Are Friends Forever: And Other Encouragements from God's Word; a 2001 youth album Friends 4 Ever; and several Micheal W. Smith "and friends" tours.
When Smith sang his trademark ballad during a performance in Houston on Sunday night, he "lost it" thinking of the late president.
He said he had been in touch with a few of Bush's children, including Jeb, since the president's death. Though there is a sense of relief around his passing, Smith said, "You're never ready to say goodbye to your mom or dad. I know because I lost my dad three years ago."
He said he trusted that during today's service, "the song will translate to all the world" as people pause to remember the leader he got to call a friend.
Other songs featured during today's state funeral included "Praise My Soul, The King of Heaven," and "Eternal Father, Strong to Save," nicknamed "The Navy Hymn." The service was led by Michael Curry, presiding bishop of the Episcopal Church (who famously preached at the royal wedding of Prince Harry and Meghan Markle), along with the bishop of Washington, the dean of the Washington National Cathedral, and the rector of Bush's home church, St. Martin's Episcopal Church in Houston.
Tomorrow, another memorial service will be held at St. Martin's before Bush's burial at Texas A&M University in College Station, Texas.
Smith performed "Above All" at Billy Graham's funeral in March, one of six worship songs handpicked by the legendary preacher.