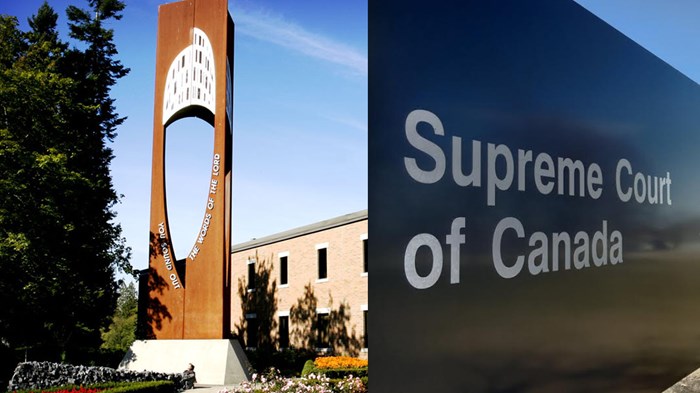 Image: TWU.Ca; Pgiam / Getty Images
Two months after Canada's Supreme Court ruled against what would have been the country's first Christian law school, Trinity Western University (TWU) has dropped its controversial community covenant.
TWU's quest to open a law school had stalled in court for years after several provincial law societies refused to accredit would-be graduates, citing the covenant's prohibition of sex outside of traditional marriage. Canadian law schools require the approval of provincial law societies to operate.
Last Thursday, TWU's board of governors decided to drop the covenant altogether.
"Let there be no confusion regarding the board of governors' resolution; our mission remains the same," said Robert Kuhn, TWU's president, in a statement. "We will remain a biblically-based, mission-focused, academically excellent university, fully committed to our foundational evangelical Christian principles."
While students will no longer be subject to the covenant, signing it will remain mandatory for faculty, staff, and administrators, according to reporting by Inside Higher Ed.
"The university will actively work to determine ways in which our Christian identity, mission, and ministry can continue to be strengthened, communicated, and better lived-out in the context of the TWU community–while simultaneously welcoming and affirming the unique value of each member of our diverse student body," stated Kuhn.
Kuhn also pushed back on the idea that the initial policy had discriminated against would-be LGBT students.
"There is no restriction," Kuhn told the Vancouver Sun. "We welcome, and have for decades, individuals who wish to study in a Christian environment. We desired to clarify that point to people who may have misunderstood, especially over the number of years when there was debate of whether we were welcoming of students, which we want to make clear we certainly are."
Some of TWU's conservative Christian allies who had expressed strong disappointment with the Supreme Court's ruling expressed support for the school's new policies.
"We affirm their commitment to stay true to their mission and purpose, and provide a high-quality education as their president Bob Kuhn has so clearly said," said Bruce Clemenger, president of the Evangelical Fellowship of Canada. "Within the evangelical community, there is a wide range of thinking and practice around required adherence to things like community covenants, and we expect that the discussion will continue in Canada and further afield."
Increasingly, Christian colleges are welcoming students who do not identify as Christians, noted John G. Stackhouse, a professor at Crandall University, a Christian school in New Brunswick.
"As they do so, it makes sense to revisit traditional expectations that were based on a homogeneous population of students, faculty, and staff," said Stackhouse. "Every institution does well to match profession with both mission and reality, and [TWU] commendably seems now to be doing so."
Whether TWU's community covenant removal will greenlight its law school—which had been slated to open as early as 2019—remains to be seen.
"Now that TWU has removed the mandatory nature of its community covenant—the sole objection of both the court and law societies—will regulators of the legal profession welcome a law school at the evangelical Christian university if TWU resurrects its proposal?" said Andrew Bennett, director of the Cardus Religious Freedom Institute. "Or will they find new grounds to object to the creation of Canada's first Christian law school?"