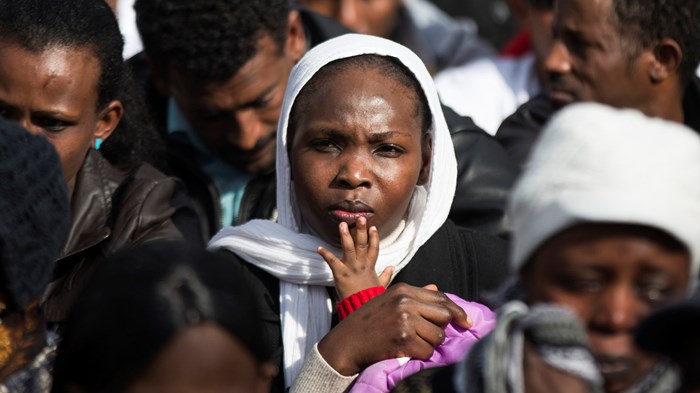 Image: Uriel Sinai / Getty Images
The fate of thousands of African Christians living in Israel is uncertain. The government intends to expel them, but questions remain over where the migrants will go and how the Jewish state will make it happen.
Amid the uncertainty, "they are always asking for God's guidance," a Tel Aviv priest working at a pastoral center that offers traditional African services for the displaced told Catholic News Service. "But in their daily life, they are afraid."
On Monday, Prime Minister Benjamin Netanyahu announced that Israel would move to resettle the approximately 40,000 Eritrean and Sudanese immigrants living in the Holy Land—most in the country illegally since 2012 or earlier—in Western nations in light of a new "unprecedented understanding" with the United Nations.
However, in only a few hours the deal stalled; within two days, it was canceled outright, serving as a reminder of the fierce political dynamics embroiling the Jewish state.
The UN had confirmed the agreement with Tel Aviv, indicating it would work with recipient countries throughout the entire process of resettlement. "This agreement will ensure that protection is provided to those who need it," said Volker Turk, assistant high commissioner for protection for the United Nations High Commissioner for Refugees (UNHCR), in TheWashington Post.
Under that plan, 16,250 African migrants—many of whom are Christians—would be resettled in Western nations over the next five years, while an equal number would be granted temporary residence status in Israel.
But then Netanyahu suspended any implementation until he could meet with residents in Israel's second largest city, Tel Aviv, where most of the African migrants live.
"I went to the neighborhoods of south Tel Aviv," said Netanyahu, according to The Guardian, indicating the area of the country where the largest number of African migrants have settled. "I saw the suffering of the Israelis living there and we said that we have to remove the problem. But because the Supreme Court has banned us from moving them to a country they do not want to go to, we had to find another solution."
His Tel Aviv meetings ultimately resulted in the complete dismantling of the deal, returning the migrants yet again to a state of limbo.
"After I weighed the pros and cons, I decided to cancel the agreement," said Netanyahu. "We will continue to work determinedly to exhaust all the options at our disposal to remove the infiltrators."
In February, African migrant men in the group targeted for deportation were given notice that they had two months to leave Israel. If they stayed, they'd be imprisoned.
The asylum seekers were lured with a plane ticket and $3,500—a sort of farewell fund to help them relocate back to Africa. But both Uganda and Rwanda—the likely recipient states—rejected the proposal when they learned the migrants might be deported by force.
Israel's Supreme Court blocked the forcible resettlement plan, too, in a move indicative of the dissension the issue of immigration has spurred in the Holy Land.
More popular among migrant-friendly Israelis was another possibility that would offer vocational training as an incentive to get migrants out of Tel Aviv's "Little Africa" enclave and prepare them for work in a third country.
The latest iteration of the plan, now derailed, proposed to facilitate the transfer of thousands of migrants to countries including Italy, Germany, and Canada. However, according to the Post's report, neither the German embassy in Israel nor Italian media sources were aware of any agreement involving their countries.
The Eritrean and Sudanese refugees collecting in Tel Aviv continue to face dire straits. Most of them fled civil conflict flirting with genocide in Sudan, or severe human rights abuses and brutal oppression in Eritrea. Eritreans especially face slavery-like conscription in their home country; dodging it warrants the death penalty.
One such Eritrean, Frezgi Ketef Tehehaymanut, said in February he'd return to his homeland tomorrow if he didn't fear he'd "end up under the ground," reportedTheNew York Times (NYT).
According to Open Door's 2018 World Watch List, Sudan is the No. 4 most dangerous country in the world for Christians; Eritrea is ranked No. 6.
For its part, Israel has presented its own challenges to the migrants. As of 2016, Israel has approved fewer than one percent of applications for asylum since signing the UN Refugee Convention in 1954.
Additionally, of the more than 15,000 asylum applications submitted by Sudanese and Eritreans in Israel between 2013 and 2017, only 12 percent were granted refugee status. According to Amnesty International, 0.1 percent of Eritreans seeking asylum in Israel have been granted refugee status. This comes in stark contrast to the more than 90 percent of Eritreans granted refugee status in the EU in 2016.
In its push to expel migrants, Israel voted to close its Holot migrant detention center, which hosted up to 1,200 migrants who were permitted to work during their stay. According to Netanyahu, the center's closure is part of the "accelerated removal" stage of his deportation efforts.
Just prior to the decision to shutter Holot, he told his officials, "This removal is taking place thanks to an international agreement I reached that enables us to remove the 40,000 infiltrators remaining, remove them without their consent," reportedThe Times of Israel.
Of the migrants who elected resettlement in Africa before the deal stalled, many have faced challenges after arriving, citing loss of their Israel-issued documents, difficulty finding work, and lack of recognition as refugees. According to the UN, some who were resettled in Africa are already making another sojourn—this time toward Europe.