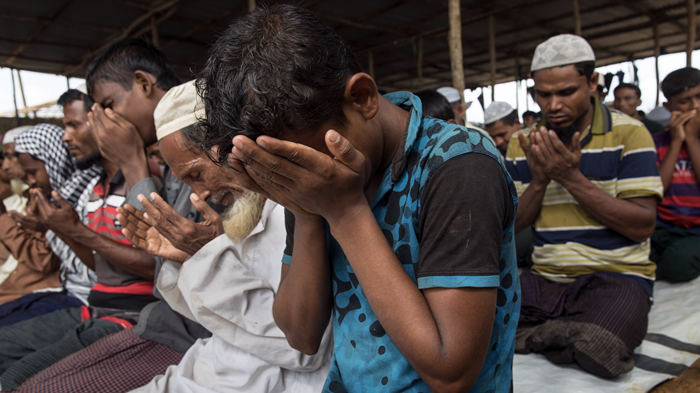 Image: Paula Bronstein / Getty Images
Christians in Bangladesh and Pakistan are rallying to support Rohingya Muslims, a fellow persecuted minority in South Asia.
Since August, Rohingya refugees have fled targeted violence in Myanmar, the predominantly Buddhist country (formerly known as Burma) where they have long been denied citizenship or official government recognition.
The "Muslim community is not alone in their hard times," Chaudhry Amon Emmanuel, a Pakistani Christian social activist and youth leader, told Christians in Pakistan. "We stand by them for their basic right to live. We urge [the] Myanmar government to stop these atrocities on [an] immediate basis."
An estimated half million Rohingya have left Myanmar to move to Pakistan, most from a former exodus back in the 1960s and '70s.
Dozens of Pakistani Christians met in front of the National Press Club in Karachi last month to protest Myanmar's treatment of the mostly Muslim minority. Another event was held in Islamabad for pastors and Christian leaders to address the crisis. Asiya Nasir, a Christian politician, said:
Our Christian leadership and community stand in solidarity with our Muslim brothers and sisters in Rohingya. Our prayers are with them in this difficult time. Daily prayers will be offered for protection and safety of innocent lives. Christian leadership of Pakistan requests the international community and human rights leaders to speed up the efforts to save our Muslim brothers and sisters in Rohingya.
Fellow Christian groups, familiar with defending their own against religious persecution, spoke up with similar messages. Sheheryar Shams, chairman of Pakistan's Christian Citizens Forum and a lawyer, condemned Myanmar's decision to classify the Rohingya population as foreigners and demanded on behalf of the Christian community that the Pakistani government provide security to the group.
The All Pakistan Christian League decried the "inhumane treatment" of the Rohingya population, saying, "We stand with our brothers and sisters in this hour of persecution. We urge the world leadership to unite and put an end to these atrocities."
Of course, Pakistan has its own ongoing legacy of persecution against minority faiths, including Christians themselves. As one commentator wrote, "What tolerance can Pakistan expect from Myanmar for its Muslim minorities when it is unwilling to apply similar concepts itself?"
During this exodus, neighboring Bangladesh has taken in the bulk of Rohingyas leaving Myanmar. About 400,000 of the country's 1 million Rohingya have fled Rakhine state for Bangladesh since violence began in the area at the end of August. The United Nations has described the military violence as a "textbook example of ethnic cleansing."
The US State Department announced this week that it is also considering officially designating the crackdown on Rohingya as ethnic cleasing, which could spur new sanctions against Myanmar.
World Vision had been providing food to Rohingya in Rakhine, but the team evacuated the country when fighting broke out in the area on August 25. Foreign NGOs are no longer permitted in the area.
Since then, the evangelical aid group has applied for permission from the Bangladeshi government to set up further assistance for the refugees. "It should happen on both sides of the border, but we want to start on our side of the border, where I am presently," Fred Witteveen, World Vision's Bangladesh director toldPremier, a British Christian publisher.
Christians, less than 1 percent of the population in Bangladesh, are trying to do their part, with the Bangladesh Hindu Buddhist Christian Unity Council and the Bangladesh Christian Association staging rallies on behalf of the Rohingya, according to Christian Solidarity Worldwide.
Christian public health nonprofit Medical Teams has staff on the ground in the informal refugee settlements working to fight disease outbreaks.
The archbishop of Dhaka, Bangladesh's capital, visited refugees in September, and Pope Francis, a vocal supporter of the Rohingya, will visit Bangladesh and Myanmar later this fall. Catholic relief charity Caritas has been on the ground in Bangladesh for the past month.
While the majority of the Rohingya population is Muslim, at least 165 families are Christians, says a representative from a Christian organization working in Myanmar, which asked CT to not be identified due to the security threat in the region.
"The military and the Buddhist Rakhine hate all Rohingya, so these families of Christians are targeted because of their ethnicity and not necessarily because of their conversion to Christianity," the representative told CT.
Most of the Christian Rohingya families fled to Bangladesh, where the organization has rented land for the community and connected them with shelter and food.
Ethnic and religious violence is sadly not a new story in Myanmar. In 2004, CT covered the brutally repressive regime persecuting Christians and other minorites. Years later, World Relief's Jenny Yang wrote about ethnic groups such as the Chin fleeing Myanmar in 2012.
A recent discussion of modern-day genocide on CT Women addressed the plight of the Rohingya.