What Arab Leaders Think of USAID Funding Persecuted Christians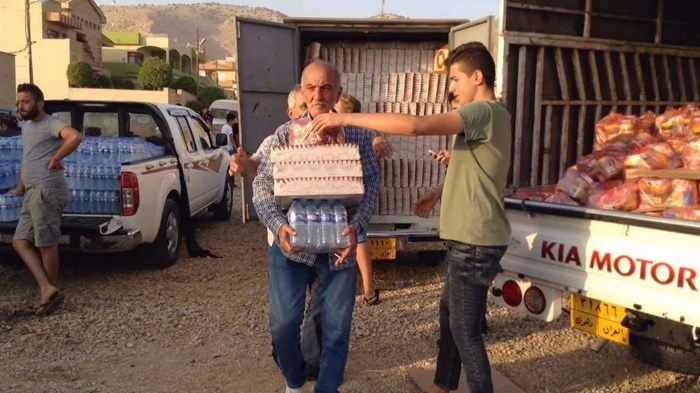 Image: Zalal Life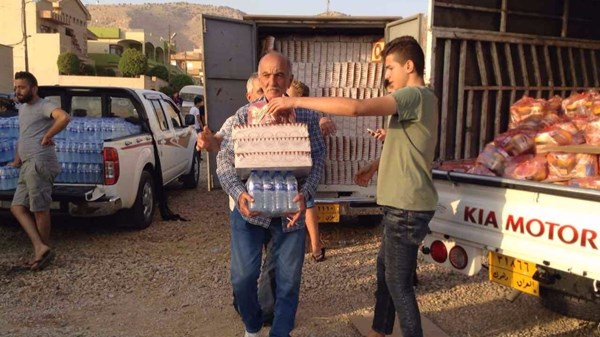 What Arab Leaders Think of USAID Funding Persecuted Christians
Ashty Bahro was one of the first to the scene in al-Qosh, traveling 25 miles over mountainous roads from his base in Iraqi Kurdistan to the town where 850 Iraqi Christian families had been newly displaced.
Only weeks earlier, the families had relocated to Teleskof in the Nineveh Plain, following its liberation from ISIS. But the Kurdish independence referendum sparked a new crisis in the region. The Iraqi government moved quickly to reclaim lands controlled by the Kurdish peshmerga fighters. Shia militias linked with Iran also threatened the Christian areas, forcing families to flee once more.
"They are very tired. They just rebuilt their homes," said Bahro, head of Zalal Life Civil Society Foundation and former director of the Evangelical Alliance of Kurdistan. "Now they are scared to remain in government-held cities."
Zalal Life distributed 300 food baskets and bottles of water. The government of Hungary donated $2 million in aid for reconstruction. The United Nations wasn't there.
"People are not happy with the UN; they are using money for administration," said Bahro. "The help is coming from churches and Christian organizations."
The Iraqi Christian leader praised charities like Voice of the Martyrs, Tear Fund, Operation Mercy, and World Vision. And he welcomed American vice president Mike Pence's statement that the US Agency for International Development (USAID) will start to fund Christian groups in the region directly.
"They are here in the area, they know what's happening, and they go immediately to help," Bahro said.
Maan Bitar, pastor of the Presbyterian church in Hama, Syria, confirmed concerns that UN aid was not reaching Christians in the Middle East.
"Christians receive only a trickle of the aid and other programs set for IDPs [internally displaced persons] inside Syria," he said. "In the camps and on the Turkey, Lebanon, and Jordan refugee lists, they are virtually non-existent."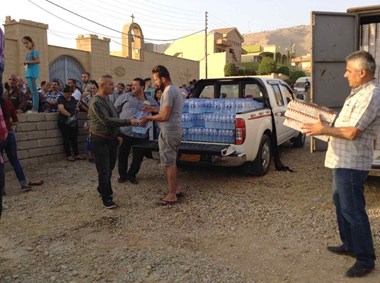 Image: Zalal Life
Melkite Archbishop Issam Darwish of Zahle, Lebanon, has tried to fill in the gap. Two years ago he opened a free restaurant for refugees in his diocese that serves 1,000 hot meals a day—to Muslims and Christians equally.
"If the US can help Christian organizations directly, it will be good—if it can be done without discrimination," he said. "They must serve Muslims and other minorities also. We live together, and want to remain together in our communities."
Working with Christian organizations isn't enough to ensure the money will be spent well, according to one Egyptian Christian leader who asked CT for anonymity.
"Often in churches there is an attitude that the money is for God, and the leadership can spend it as it will," he said. "Without the same level of due diligence and transparent accounting as in NGOs, there may be sincere misappropriation of funds."
The UN has not always been the best steward either, said Botros Mansour, general director of the Baptist School in Nazareth, Israel. Critical of both the Obama and Trump administrations, he has a different administrative concern: politics.
"Having the US transfer funds directly to persecuted Christians could be a good thing, but American politics will surely mingle in," the Israeli Arab Christian said. "They will want to brag about the aid to show their success, and to prove to the Christian Right that [President Donald Trump] delivers on his promises."
The long-term consequences, however, could be disastrous, warns Mansour. Suppose a church is destroyed and US money comes in to fix it. He believes the radicals would come back again, stronger.
"The fuel will be the high-profile appearance of US aid, bringing opposition and resentment," Mansour said. "American politics and the good of Christians do not necessarily overlap."
Many Muslims will misinterpret it as proselytization, warns the Egyptian leader.
"It is very dangerous for churches to receive money from governments. It is dynamite," he said. "I am unequivocally against it."
For Martin Accad, chief academic officer of the Arab Baptist Theological Seminary in Beirut, it is the lack of current clarity that gives him pause.
"The questions are endless and the concerns are many," he said. "Depending on how this initiative is presented, churches and Christian groups may be wise to turn down this 'kindness.'"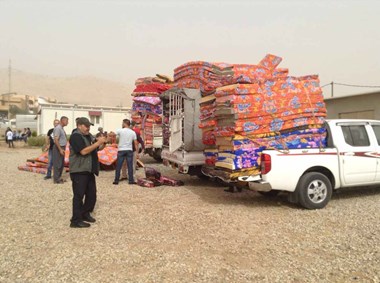 Image: Zalal Life
Farouk Hammo, pastor of the Presbyterian church in Baghdad, agreed.
"The bottom line is that we do not recommend direct aid from the States to Christians," he said. "It will agitate our Muslim brothers negatively against the Christian community."
Archbishop Darwish downplays this threat, though conditionally. His church in the Beqaa Valley has received more than 6,000 refugees, assisted by Aid to the Church in Need.
"Saudi Arabia is here in Lebanon helping the Muslims, so what is the problem?" he said. "Some will make propaganda. But if Christians in the Middle East are open to Muslims, it will be fine."
Even so, this understanding may not extend as easily to evangelicals, said Brother Khalaf, whose Jordanian ministry, Raja Al Aumam, engages in church planting and reconciliation with Messianic Jews. Many Jordanians consider local evangelicals to be an "American church."
"It could backfire," he said. "People already say we are not Arabs, that we are aligned with the Americans against our own people."
But the Jordanian leader respects Trump and is cautiously in support of the USAID policy change if done well, as it will empower the church to do the ministry. "Maybe we will be targeted more," he said. "But in some countries, it can't get worse."
Similarly, Rafic Greiche, priest and spokesman for the Catholic community in Egypt, welcomes US aid to Christian groups if done in a transparent manner with the government. But projects must be decided on a case-by-case basis. Helping Christians displaced from the Sinai by ISIS aggression? Probably. A sectarian mob attack in an Upper Egyptian village? Maybe.
"There is a danger that some will speak of the West, of Crusades, and try to make trouble," said Greiche. "It depends on what is funded. If it is a real project—like education—it should work."
This has been Bitar's hope with the UN, now frustrated for three years. His Syrian church has petitioned the UN to help reopen the New Generations School in Hama, closed since the 1960s. Jaded by the political agendas of most Western nations, Bitar is suspicious also of their aid.
"They want to bring you a basket of food and a blanket to cover yourself," he said. "But not to help you live in dignity. It is the minimum to live, not to make a strong nation."
If USAID offered to help, Bitar would accept it—if it is not conditioned on any political agenda. He has little fear of local reaction. "Muslims will be happy," he said. "They like to send their children to schools run by Christians."
Bahro hails Kurdistan as an example of foreign aid working well. The extremists among both Sunni and Shia will never be happy, he said, no matter who serves the Christians. "But the churches here are helping all, especially the evangelical churches," he said. "We have good relationships with everyone—pastors, priests, and mullahs."
Amid conflicting Christian reactions and unknown Muslim response, the policy change represents a new approach. Will it make things better or worse?
"Here in our area, the Kurdish Muslims trust Christians," Bahro said. "In Arab areas, I don't know."
Jayson Casper is a Cairo-based Middle East correspondent for Christianity Today.

11/02/2017