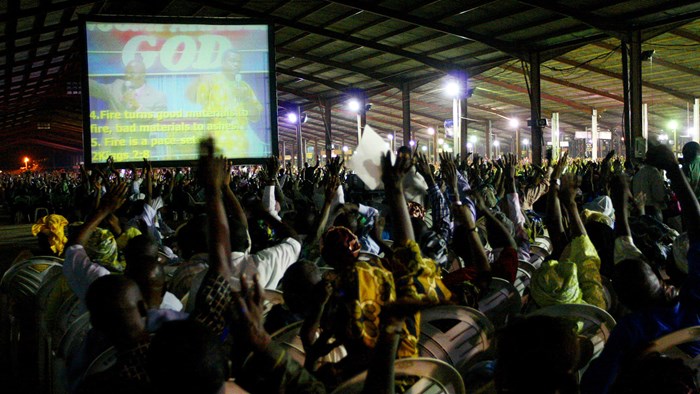 Image: Andrew Esiebo/Majority World/UIG via Getty Images
The surprise resignation of Nigeria's highest-profile pastor has exacerbated a debate among West African Christians on the merits—and limits—of pastor tenure.
Last weekend, Enoch Adeboye resigned his role as general overseer of the 5-million-member Redeemed Christian Church of God (RCCG) in Nigeria (though not as overseer of its international presence in 192 nations). He cited the nation's Financial Reporting Council (FRC) and its newly-introduced Governance Code for his action.
Section 9:3 of the code stipulates that leaders or founders of nonprofit organizations—including churches and ministries—must hand over leadership to a non-family member after 70 years of age or 20 years of being in charge. Adeboye is 74, and has been leading his megachurch since 1981.
The law, which is designed to guarantee financial accountability, went into effect in October 2016. If fully implemented, 90 percent of the populous West African nation's evangelical church founders and leaders would be required to step aside.
Affected prominent pastors would include David Oyedepo of Living Faith Ministries Worldwide (1 million members); Mike Okonkwo of The Redeemed Evangelical Mission (500,000 members); Chris Oyakhilome of Christ Embassy (400,000 members); and Sam Adeyemi of Daystar Christian Centre (300,000 members). Countless other pastors with smaller congregations would also join the massive wave of forced resignations across the oil-rich nation.
Nigeria's evangelical community responded with outrage over both Adeboye's resignation and the FRC's financial rule, setting off heated debates over pastoral succession.
Many condemned the regulations, alleging they were designed to meddle in church affairs and to muzzle evangelism efforts. But others hailed the code, saying provisions for pastoral succession were in the best interest of churches.
Mainline, Anglican, and Catholic churches were largely indifferent, already having established plans on pastoral tenure and succession (between 65 and 70 years of age).
The outcry prompted governmental action within 48 hours of Adeboye's resignation. President Muhammadu Buhari fired the FRC's executive secretary, Jim Obazee, without giving a reason. He also suspend implementation of the new financial code "until after further reviews," and replaced the FRC board with new appointees.
Obazee's firing received mixed reactions among Christians. Supporters of pastoral succession accused Buhari of sacrificing principles on the altar of appeasement. Supporters of pastoral tenure hailed the sacking, describing it as good riddance to bad rubbish.
Suspension of the code, however, has not stopped the debate on pastoral tenure and succession among Nigerian believers.
Musa Asake, general secretary of the Christian Association of Nigeria (CAN), the nation's largest Christian umbrella group, told CT that the code was "ill machinery targeted at the church."
"[Government] has no business interfering in a church's affairs because it is a no-go-area," he said. "Doing that has serious implications. If they attempt it, it will bring confusion and could trigger off religious unrest in the nation."
He said the government should not dictate how churches operate, as long as churches do not commit crimes or violate any established laws.
Felix Omobude, president of the Pentecostal Fellowship of Nigeria, one of CAN's five blocs, agreed that the government should not dabble in the tenure of church leaders.
"How long a spiritual leader remains in office is never the purview of government anywhere in the world," he said. "A leader stays for as long as God and the church permit."
Femi Emmanuel, senior pastor of Living Spring Chapel International Lagos, also agreed, citing the lack of parallel among Muslims who comprise about half the nation. "Can they tell the Sultan [the spiritual leader of Nigerian Muslims] to abdicate the throne after 20 years?
"Financial regulation is fine. But to say you must leave after a certain amount of years is beyond reasoning," he said. "Pastors are called by God, and hold their tenure to the one who calls them or the church they serve."
On the other side, Bola Akin-John, president of International Church Growth Ministries, believes that God can use the government to correct churches if they fail to do the right thing.
"Fundamentally, government shouldn't regulate tenure. But pastoral succession is biblical," he said. "When church leaders refuse to leave even when they are old and tired, God can use government to send them packing.
"No one is indispensable, and God can work through others," he said. "Staying on even when you are old or indisposed kills churches. The idea that only one person can do God's work is not biblical."
Gideon Para-Mallam, regional secretary for the International Fellowship of Evangelical Students (the international complement to InterVarsity Christian Fellowship), occupies the middle ground.
He believes that government should not dictate the tenure of pastors to churches. However, he also believes that self-imposed pastoral succession is in the best interest of churches.
In Para-Mallam's view, the FRC's code is "a wake-up call for churches to quickly embrace self-regulation with respect to tenure and succession."
He said church leaders should implement good succession plans that will preserve their works decades after they are gone. "It is good if our leaders are able to prepare and mentor others to take over from them," he said. "They should create and give them space to be leaders, and not wait until after their death or super old age."
Para-Mallam believes churches should avoid the stagnant leadership often seen in African politics—a development that he said violates biblical principles.
"There are deep concerns about sit-tight African leaders, and the church should not add to its headache," he said. "It is part of our prophetic role to show a better example in leadership succession. How can the church play this role without being a model herself in such areas?"