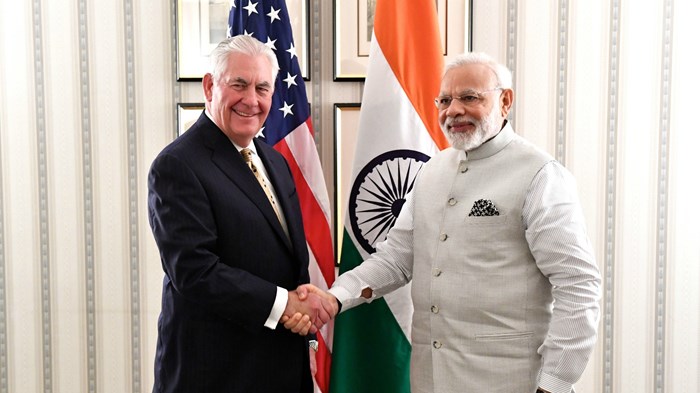 The US State Department kept its annual assessment of international religious freedom unusually short this year, reiterating the country's commitment to the cause and calling out ISIS as perpetrators of genocide.
Over the past five years, the executive summaries for the department's annual religious freedom report have averaged more than 5,000 words. They typically detail problems such as North Korea's religious prisoners, Boko Haram attacks in Nigeria, and the instability caused by Islamic extremism in the Middle East.
This year, Secretary of State Rex Tillerson skipped the lengthy executive summary and laid out a preface of just 440 words, naming only a single concern in his written introduction: ISIS.
"ISIS has and continues to target members of multiple religions and ethnicities for rape, kidnapping, enslavement, and death," wrote the Trump administration appointee and former Exxon CEO. "The protection of these groups—and others who are targets of violent extremism—remains a human rights priority for the Trump administration."
The report was also a few months later than normal, released on August 15 rather than by May 1. In his remarks, Tillerson repeated the genocide designation for ISIS and also referenced the nomination of Governor Sam Brownback as the department's ambassador-at-large for international religious freedom.
The annual report reviews the state of religious freedom in 199 countries. CT has highlighted six places where Christians continue to face significant barriers to worshiping freely: Iraq, Indonesia, India, Russia, Turkey, and Saudi Arabia.
Deadly Terror in Iraq
ISIS was responsible for half of all verified casualties (5,403) in Iraq during the first half of 2016, as the group kidnapped, harassed, and killed those of non-Sunni Muslim faiths (or Sunnis who disagreed with their extreme interpretation), the report stated. Christian leaders count fewer than 250,000 Christians left in Iraq, down from at least 800,000 prior to 2002.
Of those, only about 50 families are evangelical Christians, down from about 5,000 in 2013. Last year, Secretary of State John Kerry declared the situation a genocide.
Earlier this year, Iraq made a deal with the US to accept deportees—which it hadn't done since 2010—if the US would take it off the list of seven countries on Trump's travel ban. More than 1,400 Iraqis are on the deportation list, including more than 100 Christians rounded up near Detroit. (Their deportation has since been stayed until they can argue their case—that in Iraq they would face torture or death—in court.)
Iraq is No. 7 on Open Doors's World Watch List of the hardest places to be a Christian, and on Tier 2 of the US Commission on International Religious Freedom (USCIRF) latest rankings of Countries of Particular Concern. It was also one of the countries sending the most asylum seekers to Europe in 2015, according to the Pew Research Center. Its government restrictions jumped to Pew's "very high" level in 2015; its social restrictions were already "very high."
Fears of Radicalization in Indonesia
US Immigrations and Customs Enforcement (ICE) also picked up several Indonesian Christians this summer, despite telling them four years ago that they would not be deported back to the majority-Muslim archipelago. The same day they were arrested, the first Christian governor of Jakarta was jailed for blasphemy just weeks after losing a gubernatorial reelection bid. In April 2016, a 60-year-old Christian woman was caned for selling alcohol, and bureaucratic roadblocks were thrown up against multiple attempts to build Christian churches, the State Department reported.
The demonstrations against the Christian governor, along with a January 2016 high-profile ISIS bombing in Jakarta, have led to fears that Indonesia is becoming more radicalized, even though the country remains home to one of the world's largest, most peaceful Islamic organizations.
President Joko Widodo has encouraged tolerance for Christians; while social hostility against Christians dropped a little from 2014 to 2015, Indonesia still made Pew's list of top 5 countries with the highest government restrictions. It is also ranked No. 46 on the World Watch List, and in USCIRF's second tier of Countries of Particular Concern.
Hindu Nationalism in India
India is also in that second tier. Restrictions and abuse directed at Christians continues to rise following Prime Minister Narendra Modi's 2014 election. Incidents of abuse against Christians went up to 177 in 2015, then rose to 300 in 2016, the Evangelical Fellowship of India reported. Over the past five years, India has risen from No. 31 to No. 15 on the World Watch List.
"Protestant Christian communities are the second main target [after Hindu converts to Christianity] because of their involvement in outreach activities and conversions," Open Doors stated. They "face regular attacks by radical Hindus."
The State Department detailed some of those attacks: A Christian prayer hall was burned down. A mob attacked a pastor and members of his congregation—including a 4-year-old girl—for allegedly trying to convert Hindus. A group surrounded a Vacation Bible School program and shouted slurs at nearly 200 children.
In fact, despite the undisguised Hindu nationalist bent of the government, Pew rates India's social hostilities against religion as more intense than government restrictions. Both are high enough that their combined levels push India into Pew's top 5 countries (among the world's 25 most populous nations) for total government restrictions and social hostilities over religion.
One example of government restrictions: This spring, Compassion International was finally forced out of India—after months of attempted negotiations—through financial regulations meant to control NGOs that the government disagrees with philosophically.
This summer, India elected another Hindu nationalist as president. Ram Nath Kovind previously said that "Islam and Christianity are alien to India," undeserving of the benefits assured to others. However, today Modi said that India "will not tolerate violence in the name of faith."
Government Restrictions in Russia
Russia has expanded restrictions on any faith outside of the Russian Orthodox Church, which makes up about 70 percent of the population and is closely affiliated with the government and traditional Russian identity.
In 2012, Russia required foreign missionaries to file detailed reports and subject themselves to government raids and audits; since then, the NGO sector shrunk by a third. In 2016, the government restricted domestic evangelism as well, sliding laws against sharing faith—in homes, online, or anywhere but recognized church buildings—into an anti-terrorism bill.
The State Department noted those prosecuted under the new law—including two Baptists, five Pentecostals, two Seventh-day Adventists, and five other Protestants.
This year, Russia's Supreme Court labeled Jehovah's Witnesses an "extremist group" and banned its 2,000 congregations, authorizing the government to seize all property.
"Russia's continued use of its 'anti-extremism' law as a tool to curtail religious freedoms is one of the reasons USCIRF has recommended for the first time that Russia be designated as a 'Country of Particular Concern,'" USCIRF noted in its report.
Pew found that Russia and France were "the only two European countries with more than 200 cases of government force against religious groups" in both 2014 and 2015. Social hostilities rose from 2014 to 2015, when Russia appeared on both the "very high" categories for both government restrictions and social hostilities.
However, Russia didn't make the World Watch List in 2017, though Open Doors noted in 2016 that it was "on the cusp."
Imprisoned Pastor in Turkey
An attempted coup in Turkey last July sent the government into a state of emergency that's lasted more than a year. In the months immediately after, the government arrested more than 40,000 people, including one American missionary who had worked in the country more than 20 years.
Pastor Andrew Brunson's timeline was laid out by the State Department—arrested with his wife on October 7 for suspected ties to the rebellion, kept in prison when his wife was released on October 19, charged with being a terrorist on December 9. "The United States continues to advocate for the release of Pastor Andrew Brunson, who has been wrongfully imprisoned in Turkey," Tillerson told reporters. Brunson's wife Norine has been asking for American intervention.
The political changes, along with ethnic conflict and the presence of radical Islam, bumped Turkey from No. 45 to No. 37 on the World Watch List this year.
It may be short-lived.
In the year before the failed coup, Pew said that Turkey's government restrictions against religion had "experienced a modest decrease." And after the initial rash of arrests, Turkey "has taken some positive steps to improve religious freedom conditions," USCIRF said in April. Turkey has been a Tier 2 "country of particular concern" since 2012.
Non-Muslim Penalties in Saudi Arabia
Turkey and Saudi Arabia were two of just six countries Tillerson referenced in his speech to reporters.
"We remain concerned about the state of religious freedom in Saudi Arabia," he said. "The government does not recognize the right of non-Muslims to practice their religion in public and applied criminal penalties—including prison sentences, lashings, and fines—for apostasy, atheism, blasphemy, and insulting the state's interpretation of Islam."
In its report, the State Department referenced USCIRF's opinion of Saudi Arabia: "Since 2004, Saudi Arabia has been designated as a 'Country of Particular Concern' … for having engaged in or tolerated particularly severe violations of religious freedom."
The country has had "very high levels of [government] restrictions every year since 2007, the first year for which data are available," according to Pew. And Open Doors ranks Saudi Arabia at No. 14 on the World Watch List because of its strong official and unofficial pressure on everyone to be Muslim, calling it "the only country in the world without any church buildings."
When President Donald Trump spoke in Saudi Arabia in May, he brushed over the government's restrictions to focus on a partnership in the fight against terror, stating, "We are not here to lecture—we are not here to tell other people how to live, what to do, who to be, or how to worship."
Working with countries with questionable religious freedom records doesn't mean America's values "around freedom, human dignity, the way people are treated" change, Tillerson told State Department employees earlier in May.
"In some circumstances, we should and do condition our policy engagements on people adopting certain actions as to how they treat people," he said. But "I hear from government leaders all over the world: 'You just can't demand that of us, we can't move that quickly, we can't adapt that quickly, okay?' So it's how do we advance our national security and economic interests on this hand, our values are constant over here."
While the State Department decried the world's lack of religious freedom, the Trump administration doesn't think raising the number of religious refugees is the answer.
"Almost 80 percent of the global population live with restrictions on or hostilities to limit their freedom of religion," Tillerson told reporters when releasing the report. "Where religious freedom is not protected, we know that instability, human rights abuses, and violent extremism have a greater opportunity to take root. We cannot ignore these conditions."
But instead of taking the persecuted in as refugees, the Trump administration would prefer to stabilize their home countries, State Department senior advisor Michael Kozak told reporters in a conference call. "Every year, unfortunately, there are way, way, way more refugees than any one country can possibly take in."
Thomas Farr, president of the Religious Freedom Institute, praised the report.
Tillerson "correctly observed that growing religious persecution not only poses a grave moral problem, but also implicates the national security of the United States," he stated. "Advancing religious freedom can enhance stability and undermine the violent religious extremism that threatens us all."