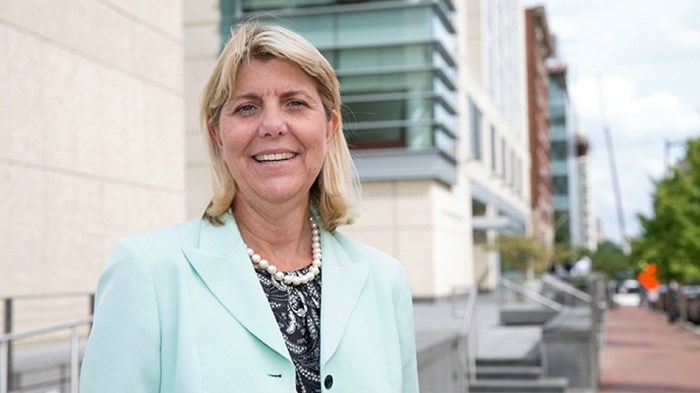 Image: George Washington University
America's largest Baptist university will be led by a Baptist again.
Linda Livingstone succeeds Baylor University's first non-Baptist president, Kenneth Starr, who was fired last year over the Texas institution's bungled response to ongoing reports of rape on campus.
Livingstone, a former faculty member of Baylor and Pepperdine University, leaves her position as business school dean at George Washington University to become the Waco school's first female president in its 172-year history.
"It's not the first time in my career I've been 'the first woman,'" Livingstone told the Baptist Standard. "I think I can take that on."
Women make up about 16 percent of top leaders at evangelical colleges and nonprofits, while their status in secular organizations is well over double that, according to a 2014 study.
Though the Council for Christian Colleges and Universities (CCCU), of which Baylor is an affiliate member, has since named its first female president, fewer than 1 in 10 CCCU schools is led by a woman. Last month, the CCCU gathered more than 600 women at an event focused on female representation in faculty and administrative leadership positions.
The chair of Baylor's board of regents, Ronald D. Murff, said the school was not looking for a woman in particular. He also didn't mention the rape scandal fallout that Livingstone will inevitably lead Baylor though as its new president.
Livingstone's appointment comes at "an important time for the university," Murff said. "A longtime Baptist and former Baylor faculty member, she has a passion for the distinctiveness of Baylor's Christian mission in higher education."
The presidential search team set out to find a Christian leader who has "experience in 'crisis management'" and can "can lead with decisiveness as well as sensitivity and transparency and has the courage to address the tough issues."
Baylor not only forced out its president but also its head football coach and athletic director over the mishandled allegations last spring. (The latter now oversees the sports program at Liberty University.)
A former college athlete, Livingstone knows the pressures of academics and athletics at Division I schools. An Oklahoma native, she played basketball in the Big 8 while attending Oklahoma State University, and her daughter currently plays on Rice University's volleyball team.
"Regarding sexual assault and the vulnerability of women, obviously, I take those issues very seriously," Livingstone said in a press call with the Baptist Standard. "We're going to do everything we can to provide a safe and healthy environment for all our students. I'm committed to that, and I know the board is committed to that."
Baylor isn't as Baptist as it used to be. The school now calls itself "unambiguously Christian," but welcomes students of other faiths or no faith. The Baptist General Convention of Texas maintains some influence; it selects a quarter of Baylor's board of regents and provides a sliver of its annual operating budget.
Earlier this year, CT posted an interview with Baylor's interim president David E. Garland.