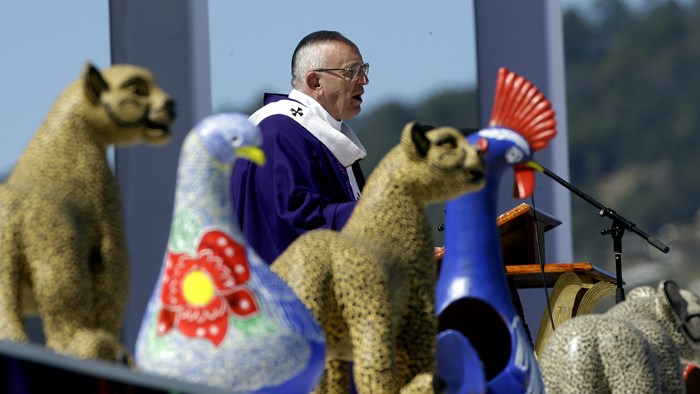 Image: Gregorio Borgia / AP
Update (Feb. 23): Four days after Pope Francis visited Chiapas, local officials agreed to restore water and electricity to 27 Protestant families. Two years ago, the utilities were turned off when the families refused to participate in or donate money to Catholic celebrations.
The agreement brokered with authorities "includes respect for beliefs, as well as the obligations of villagers, as long as these do not include participation in or contributions to religious festivals," a local advocate told Christian Solidarity Worldwide.
But in another Chiapas village, Catholic officials refused last week to allow an elderly Protestant man to be buried there. The man was part of 12 Protestant families who were expelled from the village for their faith in 2012, and have been living in a homeless shelter in nearby San Cristóbal de las Casas. The city is where Francis led Mass and denounced Mexico's treatment of its indigenous peoples.
John L. Allen Jr., associate editor of Crux, called the pope's silence on Catholic persecution of Protestants "a striking omission."
"Particularly with a pope who has spoken multiple times about how anti-Christian persecution is creating an 'ecumenism of blood,' evangelicals were hoping that he would make a point of denouncing that persecution when it comes from elements of his own flock," he wrote in his analysis of Francis's Mexico trip.
-----
During Pope Francis's tour of Mexico this week, he visited the southern state of Chiapas in an attempt to bolster sliding Catholic numbers in the indigenous region.
Of the 90 percent of Mexican adults who were raised as Catholic, 81 percent are still Catholic, according to the Pew Research Center. In Chiapas, just 58 percent are Catholic, according to the 2010 census.
All across Latin America, Catholics are losing converts to Protestants, according to Pew's tally of record low levels of Catholicism across 19 countries and territories. At the same time, the region's Protestant minority has grown steadily for the past 40 years.
Chiapas borders Guatemala, where half the population is Catholic and 41 percent are Protestant, according to Pew. Numbers are similar in nearby Honduras (46% Catholic, 41% Protestant) and El Salvador (50% Catholic, 36% Protestant). (The Chiapas-Guatemala border is the frontline of a battle to prevent the illegal immigration of Central Americans to the United States.)
The Roman Catholicism practiced in southern Mexico is combined with indigenous religions. The resulting practice made the Catholic hierarchy so uncomfortable that in 2002, the Vatican under Pope John Paul II asked the diocese in Chiapas to stop ordaining deacons.
Francis, who restarted the ordinations in 2014, took a strong stand for the indigenous Catholics this week.
"Today's world, ravaged as it is by a throwaway culture, needs you!" he told them, denouncing the "systemic and organized way your people have been misunderstood and excluded from society."
He didn't address the persecution that indigenous Catholics have leveled against Protestants in Chiapas.
In what Christian Solidarity Worldwide (CSW) calls "a marginalized community within a larger marginalized community," Chiapas Protestants have been banished from their homes and land. Sometimes after having their utilities cut off. Sometimes after threats of lynching. The day before Francis's visit, one evangelical church was broken into and burned down.
The expulsions and occasional physical violence have largely been ignored by the state and federal government. While the Mexican constitution guarantees the freedom of religion, that right often conflicts with the Law of Uses and Customs, which grants local and regional autonomy in parts of the country with large indigenous populations like Chiapas. The laws are meant to preserve their culture.
"Typically in such cases, the local authorities proclaim their village or municipality to be exclusive to one particular religion, prohibit the entry of members of other faiths, make participation in activities related to the 'official' religion compulsory, and attempt to force inhabitants who practice other faiths to convert to the declared 'official' religion," a 2015 CSW report stated.
Chiapas, which has the largest number of religious freedom violations in the country, has 30 unresolved cases of displaced Protestant families.
"Serious violations of religious freedom targeting religious minorities have occurred on a widespread basis in Chiapas and Hidalgo since the 1970s," the CSW report said. "Almost 40 years on, it is impossible to justify the government's failure to address the issue in any comprehensive way. Instead, expulsions continue, religious tensions continue to be exploited for political and economic interests, and social instability continues to grow."
CT has covered the growing pressure US officials and religious freedom advocates are placing on Mexico to stop Protestant persecution, the steady swing of Latin Americans away from Catholicism and into Protestantism, and what those Protestants actually believe and practice.