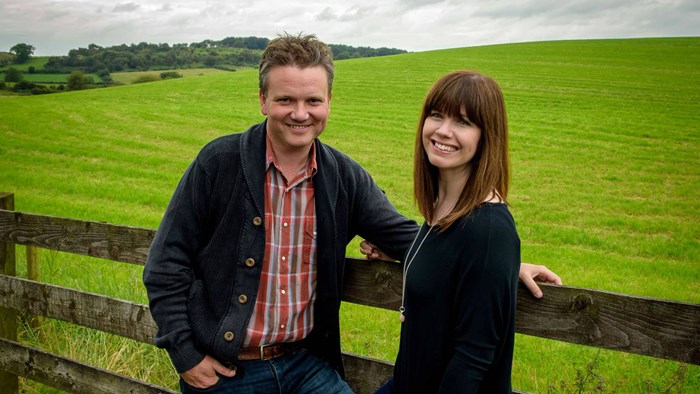 Image: Courtesy of the Gettys
Nearly 90 years ago, a missionary wrote a song meant to galvanize the Western church and draw hundreds of missionaries to China. This Sunday, more than 4,100 churches around the world will sing "Facing a Task Unfinished" with a modern twist.
In 1920, Frank Houghton traveled east with China Inland Mission. Nearly a decade later, the missions agency issued a call for 200 "men and women who know and love the Lord Jesus Christ" to minister to the country then torn apart by civil war.
Aided by Houghton's song, the ministry got its 200 missionaries. And by 2015, the number of Christians in China grew to somewhere between 67 million and 106 million.
China Inland Mission became OMF International, which celebrated its 150th anniversary last year. As part of the commemoration, OMF asked Keith and Kristyn Getty to update the hymn.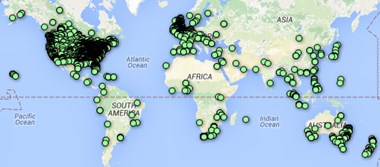 Image: Courtesy of the Gettys
This Sunday, congregations worldwide will sing it in order to "draw attention to the imperative need for Christian evangelism worldwide." So far, 4,121 churches in 81 countries are participating [see map].
The Gettys, who have changed the way evangelicals worship, made a few tweaks to the old song.
"The hymn lacked two or three things it needed for popular appeal in today's churches," Keith told The Gospel Coalition (TGC). (Lyrics are below. Audio can be found here.)
"My wife and I always comment that when we sing the hymn, it clears our minds of things that are, by comparison, irrelevant," Keith told TGC. By reintroducing the song, the Gettys and OMF hope that "Christians around the world will get more excited about both music and mission, but also about living the mission of God on our own doorsteps and in our own kitchens, as well as around the world."
Houghton knew that songs have the ability to unite and move people, Getty said. "In response to great turmoil in China, [he] turned to writing hymns to encourage those who were witnessing martyrdom around them. 'Facing a Task Unfinished' provided inspiration to a generation of missionaries when it was first written, and it urges us on still, even as we also live amid persecution and martyrdom, both at home and around the world today."
Singing together also promotes healing, connecting people to each other and their faith, said Deborah Carlton Loftis, executive director of the Hymn Society in the United States and Canada.
That's why the Hymn Society recently released a cache of 55 hymns aimed at those suffering pain or trauma.
The words to the hymns are relatively new, aimed at specific problems such as dementia, personal loss, or terrorism. But they use familiar tunes, which means choirs don't have to learn new music after sudden events like 9/11, natural disasters, or acts of terror.
"Usually the need will come on pretty short notice," Loftis told Baptist News. "After the attacks in Paris, if a church wanted to have a prayer vigil, they could do that in 24 hours…. Having a service that brings the congregation together is a very important action to help them grieve and undergird one another."
CT's past coverage of hymns includes how Jesus has always been our boyfriend, how the "wrath of God" kept "In Christ Alone" out of 10,000 churches, and the 27 hymns that keep on going.
CT also covers Christianity in China, including a new plan by Chinese Christians to send out 20,000 missionaries by 2030.
Here are the updated lyrics to "Facing a Task Unfinished":
Facing a task unfinished
That drives us to our knees
A need that, undiminished
Rebukes our slothful ease
We, who rejoice to know Thee
Renew before Thy throne
The solemn pledge we owe Thee
To go and make Thee known

Where other lords beside Thee
Hold their unhindered sway
Where forces that defied Thee
Defy Thee still today
With none to heed their crying
For life, and love, and light
Unnumbered souls are dying
And pass into the night

We go to all the world
With kingdom hope unfurled
No other name has power to save
But Jesus Christ The Lord

We bear the torch that flaming
Fell from the hands of those
Who gave their lives proclaiming
That Jesus died and rose
Ours is the same commission
The same glad message ours
Fired by the same ambition
To Thee we yield our powers

We go to all the world
With kingdom hope unfurled
No other name has power to save
But Jesus Christ The Lord

O Father who sustained them
O Spirit who inspired
Saviour, whose love constrained them
To toil with zeal untired
From cowardice defend us
From lethargy awake!
Forth on Thine errands send us
To labour for Thy sake

We go to all the world
With kingdom hope unfurled
No other name has power to save
But Jesus Christ The Lord

We go to all the world
His kingdom hope unfurled
No other name has power to save
But Jesus Christ The Lord