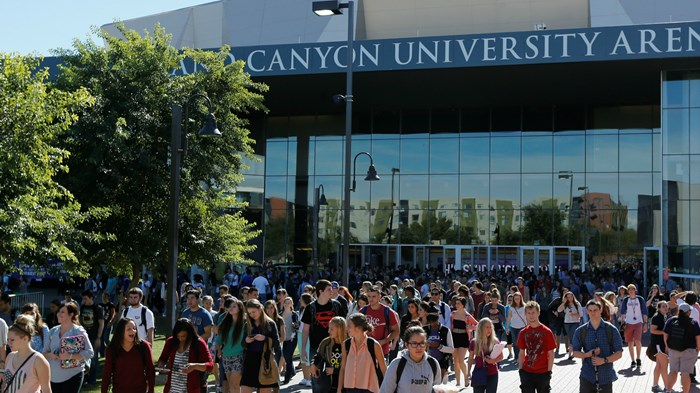 Image: Grand Canyon University
The country's best-known Christian for-profit college, Grand Canyon University (GCU), has announced that it will open an independent, non-denominational, for-profit theological seminary this fall.
The announcement came just before the Department of Education reported last month that the number of for-profit colleges fell 5 percent and enrollment dropped about 10 percent in just a year.
Those declines, from the fall of 2014 to the fall of 2015, are partially due to an improving economy, as students choose to work instead of attend school, as well as the Obama administration's regulation of for-profit education, Inside Higher Ed explained.
Trace Urdan, an analyst at Credit Suisse who focuses on the education industry, told CT that a theological seminary might make investors nervous, as theological degrees might not lead to jobs the way degrees in nursing and education do. The federal government now requires colleges to track the "gainful employment" of graduates.
But GCU's chief rival in online degrees among Christian colleges, Liberty University, confers many theological degrees. "The (theological) graduates from Liberty seem to be repaying loans at a higher rate" than other degree programs, Urdan said.
GCU recently failed to transfer back to a nonprofit institution.
The school began as a nonprofit, founded by Arizona Southern Baptists in 1949. In late 2003, GCU found itself teetering under the weight of $40 million in debt, facing 22 lawsuits, and losing $12 million a year. With no money to fix outdated buildings and forced to cut faculty and staff pay for the third year in a row, the school was preparing to close.
Private investors bought the school and hired Brian Mueller from the University of Phoenix's parent company as CEO. His team began turning the school's physical campus around while expanding its online degree programs. In 2008, GCU made an initial public offering on the stock market, cashing in during a financial crisis that left millions of Americans unemployed and going back to college.
"When we went public in '08, we needed money," Mueller previously told CT. "There was no other way to keep this place alive."
It worked. GCU boosted advertising budgets, enrolled more students, added more majors, and built more student housing, athletic facilities, and academic buildings.
Mueller focused on creating afterschool tutoring programs in the largely Hispanic neighborhood where GCU is located in Phoenix. He articulated a "love thy neighbor" mission for the campus, which attracted new students from throughout the Southwest.
Once finances stabilized, GCU began looking for ways to take itself back off the market.
Mueller told CT in 2014 that he planned to take the college private—converting it from a for-profit college traded on the stock market back to a nonprofit. Such a move, he said, would help the college mature as an institution and distance itself from the negative stigma associated with the for-profit college sector.
"Operating as a for-profit university, we are made aware daily of the adverse views many people have about for-profit institutions," GCU stated.
In the meantime, the Department of Education (DOE) increased regulations on the once high-flying for-profit college industry. In February, the DOE created an enforcement unit to speed up inquiries into federal regulation violations or misused funds. In June, the DOE announced proposals to streamline loan debt relief for students who attended colleges that violated regulations, require schools to pay if they violate regulations or show signs of financial risk, and mandate that financially risky schools provide warnings to students and the public.
The DOE also recommended shutting down the Accrediting Council for Independent Colleges and Schools (ACICS), the nation's largest accreditor that oversees about 245 institutions and approves operations for many for-profit colleges. ACICS came under fire for falling down on the job, including accrediting several campuses for the beleaguered for-profit Corinthian Colleges, which ceased all operations and filed for bankruptcy in 2015 after the DOE fined it nearly $30 million for lying about job placement rates.
Removing ACICS' authority could mean the loss of federal aid programs for for-profit schools and, therefore, more shuttering of for-profit college campuses and parent companies.
"The recent negative publicity surrounding the for-profit sector has made it more difficult for them to recruit traditional high school students," Urdan told CT. "They get specifically excluded from a number of career fairs."
Enrollment at the University of Phoenix dropped by more than half in the last five years to 190,700 students last December, with similar declines at most other for-profit colleges.
Indeed, GCU's stock price slid from a high of about $50 per share in early 2014 to around $42 per share this summer. GCU spokesman Bob Romantic told CT it expects about 17,500 students at its physical campus in Phoenix this fall and another 60,000 students in its online programs. It hopes to have up to 30,000 students on its campus by 2020, predicting annual enrollment growth of 15 percent.
"The risk would be that GCU finds itself plateauing in terms of enrollment," Kevin Kinser, a professor and department head in education policy at Penn State University, told CT. "That is not a good model for investors. Investors like to see continuous growth. Their stock price could be hit if they reach a plateau."
But GCU's plans to take itself off the market hit a wall in the form of its accreditor. In February, the Higher Learning Commission (HLC) rejected GCU's application to create a nonprofit "school corporation" operating separately but alongside another for-profit "services corporation."
In a statement, HLC said it requires an institution to have "both teaching and learning as well as service functions within the accredited structure." The HLC said Grand Canyon could file a new application as soon as the fall of 2016, but the school has said it will not challenge the HLC's decision.
"Basically they said, 'You're out,'" Mueller said. "We were extremely disrespected."
He objected to HLC's conclusion:
Under our proposed transaction structure, over 1,500 current full-time employees of the university, consisting of the entire academic infrastructure—including not only every one of its 335 full-time and over 4,200 adjunct faculty members but also the provost and his staff, the deans of our eight colleges and their staffs, academic affairs personnel, the office of academic records, and our institutional effectiveness operations—would have been employed by and under the absolute control of the accredited institution—precisely as it is today.
CT covered the concerns of some that GCU would lose its Christ-centeredness by going public in 2008, how GCU and Liberty became the largest Christian universities in the world, and why GCU turned down a free campus in Massachusetts.
Paul Glader is an associate professor and director of the McCandlish Phillips Journalism Institute at The King's College in New York City.