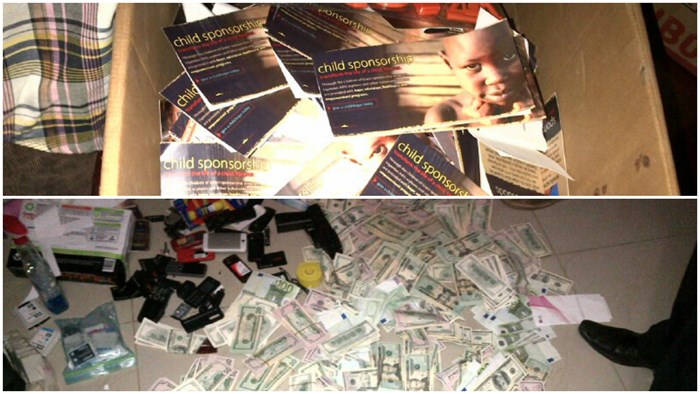 Image: US Attorney's Office
A man who allegedly headed a $2 million international counterfeiting ring has asked to be released into the care of Youth With a Mission (YWAM) while he awaits trial in Pennsylvania.
Ryan Gustafson, 28, faces seven counts of counterfeiting and money laundering. A "missionary kid" who married a Ugandan dictator's granddaughter, he allegedly used child sponsorship pamphlets to smuggle fake bills into the United States.
A local YWAM leader told CT that Gustafson is sincerely trying to turn his life around, and that YWAM wants to err on the side of forgiveness.
The investigation into Gustafson was sparked the day after Christmas 2013, when a fake $100 bill was used at Peet's Coffee & Tea in Pittsburgh to buy a latte. It was the first of a score of false bills spread around the town, which soon caught the attention of the US Secret Service, according to Vice News.
Agents followed the bills through the man passing them out, Joseph Graziano, to his supplier Willy Clock in Uganda. Federal agents flew to Kampala to work with a Ugandan special investigations unit and a confidential informant who didn't know about Clock but did identify Jack Farrel as the counterfeiter.
Officers searched Farrel's home, turning up Ugandan shillings, Indian rupees, Congo francs, Ghana cedis, Euros, and more than $180,000 in US dollars. The agents also found printers, ink cartridges, glue, fake rubber gloves meant to conceal fingerprints, and "Give a Child Hope Today" pamphlets with fake money glued between the pages.
They discovered two state IDs and a copy of a passport for Gustafson, an American who had been brought to Uganda when he was three years old by his YWAM missionary parents. He later married the granddaughter of Idi Amin, a military dictator who ruled Uganda from 1971 to 1979 and is accused of torturing and killing up to 500,000 people.
And he was also Willy Clock and Jack Farrel.
Gustafson was charged in both countries with counterfeiting and laundering money. Uganda added a charge of unlawful possession of ammunition.
Though his trial began in Kampala, Gustafson was extradited in December 2015 to the United States.
"I would rather remain in Luzira [the Kampala prison] than deporting me. Those people will kill me," he told his judge in Uganda. If convicted in the United States, he could face up to 25 years in prison and $500,000 in fines.
Despite his objection, Gustafson was moved to Pennsylvania, where he promptly pleaded not guilty and asked to be released into the care of YWAM. At a nearby YWAM training facility, Gustafson would have to abide by a 10:00 p.m. curfew, refrain from using drugs or alcohol, complete assigned duties, and attend church, his attorney Stephen Misko argued in a court brief.
Gustafson isn't violent and his passport has been revoked so he can't flee the country, Misko wrote. He would wear a GPS bracelet to track his movement.
But the government argued that Gustafson, who has lived most of his life in Africa and whose wife and daughter are still there, is a flight risk. His father-in-law is a high-ranking military official in Uganda.
Gustafson did all he could do prevent his extradition, they said. While still in Uganda, Gustafson told officials he and his wife would kill themselves if he were sent to the United States, feigned tuberculosis to obtain a medical release, and offered prison officials 50 million shillings (about US $15,000) to let him go, assistant US attorney Shardul Desai wrote in a court document. Gustafson hid his identity behind two aliases, still has not turned over his passport, and has made "numerous statements" that he desires to remain in Uganda, according to Desai.
"These statements show that the defendant has no interest in returning to the United States and that he will do everything in his power to return to his wife and daughter in Uganda/Rwanda," Desai wrote.
Mike Bordon, who heads the local YWAM branch, told the judge that though YWAM staff cannot guarantee that Gustafson won't flee or kill himself, they can keep an eye on him.
"If there are signs that things aren't going well, we'll know that right away," Bordon told CT.
Gustafson's parents visited the Lebanon facility for a week last summer, and asked that they consider hosting Gustafson should he be released on bail. "They feel they've seen a big change in Ryan," Bordon said.
After speaking with Gustafson in jail, Bordon said he felt Gustafson was sincere in his desire to repent and reform.
"He talked about how he's really been reading his Bible a lot," Bordon said. "He talked about how he was really trying to make a change in his life."
"I realize this is serious with Ryan being a potential fugitive. I know it's serious. It's not a game," said Bordon. "If we're going to err, we want to err on the side of giving people a chance."