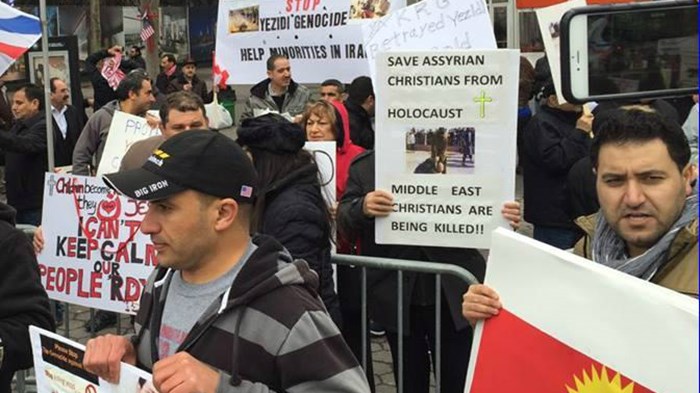 Image: Courtesy, AINA
"ISIL systematically separated the men from the women and young children. The men were subsequently taken away to nearby ditches and summarily executed. The mission obtained credible reports about the rape of young girls, including nine and six year-olds. Thirteen teenage boys were sentenced to death for watching a football match. ISIL fighters pillaged and destroyed buildings in [Qaraqosh] including historic Christian cathedrals and churches."
These five sentences are part of a new 8,400 word report that ISIL (also known as ISIS and IS) terrorists have committed war crimes and likely engaged in genocide, targeting Yazidis, Iraqi Christians, Turkmen, Sabea-Mandeans, Kaka'e, Kurds and Shi'a.
The United Nations Commission on Human Rights sent investigators into northern Iraq last year. They interviewed more than 100 survivors and produced one of the most comprehensive and authoritative pictures of life under barbaric conditions in northern Iraq since last summer. These witnesses told of mass imprisonment, execution by stoning, amputations, forced abortion, forced conversion to Islam, child conscription, murder of young children, sex slavery, and torture.
In the wake of the March 13 report, the U.N. Security Council last Friday held a rare, daylong debate on persecution of religious minorities. "I am deeply concerned about the grave dangers faced by minorities in parts of the Middle East," said Secretary General Ban Ki-moon at the start of the session.
"[ISIL] fighters kill systematically members of ethnic and religious minorities, those who do not share their misinterpretation of Islam and anyone who opposes their apocalyptic conception. They prey on women and children with unspeakable brutality. They destroy religious and cultural symbols that are the heritage of humanity."
U.N. human rights chief Zeid Raad al-Hussein and French Foreign Minister Laurent Fabius chaired the debate. The leaders urged the Security Council to ask the International Criminal Court (ICC) to investigate allegations of war crimes in Iraq and Syria. The ICC has the power to prosecute war crimes.
Two top leaders addressed the council. Monsignor Louis Raphael I Sako (Chaldean patriarch of Baghdad and Vian Dakhil (Yazidi member of the Iraqi parliament) shared how ISIL leaders kidnapped thousands of minority women and children.
In her remarks, Dakhil said the U.N. should create a protection force; demand the release of 3,000 kidnapped women and 50 Assyrian families still held hostage; and, find resources to reconstruct the cities, especially houses of worship that ISIL has destroyed.
Sako said, "As you may know, this year is the centenary of the massacres against Christians in 1915. Now a hundred years later, we are living a similar catastrophic situation, which pushes many families to leave the country. It is a big loss for all."
In related developments, U.S. religious leaders are pressing for greater involvement and collaboration by American religious groups and individuals.
Chris Seiple, president of the Institute for Global Engagement, during a conference call last Thursday, said Christian leaders should view the region as an "inter-related whole." He said, "The best of faith can defeat the worst of religion. There are different ways to see the Middle East right now. One way is to see this as a geopolitical problem. Religion is instrumentalized—hijacked to political purpose. It's hard power [political] competition between Persians and Arabs. A second way is that there is religious competition going on. Sunni and Shi'a have not been getting along since 600 AD or so. They believe in jihad against each other as infidels." Seiple also updated his work on a new outreach program. The Cradle of Christianity Fund, which Hollywood producers Mark Burnett and Roma Downey launched last year, is making a difference on the ground. IGE is administering Cradle programs and said that more than $1 million from 1,000 donors provided aid to 72,000 displaced people in Iraq, Syrian, Lebanon, and Jordan.
Ronald Lauder, president of the World Jewish Congress, spoke at Georgetown University this past Wednesday, and made a strong link between the global rise of anti-Semitism and religious persecution of Christians. He said, "I see anti-Semitism and the persecution of Christians as bellwethers, precursors of things to come, and unless we all start fighting these evils together; and quickly, what I see coming is a dark and frightening time."
National news media is giving fresh attention to attacks on religious minorities in the Mideast. Newsweek's April 3 Holy Week edition includes the cover story, "Targeting Christians: In the Middle East, believers are fleeing or being killed." The report on the region's atrocities notes, "These latest horrors build on the prejudice, discrimination and oppression that over the past few decades have steadily reduced the proportion of Christians in the Middle East from around 20 percent at the start of the 20th century to around 5 percent now. Less than 1 percent of the world's more than 2 billion Christians live in the Middle East, and there are fears that number could dwindle even further."
Later in April, U.N. Secretary General Ban will host a diverse group of religious leaders for a special event in New York, related to events in the Middle East.