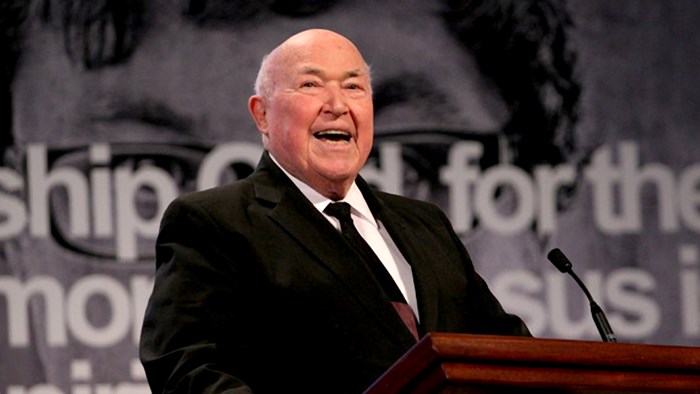 Image: Courtesy of Calvary Chapel
[Updated re: intellectual property dispute and CCCM statement]
The daughter of Chuck Smith, the late Calvary Chapel movement founder, has filed a lawsuit against her father's California church and his successor, Brian Brodersen, claiming that Brodersen's actions helped prematurely remove Smith from leadership and betray Smith's desires for his ministry's legacy.
Janette Manderson filed the lawsuit against Brodersen—her brother-in-law and senior pastor of Calvary Chapel Costa Mesa (CCCM)—and the church's board on behalf of Kay Smith, her 87-year-old mother, who suffers from dementia.
Lawsuits only tell one side of a story. Brodersen has not responded publicly. CCCM told KABC-TV: "Everything we did, we did according to the law and according to stipulations given ... what Pastor Chuck and the board had worked out."
Smith and his wife desired that his ministry, The Word For Today (TWFT), continue "under independent leadership so that it could oversee his legacy for many, many years to come," Jillyn Hess-Verdon, Kay Smith's attorney, told KABC-TV. Control of Smith's intellectual property—his sermons distributed through tapes, videos, books, and other means—was released by CCCM to TWFT in February 1998, according to provided minutes from a CCCM board meeting. (TWFT vice president Paul Smith signed on to the lawsuit with Manderson.)
But according to the lawsuit (which misspells Brodersen's name throughout), Brodersen and others allegedly "planned and perpetrated a scheme to seize control over" Smith's sermons and other TWFT property in 2009 in order to use donations and sales revenues to "maintain [CCCM's] current level of operations." The lawsuit claims:
CCCM benefitted financially from TWFT but, instead of honoring Pastor Chuck's wishes regarding his legacy, committed elder abuse on Pastor Chuck, financial elder abuse against his widow Kay, and wrongfully seized property belonging to Kay, Pastor Chuck, TWFT, and the Chuck Smith 1990 Family Trust.
"But for [Smith's teachings], CCCM would have never accumulated the assets and wealth and other holdings it has today," the lawsuit states. "Notwithstanding, the respondents have now wrongfully seized and taken control over the pastor's materials, Kay's work and TWFT property and ownership rights, all for respondents own financial gain."
The lawsuit also alleges that Brodersen took "affirmative and aggressive steps" to become senior pastor and attempted a "hostile takeover" of CCCM in 2008, an action for which he was consequently fired. But Brodersen returned to his position after other board members generated "sufficient pressure" to convince Smith to bring back his son-in-law, according to the lawsuit.
Following Smith's death last year, CCCM as beneficiary received the insurance proceeds of a $1 million policy, money which—according to the lawsuit—has been improperly taken away in 2006 from Kay and TWFT, the original beneficiaries when the policy was purchased in 1997. Smith and his wife had also received a $7,500 monthly annuity prior to his death, the lawsuit contends, and Smith was unaware his wife would no longer receive the funds after his death.
Internal governance changes such as a procedure for the "election and retention of members of CCCM's Board of Directors and Board of Trustees" are also blamed in the lawsuit for giving the CCCM board the authority to "control nominations and to elect and reelect themselves and for the individually named respondents to grant themselves more and more authority (taking away power once held by the congregation)."
The lawsuit also questions Smith's medical care before his death and alleges that Smith's "death was hastened" by the "conduct" of Brodersen and other defendants. Smith had been struggling with aggressive lung cancer since early 2012 and the cancer progressed to stage four by mid-2013.
A circulating message allegedly written by Chuck Smith Jr. in opposition to his sibling's lawsuit called the lawsuit "groundless, deplorable, dishonoring to our father," noting that "any pretense to honor my father's name or provide adequate care and support for my mother is nonsense." The post flatly denies the lawsuit's criticism of Smith's medical care and the claim that Smith experienced "significant pain and anguish" at his death, noting that Smith Jr. was personally present at the time. [This fact was confirmed to CT by Brodersen in an earlier interview.] The statement notes, "Once the review of financial reports and bank statements has begun and depositions are taken, I suspect that the suit will quickly disintegrate." It concludes:
The man who had been "Papa Chuck" to thousands of young people, consistently taught through the Bible year after year, led many people to the Christian faith, and sustained them in the love of God, was like everyone of us "all too human." His hope is the same hope we all share; namely, that when all is said and done God's grace will have the last word.
Earlier this year, Brodersen told CT (in explaining his case for big change at Calvary Chapel) that in Smith's later years, there had been frequent disagreements over the nature of his wishes, which had the effect of making him appear that "he had really tightened things up, and he had really become a control freak."
"These were interpretations of Chuck by people around him who had personal agendas. It was to their advantage to try to interpret Chuck that way, because it would help extend their power," said Brodersen. "Knowing Chuck as well as I did, I would say, 'Look. You're wrong. That's not how Chuck feels, because I've had a conversation with him about it. He doesn't feel the way you think he does.'"
In a video response to CT's interview, Brodersen brought up that he and Smith had disagreements over ministry in the past.
"We had a few occasions where I had to make decisions based upon what I felt God was leading me to do in direct, sort of, opposition, to what Chuck was wanting me to do or counseling me to do," he stated. "Looking back I think that did prepare me for these days, to know that I am taking my cues from the Lord."
CT will report further on this developing story and update this post later today. The Orange County Register also notes the lawsuit.
The dispute over pastor intellectual property harkens to another California megachurch. After filing for bankruptcy in 2010, Crystal Cathedral founder Robert Schuller appeared in court in 2012 (along with his wife, daughter and son-in-law) to argue that his church owed his family for copyright infringement, intellectual property violations, and unpaid contracts. Schuller maintained that although he had given permission to the ministry to use his intellectual property, he had not okayed its decision to sell recordings of his messages online. The family lost the ruling.
Last year, Schuller's son Bobby claimed that his father's mental capacities had diminished by the early 2000s and the elder Schuller had stopped making most decisions for himself. Instead, "he was really out of control as far as making decisions. People were making decisions for him."
CT asked earlier this year, "Who owns pastors' sermons?" Legal experts offer three suggestions: Pastors can set up their own non-profits; do all their own sermon and book writing on personal time and on their own devices; assign all their rights to the church.
Upon Smith's death, CT examined how his "outreach to hippies in the 1960s helped transform worship styles in American Christianity" and other lasting influences of his Calvary Chapel movement, which encompasses more than 1,000 churches.