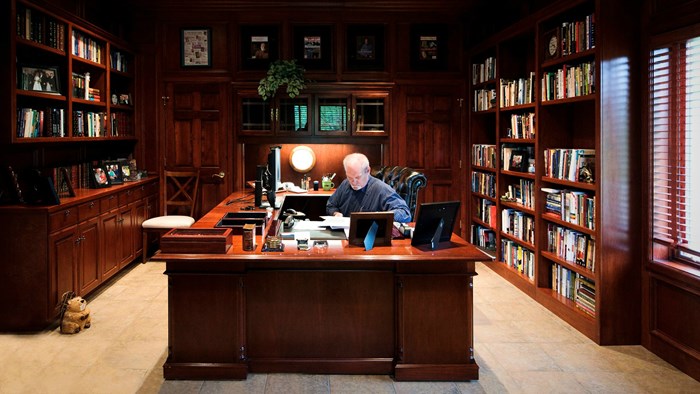 Image: Jerry B. Jenkins
[Updated with comments from Taylor University's Dennis Hensley]
Bestselling novelist Jerry B. Jenkins has ended his formal effort to train the next generation of Christian writers.
"Unfortunately, I'm not as happy as I look here, despite that my seven-year-old Thai grandson Max shot this picture of me," wrote Jenkins on his Christian Writers Guild (CWG) homepage, "because you've found my [website] just as I'm shutting down the Guild after 14 years of ministry."
Publishers Weekly broke the story and offers more details. The guild, launched in the 1960s and purchased by Jenkins in 2001, "aims to train tomorrow's professional Christian writers."
Taylor University's director of professional writing, Dennis E. Hensley, told CT that CWG has offered "great service to developing writers."
"[Jenkins] has invested millions of dollars into a venture that has been of marvelous benefit to thousands of Christian writers but of no commercial gain to himself," said Hensley. "Jerry has also poured time, creativity, and leadership into a long-term project that now culminates with dignity and proper closure as he continues his own book writing, trustee board work with Moody Bible Institute, spending time with his wife, children, and grandchildren, and blogging and speaking on writing.
"He does not engage in debates about who-did-what leading to his decision to close CWG," Hensley continued. "I assure any who seek my take on this that Jerry will always do the honorable thing, even to the detriment of his own finances or personal time. I have never known a better man."
Earlier this month, CWG president Dave Sheets resigned. "It was an honor to have been a part of CWG which has served authors for 50 years, and I'm blessed to enjoy continued friendship with Jerry," he told CT. "We're both sad that CWG is closing. I am pleased, though, that we have an alternative to help authors."
The recently rebranded TheBelieversGroup will offer educational efforts similar to CWG via its nonprofit arm, BelieversTrust, and publishing services via its for-profit arm, BelieversMedia. Sheets will run the for-profit services from Colorado Springs. Rebeca Seitz will run the nonprofit services from Naples, Florida.
"Students who may have been exposed to CWG will find a familiar home at BelieversTrust, albeit an expanded one," Sheets told CT. "They'll also see familiar faces." (CWG marketing coordinator Julie Boynton will join BelieversTrust, as will some CWG mentors.)
CT reported last year how Jenkins, known for his Left Behind series and many other titles, was frustrated that fewer CWG alumni were landing book contracts with established publishers. So he launched his own self-publishing company where $10,000 would get writers mentoring, editing, and other services. In March 2013, Jenkins told CT he wanted to "help people realize their dream of publication without contributing to the spate low quality self-publishing."
"I'm a bit melancholy, but I have a heart full of wonderful memories too," he wrote on the CWG homepage. "It's been a great ride. I've been blessed to be able to give back to an industry that has been so good to me, and it's been a privilege to help train thousands of writers and try to restock the pool of Christian authors."
Guild members will still "get every last one of your benefits," wrote Jenkins, and students will "be able to see your course through all the way to the end." He promised to answer any emailed questions "personally and fast."
Jenkins once offered CT readers his list of websites for writers and his pick for the best Christmas story not found in the Bible.
A 2002 CT cover story offered "an insider's look at how Christian books are agented, acquired, packaged, branded, and sold in today's marketplace."