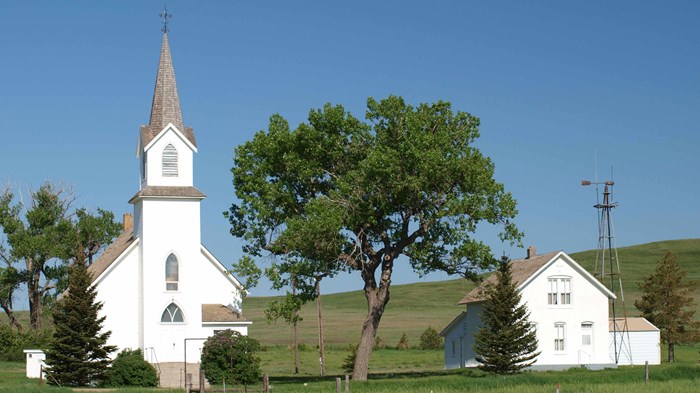 Image: Minnemom/Flickr
Churches can stop worrying that their pastors' best benefit will be taken away by an atheist lawsuit—for now.
Today, the Seventh Circuit Court of Appeals overturned a lower court's high-profile 2013 decision that the longstanding clergy housing allowance was unconstitutional. The 60-year-old tax break excludes the rental value of a pastor's home from their taxable income.
The Freedom From Religion Foundation (FFRF) challenged the law last year in Wisconsin, and federal district judge Barbara Crabb agreed that the allowance violates the First Amendment because it provides "a benefit to religious persons and no one else, even though doing so is not necessary to alleviate a special burden on religious exercise."
Her November 2013 ruling only applied to pastors in Wisconsin, Illinois, and Indiana if upheld. But it ended up "sending shockwaves through the religious community," stated the Evangelical Council for Financial Accountability (ECFA) at the time, "leaving many ministers wondering what the impact of this case will be." The housing allowance is "the most important tax benefit available to ministers," according to GuideStone Financial Resources.
In response, a broad spectrum of religious groups and the Obama administration urged the appeals court to reconsider. The exemption, which costs the federal government approximately $700 million per year, applies to about 45,000 ministers, priests, rabbis, and imams.
The three-judge appeals panel reversed Crabb's ruling on "standing," which means the FFRF had no right to sue because it did not seek an allowance for itself. "[A]bsent any personal denial of a benefit, the plaintiffs' claim amounts to nothing more than a generalized grievance about [the parsonage allowance's] unconstitutionality, which does not support standing," stated the opinion.
In other words, the FFRF should apply for the same benefits that churches get. This was the intriguing argument the Department of Justice made earlier in the case: that atheists would qualify as "ministers of the gospel" under IRS guidelines.
CT's sister publication, Church Law and Tax, offers more analysis, including how the Seventh Circuit rejected the current challenge but outlined how a future challenge could proceed. The FFRF told Religion News Service that it plans to carry on the legal fight. Baptist Press rounds up positive reactions among supporters of the housing allowance.
In May, CT reported how a Kentucky court rejected a similar atheist challenge to clergy tax benefits for largely the same reason. Judge William O. Bertelsman ruled the three atheist groups had never tried to apply for the benefits they were challenging, and probably would qualify for them even as atheists.
"At this point, the Atheists have no idea whether they could gain classification as a church or religious organization under I.R.C. 501(c)(3) because they have never sought such classification," he wrote, noting "the statutes and regulations pertaining to tax-exempt organizations do not expressly favor certain churches or certain religious organizations, nor do they expressly favor theist organizations over atheist or non-theist organizations."
The allowance serves three purposes, according to the Becket Fund for Religious Liberty, which filed an amicus brief and praised today's ruling. "It ensures that ministers are treated the same as similar nonreligious employees; it reduces tax discrimination among ministers from wealthy and poor denominations; and it keeps the government from making intrusive judgments about how ministers use their homes. Without the allowance, many minority or poor faith groups would have difficulty providing for their ministers."
The Becket Fund says the Seventh Circuit ruling has implications for a legal challenge in the Sixth Circuit related to church pension plans.
ECFA noted last year how the Commission on Accountability and Policy for Religious Organizations (CAPRO) advised that Congress "should not apply a dollar limit to the clergy housing exclusion ... because attempting to do so would create more challenges than it would solve."
CT previously examined whether pastors' homes are really that different. Today only 11 percent of pastors live in parsonages, while 87 percent receive a housing allowance, according to the 2014–2015 Compensation Handbook for Church Staff.
CT previously reported how challenges to the housing allowance were standing on shaky ground, but the FFRF breathed new life into its lawsuit by restructuring its compensation. CT also noted the irony of the federal government challenging atheists to apply for clergy tax breaks. Church Law and Tax offered 10 takeaways on Crabb's ruling.
Such housing allowances first came under scrutiny in 2002 when the IRS challenged Rick Warren on his exemption, leading Congress to revise the law. Some quirky reasoning recently allowed one prominent pastor to claim two parsonages.
CT has asked experts whether Congress should change the housing allowance, editorialized on parsonage allowances, and looked at the history of clergy housing tax breaks.
[Photo courtesy of minnemom - Flickr]