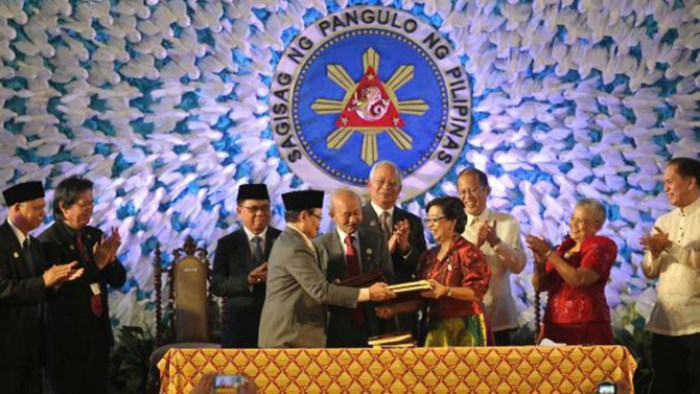 Image: Malacanang Photo Bureau
Evangelical, Roman Catholic, and Islamic leaders in the Philippines are hailing today's signing of historic peace accords to end decades of conflict between the government and the Moro Islamic Liberation Front (MILF).
Among the dignitaries at the event was Bishop Efraim Tendero, head of the Philippine Council of Evangelical Churches, which came out in favor of the peace accords. MILF forces will surrender their weapons in order to gain political autonomy in areas of southern Philippines with large Muslim populations.
The conflict dates to the 1960s, and by some estimates 120,000 people have died. In 2011, MILF gave up its aspiration to achieve nation-state status for the region of southern Mindanao. Instead, this autonomous area will remain under the national government.
In remarks at Malacanang Palace, President Aquino said:
"This agreement stands as a testament to how far trust and earnestness can move humanity forward," he said. "It shows how righteousness, reason and goodwill are the mightiest of instruments in ending conflict. It proves that the search for common ground is infinitely more productive than hegemonic ambition."
Despite the goodwill, insurgent groups remain active. The Moro National Liberation Front (MNLF) as recently as seven months ago slaughtered hundreds of people in the mostly Christian city of Zamboanga. Christian hostages were used as human shields in the outbreak of violence.
A top Roman Catholic leader, Bishop Villegas, called for the government to create peace agreements with MNLF and other smaller rebel groups.
[Villegas] called on the government to pursue a path of peace that includes broad-based "consultations and an honest, open and trusting dialogue" with groups like the Moro National Liberation Front (MNLF), another important Muslim separatist group.

Bishop Villegas hopes that such consultations and talks will include all Mindanao groups - particularly those who feel ignored or relegated to the margins like the MNLF. In fact, for him, "The strength of the agreement lies in everyone's willingness to reach out to those who are opposed."