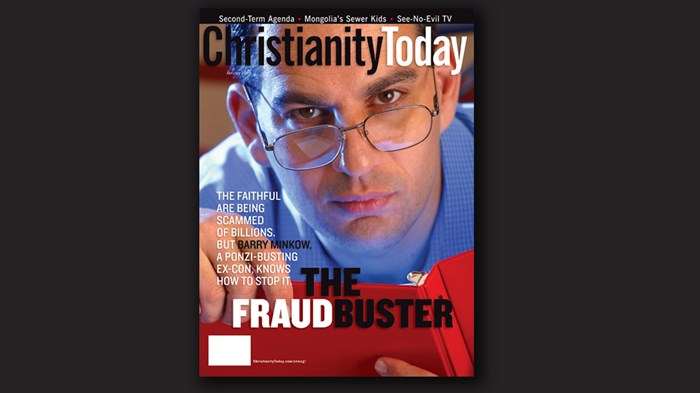 Image: Christianity Today
Barry Minkow, who once graced CT's cover as an ex-conman turned watchdog saving Christian organizations from billions of dollars of fraud, has been convicted of cheating his own congregation.
Minkow was convicted Wednesday of embezzling $3 million from San Diego Community Bible Church. "We stand vigilant against those who cheat and steal without regard to the consequences wrought on their victims and their communities," U.S. Attorney Laura Duffy told the Associated Press (AP).
Courthouse News Service reports that Minkow pleaded guilty to opening unauthorized bank accounts, forging signatures, and using funds from the church for his personal benefit.
According to a statement from the U.S. Attorney's Office:
In addition, Minkow confessed to diverting SDCBC member donations for his own benefit and embezzling money intended as church donations. In all, Minkow admitted purloining - and concealing from the IRS - at least $3 million from SDCBC's parishioners and lenders. As described in court documents, Minkow's conduct continued for over a decade.
Minkow could get five additional years in prison when his case is decided in April.
CT profiled Barry Minkow during his years as a "fraudbuster " who protected the faithful from being defrauded of billions, and even excerpted his book. Minkow founded the Fraud Discovery Institute and claimed he personally revealed more than $1 billion in church-related scams or fraud—in one year.
However, CT noted in 2010 how Minkow was still having trouble with truth telling after being sued for fraud in 2009. Minkow gave CT his defense of the allegations against him, but in 2011 was sentenced to five years in prison after pleading guilty to insider trading. At that time, a judge called Minkow a "very gifted person" with "no moral compass that says 'stop,'" the AP reports.