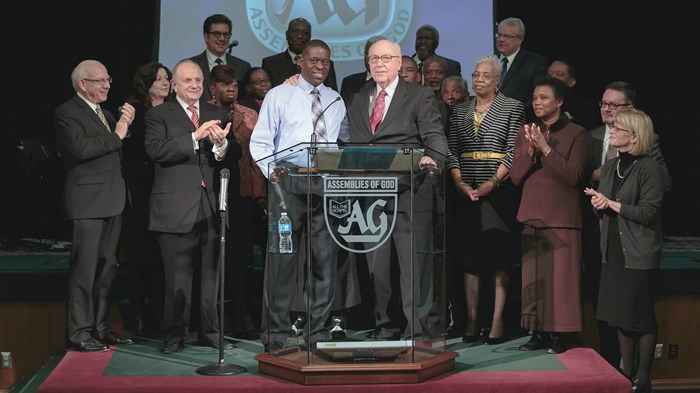 Image: Courtesy of Assemblies of God
Some good news to mark Black History Month:
In 1917, a black Pentecostal from Chicago approached the newly formed Assemblies of God (AG) with a request. Alexander Howard wanted the denomination to send him as a missionary to Liberia. But AG leaders refused to let him go because of his race.
The incident led Howard to join with African American churches in New England and form the United Pentecostal Council of the Assemblies of God (UPCAG) in 1920. The denomination soon sent Howard to Liberia, and recently welcomed 18 Liberian churches as the newest of its six districts.
It also remained separate from the AG, which grew to become the world's largest Pentecostal denomination, for nearly 100 years—until now.
Recent efforts have resulted in a new partnership between the two organizations, beginning four years ago when Thomas Barclay of the UPCAG reached out to George O. Wood, general superintendent of the AG, after feeling "stirred to connect the two fellowships and mend the divide," according to a joint announcement.
The Pentecostal Evangelrecounts the reconciliation process. It also notes how the AG ironically ended up endorsing its first African American missionaries to Liberia the same year that Howard cofounded the UPCAG.
"We have now been on a four-year journey with the United Pentecostal Council of the Assemblies of God, which was birthed in 1919 because of racism in the Assemblies of God," said Wood. "Now, the Lord has brought us together again in a more formal partnership, to hold high the name of Jesus and advance His mission in the power of the Spirit."
Barclay and Wood signed an agreement of cooperative affiliation last week at the AG national office in Springfield, Missouri. The agreement (full text below) provides that "any UPCAG church that so desires will be welcomed into local AG districts, as well as all national AG programs and missions while maintaining their own credentialing practices and autonomy," according to the release.
With ethnic minorities now accounting for more than 40 percent of the AG's current membership in the United States, the leaders hope to create a more unified church through this agreement.
"God has put us together, and there is something about to happen," Barclay said in his sermon. "No longer will we be separated from you. We came to lock arms with you."
CT regularly reports on African Americans, segregation, and racism, including recent research on how church diversity remains a dream as well as the growing gap in how black and white Christians think about race. CT also examined whether or not evangelicals are doing a good job at reconciliation.
CT also regularly reports on the Assemblies of God and Pentecostalism, including how AG membership has surged while speaking in tongues has slumped.
Here is the full agreement:
WHEREAS, The General Council of the Assemblies of God (GCAG) and the United Pentecostal Council of the Assemblies of God (UPCAG) have resolved through prayer and relationship building to cooperate more fully to carry out the Great Commission as given by Jesus Christ our Lord; and
WHEREAS, we seek a relationship together that honors God and is established in Christian love and fellowship, serving one another and allowing the body of Christ to become more united and effective before a watching world; and
WHEREAS, the United Pentecostal Council of the Assemblies of God will retain their own governance and credentialing process, but will be partnered with the General Council of the Assemblies of God as a network of cooperating churches, including:
1. Access to all General Council and district council ministry events and programs for children, youth, and adults, including children's and youth camps.
2. Auditor privileges for two representatives to attend the annual GCAG General Presbytery meetings as cooperative fraternal delegates.
3. Use of AG World Missions and AG U.S. Missions resources, such as AG Newsbreak, annual missions convention resources, prayer guides, and the like.
4. Membership in the AG Credit Union.
5. Access to the GCAG Convention Services Group for assistance with the UPCAG annual Council meeting.
6. Use of GCAG outreach campaigns, such as Nothing's Too Hard for God, Believe, iValues, and the like.
7. Access to My Healthy Church resources at discounts comparable to GCAG churches.
8. Participation in GCAG Junior Bible Quiz, Teen Bible Quiz, and Fine Arts Festivals, from the local to national competitions.
9. Participation in missions giving through Boys and Girls Missionary Challenge (BGMC), Speed the Light (STL), and Light for the Lost (LFTL). If the UPCAG chooses to participate in these giving ministries, at least one project from each will be a UPCAG project, upon approval of the appropriate missions committee.
10. Participation in local, district, and national Ambassadors in Mission (AIM) trips.
11. Sponsorship of a Convoy of Hope outreach that includes financial assistance from the GCAG.
12. Introduction of the UPCAG churches to local and district GCAG churches and people.
THEREFORE BE IT RESOLVED, That the General Council of the Assemblies of God and the United Pentecostal Council of the Assemblies of God agree to adopt the guidelines as stated above and affirm a cooperating church relationship on this day, Tuesday, February 11, 2014.
Signed,
Dr. George O. Wood General Superintendent The General Council of the Assemblies of God
Rev. Thomas A. Barclay International Presiding Elder United Pentecostal Council of the Assemblies of God