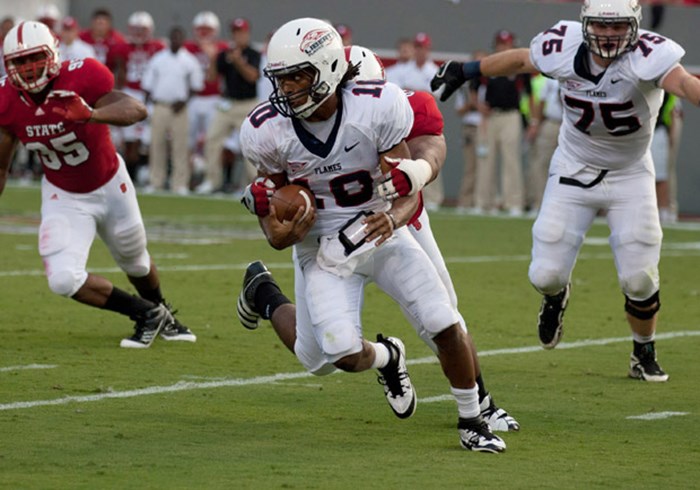 Image: Peyton Williams / NCSU / Getty
Liberty University, the nation's largest Christian school, wants an invitation to move up to the highest level of college football.
University administrators have spent millions of dollars building a football program intended to compete within the Division I Football Bowl Subdivision, formerly Division I-A. The school hopes to imitatethe bump Catholics have enjoyed from Notre Dame, which will play in this year's national championship game on Jan. 7.
Jerry Falwell Jr., chancellor and president of Liberty, says he has a responsibility to donors and alumni to build a top-notch football program. The Liberty Flames have won five Big South titles in the past six years. They joined the Football Championship Subdivision, formerly Division I-AA, in 2002. To join the Football Bowl Subdivision, schools must commit to fund 85 sports scholarships — a jump from the 63 required by the Football Championship Subdivision — and average home attendance of 15,000 for two years. They must also increase travel and recruitment budgets. After that, an individual conference, such as the Big 10 or PAC-12, must invite a school to join. Games at the Football Bowl level bring in significantly more money for their teams than games at the Football Championship level.
"This investment will pay dividends for generations because it will shine a light on our core mission to train champions for Christ like nothing else can," Falwell said. "We see top-tier college athletics as a mission field."
Pursuit of a national-level football team, which would give the school greater visibility to spread its faith-based message and mission, is just part of Liberty's pursuit of growth and name recognition, Falwell said. Building recognition through football was part of Jerry Falwell Sr.'s vision when he founded Liberty. The university, which has 12,600 residential students and more than 80,000 online students, is in the midst of a $400 million campus expansion and will open a medical school in 2014. Head coach Turner Gill joined the football program last year from the University of Kansas and previously coached for the University at Buffalo.
Other Christian schools also recognize the promise of stellar sports teams.
Baylor University, which joined the Big 12 conference in 1996, gained national prominence for its football team last December when Robert Griffin III won the school's first Heisman Trophy. The trophy is awarded annually to one outstanding Division I college player in Division I, which comprises the Football Bowl and Football Championship subdivisions.
Grand Canyon University, a for-profit Christian university based in Phoenix, recently announced plans to join the Western Athletic Conference. The controversial move makes it the first for-profit institution to join N.C.A.A. Division I sports.
In late 2011, some Calvin College administrators suggested starting a football program at the 4,000-student college. A faculty senate rejected the proposal in May; final say rests with the board of trustees, which has not yet made a decision.
Brian Bolt, the Calvin professor who chaired the task force that recommended a football team, said he sees pros and cons to creating such a team.
"Evangelicals have wholeheartedly embraced sport in the name of spreading the Gospel, using the formula winning equals fame, fame equals exposure, exposure equals souls for Christ," he said. "Exposure of this sort runs the very real risk of fundamentally changing the message. How Liberty handles this conundrum will ultimately determine its success."
A former Notre Dame football coach recently blamed some of the team's failures on the school's stringent student life policies, he said.
"What if a terrific coach and mentor of student athletes is only marginally committed to the Christian mission of the college?" he said. "To earn a place among college football's elite programs, will Liberty alter its student conduct policies to attract more student athletes?"
There might be better ways to create a close community among students and alumni and earn recognition, said Hunter Baker, who is acting dean at Union University and earned a Ph.D. from Baylor in 2007. The school could fund innovative teaching practices or create scholarship endowments, he said.
The move to invest in a top-notch program can be a gamble, said Michael Lindsay, president of Gordon College and former sociology professor at Rice University.
"Unless the entire community is behind the idea—trustees, faculty, alumni, and students—it can be one of the riskiest decisions a college makes," he said. "When it works, the return on the investment can be tremendous. But without early wins and patient support, the investment can cost the institution not only its riches—but also its reputation."
Quality sports programs can be rewarding when they pan out, said Jay Wood, a philosophy professor at Wheaton College.
"I can hardly begrudge Liberty University's desire to build a first-rate football program," he said. "When you blend school spirit with America's most popular sport, you have a recipe with the potential to unite the entire campus community."