Michele Bachmann and Beverly LaHaye appear to be the exception, not the rule, in conservative politics. A recent "Battleground Poll" conducted by Politico and George Washington University suggests that there is a gap between male and female evangelicals.
The November poll interviewed 1,000 likely voters about their plans for the upcoming election, their views of current events, and their evaluations of government. Among those interviewed, evangelical men were some of the most conservative.
Evangelical men in the survey preferred a generic Republican to Obama by a two-to-one margin. Two-thirds of evangelical men said they would vote for the Republican candidate next year. Only 27 percent of these men (including African Americans and other minorities) said they would support Obama.
Evangelical women, however, were almost evenly split, with around 44 percent favoring Obama and 43 percent supporting the Republican, about the same as men who are not evangelical.
Women who are not evangelical are the most supportive of Obama with a majority reporting they will vote for him next fall. A majority of these women (58%) also identify themselves as Democrats. In contrast, 64 percent of evangelical men say that they are Republicans. For evangelical women and men who are not evangelical, there is an even split between Republicans and Democrats.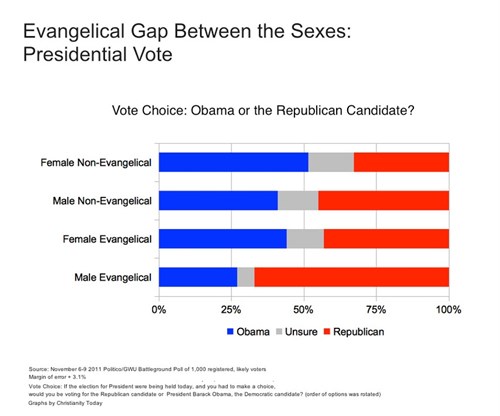 The survey also suggests a difference in the policy priorities of evangelical men and women. When asked what policies should be a priority for Congress, most Americans of all religions and sexes said the economy was most important.
There was also a divide between the priorities of men and women, even among evangelicals. Evangelical men were much more likely to point to government spending and the deficit as a top concern. Few of these men said that things like health care costs were a priority.
Evangelical women, however, saw the needs of the country differently. Like other women, evangelical women were more likely to say that health care costs should be part of the congressional agenda. They were less concerned about government spending than evangelical men.
On average, evangelical men are some of the most conservative and pro-GOP voters in the country. One survey suggests that evangelical women might be more religious, but they also appear to be less conservative in their voting choices and policy priorities.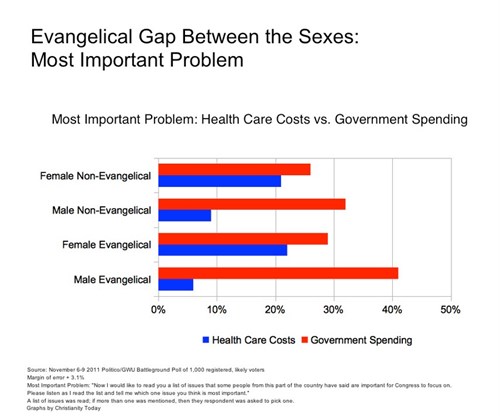 Editor's note: This post has been updated on 11/18.