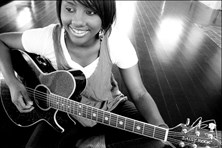 TobyMac is always looking around for promising new artists for his label, Gotee Records. He recently found – and signed – another in Jamie-Grace, a 19-year-old college student from the Atlanta suburbs who releases her debut EP, Hold Me, today. The title cut, her first single, is incredibly contagious; check it out in the video below.
TobyMac, who lends background vocals in the song, says, "I've not been this excited to work with an artist in a long time. She has a style that can't be put into a typical label box—a dash of reggae, a dash of folk, a dash of hip hop. . . . Jamie-Grace is a natural, beautiful next step for our industry."
Diagnosed with Tourette Syndrome at age 11, Jamie-Grace has walked a challenging journey that has included physical exhaustion, emotional stress, and spiritual doubt. After hearing Tammy Trent (who lost her husband to a diving accident in 2001) give her testimony, Jamie-Grace said she thought, "I've cried enough. It's time to accept my joy." She decided that "even with Tourette's, I still have something to do with my life. I love to sing. I have a story, and I've got to share it."
Three years later, she's a college junior studying children's ministry and releasing her music to the world. Check it out: