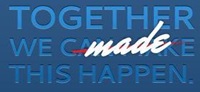 (Updated 10/11; see below)
On September 16, three weeks ago today, Donald Miller wrote on his blog that the Blue Like Jazz movie, which he and filmmaker Steve Taylor had been trying to make for several years, was essentially dead. "The book that swept the country will not sweep theaters," Miller blogged that day. The main culprit was a lack of funding, especially after a key investor had decided to back out of the project.
Less than two weeks later, the film received a breath of fresh air – and possibly new life – when two young men from Franklin, Tenn., launched SaveBlueLikeJazz.com, a grassroots effort to raise $125,000 by October 25 to keep the film on track. The money was being raised through Kickstarter.com, an online fundraising site.
They had 30 days to raise the money; they did it in ten. Miller announced the news on his blog today with a post titled, "YOU DID IT!", writing, "I'll blog more about all of this soon, but for now, raise your glasses friends, because WE ARE MAKING A MOVIE!"
Taylor recently told CT that once the money is raised, shooting would begin within a few weeks, mostly in Tennessee (where Taylor lives) to save significantly on costs. Originally, the entire film was to be shot in Portland, where Miller lives and where much of the story is based. Now, only portions of it will be shot in Portland.
In a later e-mail to CT, Miller said, "It's become a bigger and better story, and a story I think God stepped into the middle of. Some thoughts:
"We had so much trouble raising the money for the film that I wondered whether God wanted us to make it. . . . This is a very honest movie, a very raw movie, but it's a movie that presents faith as it intersects with a fallen humanity. So I think God answered my doubt in a way only God could. That's been the most amazing part for me.
"We all get to tell this story together now. It's our story. It's not a story for the church to consume, it's a story for the church to tell.
"The gospel is about rescue, and in a very real way, we got rescued on this. Our brothers and sisters swooped in to help us out.
"Another feeling I didn't expect . . . is fear. We've got to make an amazing movie now! We've been pushing so hard to get the finances, and now we've turned a corner and are making it, and that let loose a lot of fear. Fear is a good thing, for sure, but it has to be overcome. The only way to overcome this fear is to make a heck of a movie. So here we go."
10/11 UPDATE: Jonathan Frazier and Zach Prichard, who launched the SaveBlueLikeJazz website, report that contributions came from almost 1900 backers, with donations ranging from $1 to $5,000, and that most donations were between $50 and $100 – "which is great," they note, "because it proves that this was truly a groundswell of smaller donations that made the difference."
Director Steve Taylor weighs in on the good news: "I've been overwhelmed with joy and gratitude. We reached the end, then God provided a very unexpected turn via a couple of very dedicated fans of the project. It hit me at the end of the third day of the campaign, 'Hey - we're making a movie. Time to stop saying "if" and start planning "when."' Not since the Apostle Thomas has anyone been so happy to be proven wrong." Taylor said that shooting would start in late October and run through November.
Here's an updated video from the team behind SaveBlueLikeJazz, including thank you's from Taylor and Miller:
Let's Make History!
from
Save Blue Like Jazz
on
Vimeo
.