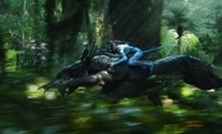 New York Times film critic Manohla Dargis really likes Avatar, gushing that the film depicts a new "Eden" while giving it the prestigious "NYT Critics' Pick."
But her colleague, op-ed columnist Ross Douthat, apparently doesn't share those feelings, saying that James Cameron's sci-fi epic is, "Like the holiday season itself . . . a crass embodiment of capitalistic excess wrapped around a deeply felt religious message. It's at once the blockbuster to end all blockbusters, and the Gospel According to James."
And that's just his opening paragraph. Douthat goes on to call the film "a long apologia for pantheism" that merely reflects the results found in a recent Pew Forum report – that "many self-professed Christians hold beliefs about the 'spiritual energy' of trees and mountains."
Hmm, interesting observations, and quite possibly on target. But I simply say, relax. Avatar isn't forcing anything down anyone's throat, no more than any other movie – and less so than many agenda-driven films made by Christians – with a message. It's a fantasy film about an alien planet.
Can't we all just chill out and enjoy the cinematic ride? I haven't hugged any trees since seeing Avatar – though they sure are beautiful outside my window right now with today's fresh snowfall – and I can't wait to see it again.