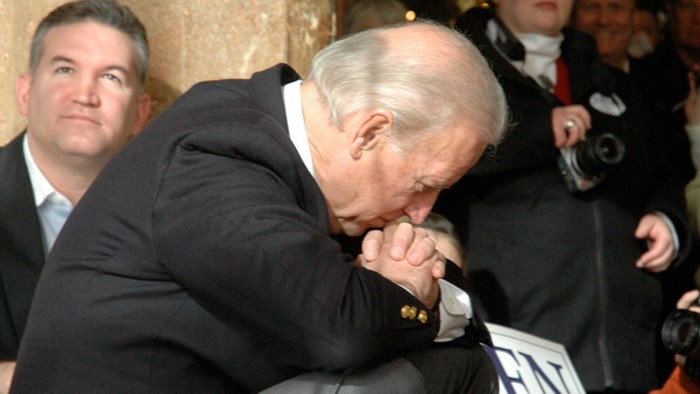 Image: Cynthia Johnson WEBN News
I really admire this passage from Joe Biden's memoir, Promises to Keep. It's about the sudden death of his wife, Neilia (above), and their baby daughter Naomi in a car accident shortly after his election to the Senate in 1992. It is defiantly not an explication of the power of faith, but rather an honest – and politically risky – description of what it really felt like. His faith returned later, but I think anyone who has been through horrific tragedy will appreciate the honesty here:
They flew us to Wilmington, but I didn't know anything for sure until I got to the hospital. All the way up, I kept telling myself that everything was going to be okay, that I was letting my imagination run away with me, but the minute I got to the hospital and saw Jimmy's face, I knew the worst had happened. Beau, Hunt and Naomi had been in the car with Neilia when the accident happened. Neilia had been killed and so had our baby daughter. The boys were both alive, but Beau had a lot of broken bones and hunt had injuries. The doctors couldn't rule out permanent damage. I could not speak, only felt this hollow core grow in my chest, like I was gong to be sucked inside a black hole.

The first few days I felt trapped in a constant twilight of vertigo, like in the dream where you're suddenly falling...only I was constantly falling. In moments of fitful sleep I was aware of the dim possibility that I would wake up, truly wake up, and this would not have happened. But then I'd open my eyes to the sight of my sons in their hospital beds -Beau in a full body cast–and it was back. And as consciousness gathered again, I could always feel at least one other physical present in the room–and there would be Val, or my mom, or Jimmy. They never left my side. I have no memory of ever being physically alone.

Most of all I was numb, but there were moments when the pain cut through like a shard of broken class. I began to understand how despair led people to just cash it in; how suicide wasn't just an option but a rational option. But I'd look at Beau and Hunter asleep and wonder what new terrors their own dreams held, and wonder who would explain to my sons my being gone, too. And I knew I had no choice but to fight to stay alive.

Except for the memorial service, I stayed in the hospital room with my sons. My life collapsed into their needs. If I could focus on what they needed minute by minute, I thought I might stay out of the black hole. My future was telescoped into the effort of putting one foot in front of the other. The horizon faded fro my view. Washington, politics, the Senate had no hold on me. I was supposed to be sworn into the Senate in two weeks, but I could not bear to image the scene without Neilia....

There was good news: The doctors assured us that Beau and Hunter would make full recoveries. Beau's bones would mend. Hunter had no brain impairment. But Christmas passed with the boys in the hospital, and I began to feel my anger. When the boys were asleep or when Val or Mom was taking a turn at their bedside, I'd bust out of the hospital and go walking the nearby streets. Jimmy would go with me, and I'd steer him wordlessly down into the darkest and seediest neighborhoods I could find. I liked to go at night when I thought there was a better chance of finding a fight. I was always looking for a fight. I had not known I was capable of such rage. I knew I had been cheated out of a future, but I felt I'd been cheated of a past, too.

The underpinnings of my life had been kicked out from under me...and it wasn't just the loss of Neilia and Naomi. All my life, I'd been taught about our benevolent God. This is a forgiving God who is tolerant. This is a God who gave us free will to be able to doubt. This was a loving God, a God of comfort. Well, I didn't want to hear anything about a merciful God. No words, no prayer, no sermon gave me ease. I felt God had played a horrible trick on me, and I was angry. I found no comfort in the Church. So I kept walking the dark streets to try to exhaust the rage."
(Originally posted at Steve Waldman's blog at Beliefnet.)