Rembrandt Harmensz Van Rijn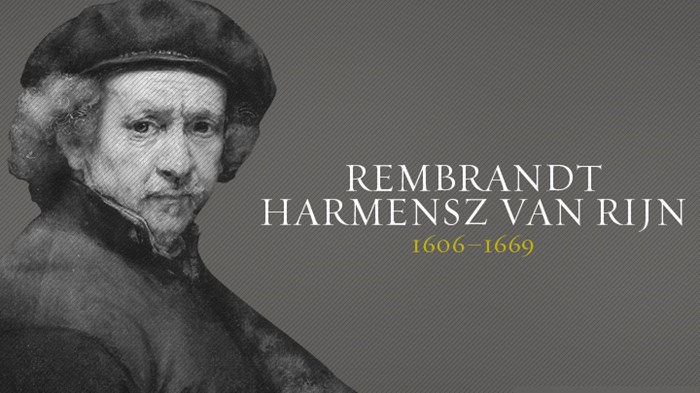 "[He paints with] the greatest and most natural emotion."
— a description of Rembrandt's style
The Dutch artists of Rembrandt's day gained respect painting landscapes, still lifes, and scenes glorifying ordinary life. But these subjects never held much interest for Rembrandt, who was captivated by the moving Bible stories his mother used to read to him. His contemporaries painted from the Bible, too, but not with the passion of Rembrandt, who remains famous for capturing the characters' emotions and involving his viewers in the stories.
Sorrows of an artist
At age 14, Rembrandt, the son of a wealthy miller, left the University of Leyden to study painting under an inconsequential painter of hell scenes. Three years later, however, he left the town he had lived in since birth to study art in Amsterdam, where he would live for the rest of his life.
Timeline

1565

Teresa of Avila writes The Way of Perfection

1572

St. Bartholomew's Day Massacre

1589

Moscow becomes independent patriarchate

1606

Rembrandt Harmensz Van Rijn born

1669

Rembrandt Harmensz Van Rijn dies

1678

John Bunyan writes The Pilgrim's Progress
In Amsterdam he developed both his affinity for depicting dramatic personal reactions and for chiaroscuro (painting in light and dark). In most of his paintings, light emerges from darkness, creating a timeless, emotional movement that draws the viewer into the scene.
By the late 1620s, he was already a renowned artist. "The Leyden miller's son is much praised, but before his time," wrote one critic, and a year later, the secretary of the Prince of Orange wrote an enthusiastic report commending Rembrandt's "penetration" into the essence of his subjects.
In 1634 Rembrandt married the wealthy and beautiful Saskia van Uylenburgh, who during the rest of her life was his inspiration. It was a time of professional triumph, as portrait commissions poured in and his paintings were highly praised. But though Rembrandt and Saskia's marriage was a happy one, it was also full of sorrow. Three children were born and died before a son, Titus, survived infancy. But the pregnancy was too difficult for Saskia, and she died the following year.
Rembrandt was also plagued by financial difficulties. He had a penchant for extravagant living, and when he purchased an expensive house in 1639, it placed him deep in debt.
Rembrandt acknowledged this extravagance by painting himself as the Prodigal Son, squandering money in the taverns with his wife, whom he depicted as a prostitute. In fact, Rembrandt often featured himself in his Bible paintings. In The Raising of the Cross, he even kept himself in his modern clothes to emphasize his personal involvement in the crucifixion. He believed the personalities in the Bible were like those of his Amsterdam acquaintances, so he painted these characters as he would his friends, with "the greatest and most natural emotion."
Then, on top of sorrow and a growing debt, came scandal. Rembrandt's servant, Hendrickje Stoffels, was summoned to appear before the Reformed church council. The official transcripts record that there, visibly pregnant, she "confesses to fornication with Rembrandt the painter, is gravely punished for it, admonished to penitence, and excluded from the Lord's Supper." Rembrandt himself was not censured, but his commissions, for which he could still command a good price, had dwindled in number.
In 1656 Rembrandt was forced to file for bankruptcy. He lost his house, his art collection, and soon after, his pride. He was forbidden from selling his own works and had to work for a firm set up by his servant Hendrickje and his son Titus. In 1663 Hendrickje died, and in 1668 Rembrandt's son Titus died.
The following year, Rembrandt died, leaving behind only one daughter, 650 paintings, 280 etchings, and 1,400 drawings. Among his last works is his one of his most famous, The Return of the Prodigal Son, which depicts the opulent and sinful sinner returning home to the presence of his father.