G.K. Chesterton: Did You Know?
Man at play
Chesterton's love of theatrics began with childhood puppet shows and remained strong to the end of his life. Pictures of "Top Meadow Productions," the shows he staged at his cottage, depict guests of all ages dressed as eighteenth-century figures, wandering minstrels, and even a bishop.
Chesterton particularly liked dressing up as Samuel Johnson (1709-1784), a writer whose physical size and literary style invite many comparisons with Chesterton. The dialogue in Chesterton's play The Judgment of Dr. Johnson (1927) blends the wit of both authors seamlessly, and Chesterton's defense of Johnson in What's Wrong with the World (1910) sounds a lot like a defense of his own penchant for debate (see page 28): "The demeanour of Johnson, it is said, was 'harsh and despotic.' It was occasionally harsh, but it was never despotic. Johnson was not in the least a despot. John-son was a demagogue, he shouted against a shouting crowd. The very fact that he wrangled with other people is a proof that other people were allowed to wrangle with him. … Johnson was an insolent equal, and therefore was loved by all who knew him."
Artful dawdler
Though he made his career as a writer, Chesterton's only formal training was in art. His sketches appeared in his friend Edmund Clerihew Bentley's book Biography for Beginners and, periodically, in G.K.'s Weekly magazine. A sketch, with the caption "I am now ten years old," marked the magazine's tenth anniversary, in 1935. It depicts Chesterton at about the age he finally began to read—he was such a slow learner that his parents once took him to a brain specialist. His brainpower proved to be more than adequate.
Lost love
Way back in 1894, 11 years before he published his first novel, The Napoleon of Notting Hill, Chesterton apparently wrote a semi-autobiographical romance about a character named Basil Howe. The manuscript never saw print, possibly because Chesterton's wife, whom he met in 1896, didn't like it. Nearly 100 years later, when hundreds of Chesterton's notebooks and papers were being transferred from his estate to the British Library, a Chesterton scholar discovered and reconstructed the novel. Basil Howe was recently published in the United Kingdom.
Silent partner
Frances Chesterton faithfully critiqued her husband's work but did not write much of her own. Her only popular piece is the poem (often sung as a carol) "How Far Is It to Bethlehem?" which begins:
How far is it to Bethlehem? Not very far.
     Shall we find the stable-room lit by a star?
Can we see the little Child? Is he within?
     If we lift the wooden latch, may we go in?
Fan for all seasons
Chesterton could wax rhapsodic about nearly anything. Essays in his first published collection, The Defendant (1901), celebrate skeletons, ugly things, nonsense, patriotism, babies, and a few more favorites. Later in his career, he wrote an entire "Sonnet to a Stilton Cheese." He confessed in the essay "A Piece of Chalk," "Once I planned to write a book of poems entirely about the things in my pockets. But I found it was too long and the age of great epics is past."
Mind leading the minds
In addition to influencing many Christian writers of his era (see page 30), Chesterton inspired at least two political leaders. In a column published in the United States October 2, 1909, Chesterton complained that the nationalist movement in India was neither nationalist nor Indian, but merely a reaction against British imperialism. He thought that Indian sovereignty, which he supported, should be based on Indian culture and tradition instead. Mahatma Gandhi followed this advice. Back in the British Isles, cagey Irish nationalist Michael Collins took a cue from Chesterton's The Man Who Was Thursday (1908) and avoided capture by traveling in plain sight.
From fiction to Truth
In 1954, young Alec Guinness starred as the title character in Father Brown (in America, The Detective), a loose adaptation of Chesterton's short story "The Blue Cross." The role strayed pretty far from the genuine Father Brown but helped lead Guinness toward Christianity.
In his autobiography, Blessings in Disguise, Guinness describes an encounter he had one day during filming:
"I hadn't gone far when I heard scampering footsteps and a piping voice calling, 'mon pere!' My hand was seized by a boy of seven or eight, who clutched it tightly, swung it and kept up a non-stop prattle. He was full of excitement, hops, skips and jumps, but never let go of me. I didn't dare speak in case my excruciating French should scare him. Although I was a total stranger he obviously took me for a priest and so to be trusted. Suddenly with a 'Bonsoir, mon pere,' and a hurried sideways sort of bow, he disappeared through a hole in a hedge. Continuing my walk I reflected that a church which could inspire such confidence in a child, making its priests, even when unknown, so easily approachable could not be as scheming and creepy as so often made out. I began to shake off my long-taught, long-absorbed prejudices."
Guinness joined the Catholic Church soon afterward, along with the rest of his family.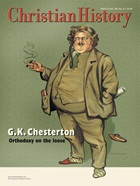 07/01/2002