The Forgotten Final Resting Place of William Borden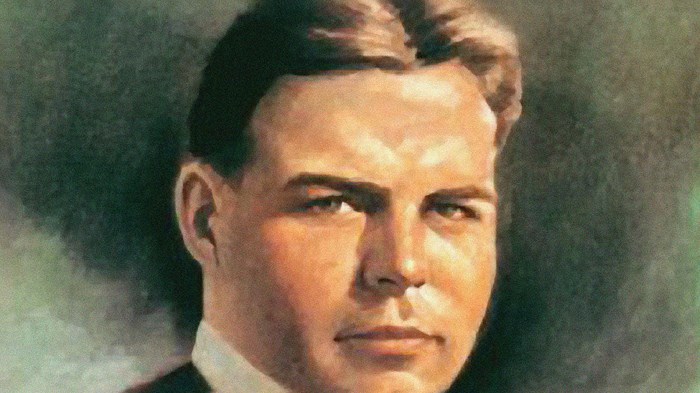 Tucked away in the northwest corner of the American cemetery in Cairo lies the neglected grave of William Borden, one of the most celebrated missionaries of the 20th century Student Volunteer Movement. Heir to a family fortune, the Yale graduate instead devoted his life to Christ, pledged in service to the Muslims of China.
But at age 25 Borden died in Egypt, having contracted spinal meningitis while studying Arabic in preparation. His will distributed nearly everything to mission groups and Christian ministries, leaving him only a cement slab as a gravestone. Engraved at the bottom were words uttered in memorium, "Apart from Christ, there is no explanation for such a life."
That is, if anyone could read them. A recently erected wall in the poorly tended cemetery pressed square up against his plot. This meant that the gravestone now faced the wrong direction, requiring the rare pilgrim to slither in between the wall and the grave to read the inscription. It was an ill testament for one whose death was mourned from Chicago to New York to Cairo to China.
Even stranger is the fact that what Borden is perhaps most known for—the inspirational quote that he is reputed to have written into his personal Bible, "No reserves. No Retreats. No Regrets"—has not been found by historians or biographers.
Is the central anecdote of Borden's life a case of hagiography? That it has not been found does not mean it is not true. But as with many Christian heroes, the reality is more inspiring than any potential fiction. As the church grows in China and the gospel labors in the Muslim world, Borden's testimony is alive in the impact he made on the world.
No Reserves
Borden was born in Chicago on November 1, 1887, the third of four children of a wealthy silver magnate and landowner. His mother underwent a conversion experience in Chicago Avenue Church, the church made famous by evangelist D. L. Moody, and raised her children accordingly. At age six, Borden wrote with less than perfect spelling, "I what to be an oneast man when I grow up, and true and loveing and kind and faithful man." At age seven, he stood for hours in church, decked out in his blue sailor's suit, to dedicate his life to Christ.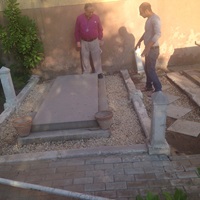 Image: Photo courtesy of Jayson Casper
Borden's spelling improved sufficiently, and he was admitted to the prestigious Hill School in Pennsylvania, where he became chairman of the Missions Study Band. He graduated in 1904 at the age of 16, fourth in his class of 48 students. But before going to college at Yale his parents gave him that most modern of educational experiences—the gap year.
For 11 months Borden was under the tutelage of Walter Erdman, a recent graduate of Princeton Theological Seminary, minister, and missionary. They toured the world, visiting sites and mission stations in Japan, China, India, Egypt, Syria, and Turkey. He wrote copious letters back home describing the wonders of the Orient and the curious but admirable customs of the natives. And from Kyoto he told his parents how his travels were fanning into flame a nascent desire.
"I have never thought very seriously about being a missionary," he penned, "[…but] when I look ahead a few years it seems as though the only thing to do is prepare for the foreign field."
He wrote nervously. In Rome, he received his father's rebuff: Wait until you are 21 before making any life decisions. One friend in correspondence was blunt: Don't throw your life away. But his travels were animating him in ways that his fortune did not, and he wrote a note in the leaf of his Bible, "No Reserves."
No Retreats
Near the bottom of Borden's tombstone was engraved the Great Commission mandate of Mark 16:15, but nearer the top was his personal life verse of Psalm 119:11, "Thy word have I hid in my heart, that I might not sin against thee" (KJV). As he went to Yale, this was what he wrote in his pocket New Testament, words which guided him faithfully the next four years.
Refusing to pledge to a fraternity despite his family heritage, Borden enthusiastically engaged himself in both sport and study. Voted president of Phi Beta Kappa his senior year, he also joined the boxing, yacht, and track and field teams. But his mind never wavered from his developing missions commitment.
During his freshman year in 1905, he went to Nashville to attend the Student Volunteer Movement conference. Samuel Zwemer, the famed missionary to Egypt who would go on to found The Muslim World journal in 1911, spoke of 15 million Chinese Muslims with no single missionary witness. "Of course it will cost life," concluded Zwemer, not knowing how prophetic his words would be. "It is not an expedition of ease nor a picnic excursion."
But it was a message tailored perfectly to Borden. He contacted China Inland Mission (CIM) his sophomore year and was told to wait. He tried again his senior year and was told to inquire also of other agencies. CIM would eventually accept him in 1912, after he had finished seminary and been officially ordained.
Thoughts of going abroad did not distract Borden from pursuing his mission with his classmates at Yale, however. In his freshman year, he gathered 150 classmates into weekly Bible studies. He made it a point to organize co-leaders to reach every student in invitation, taking responsibility himself for the most incorrigible. "He hunts the worst skunk," one friend described.
By his senior year, 1,000 of 1,300 students at Yale were drawn in. But Borden also drew them out. As a sophomore, he established the first rescue mission in New Haven. As a seaport midway between New York and Boston, the city provided irregular work for an increasing population of hobos and riffraff. Saloons, gambling halls, and brothels were a temptation for many a student; Borden engaged them in the Yale Hope Mission instead. In one year, 14,000 men attended gospel meetings, 17,000 received a warm meal, and 8,000 found a place to sleep.
A visiting British theologian was asked what he found most impressive about America. "The sight of that young millionaire kneeling in prayer beside a bum at the Yale Hope Mission," he replied. Not only did Borden support the work with his time, he also purchased the building used to house the chapel, hotel, and kitchen, and he was the main benefactor to its ongoing service.
All the while at Yale, Borden kept up with the news, regularly reading The New York Times and TheWall Street Journal. He took an increasing share in family finances, and at this point the online sources are divided on the wording of Borden's second imprint into his personal Bible.
Borden's father died in 1906 near the end of his freshman year. Some say his father told him curtly he would never work in the family business if he continued his pursuit of missions. Others said at the end of his senior year Borden turned down a number of lucrative job offers. In any event his heart was set toward ministry, not wealth.
"No retreats," he wrote in the margin of his Bible to encourage himself.
And so also has he encouraged generations of evangelical Yale students. Today there is a bronze image of Borden in Dwight Hall, joined to a memorial water fountain. It was here Borden held Christian meetings, where they continue to this day.
No Regrets
After Yale, Borden spent the next three years at Princeton Theological Seminary where he studied under J. Gresham Machen. Borden was troubled by the theological liberalism of the school but managed to graduate with high honors, as he did at Yale. Noteworthy also during these years was his teaching Sunday school in an African Methodist Episcopal church, as well as his beginning efforts to learn Arabic.
After graduation, Borden was ordained at his home church in Chicago, now known as Moody Church, and enrolled finally with China Inland Mission. It would be six months until he left for the field, spending three mobilizing on behalf of the Student Volunteer Movement. Visiting 30 campuses, he echoed the SVM motto, calling for a commitment to "the evangelization of the world in this generation."
Borden was somewhat tempted toward continuing with student work, recognizing the liberal drift of many visited institutions. But during this time, his own vision crystalized, pinpointing the north-central Gansu province in China. Though CIM and the Christian Missionary Alliance were active in the area, none were working with the three million Chinese Muslims that lived there.
"If ten men are carrying a log," Borden exhorted students, "nine of them at the little end and one at the heavy end—and you want to help—which end will you lift on?"
His own desire to help required learning Arabic and knowledge of Islam. On December 17, 1912, he set sail for Cairo, Egypt, and the newspapers tracked him. "Millionaire Gives Up All," printed one Chicago daily. Joining the work of Samuel Zwemer and, in collaboration with Temple Gairdner, Borden indeed did give his all in Cairo, even though it was only intended as a temporary missions home.
Upon arriving in Cairo, Borden exerted his typical energy and enthusiasm on language students and veteran missionaries alike. He chose to live with a Syrian family in the neighborhood of Shubra, friendly toward the Coptic Christians and inquisitive of the Muslim Sufis. Before long, he sought to organize a Scripture distribution campaign to the whole city of 800,000. He even met a Chinese Muslim from Gansu, studying at the esteemed al-Azhar mosque and university.
But being so close to the people also meant proximity to their diseases. Three months into his stay Borden contacted spinal meningitis; 19 days later, on April 9, 1913, he was dead. Unaware of the illness, his mother left America hoping to vacation with her son; a cable announcing his death reached her only hours before she arrived. Borden was buried in a simple coffin, with a concrete slab laid above his tomb.
More than a century later, in 2016, a Yale graduate and canon theologian for the Anglican Diocese of Egypt came to Cairo in search of the grave. While teaching at a local seminary, he set off to find the resting place of his spiritual hero. Surprised at its neglected condition, he petitioned the archbishop to honor Borden sufficiently.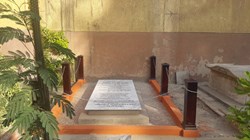 Image: Photo courtesy of Jayson Casper
Small trees were planted, the plot was circled with a light chain, and the concrete was replaced by marble, turned around to face the visitor. The inscriptions were preserved, with one addition. "No reserve, no retreats, no regrets," the notes Borden wrote in the margin of his Bible, headlined the gravestone.
Borden wrote this last phrase in his Bible during his final days suffering on his deathbed. Though his dreams for the advance of the gospel ended unfulfilled, he nursed no grudge against God. Only in heaven would he know how his selfless life birthed a reputation that would win thousands.
No Corroboration?
Upon Borden's death, the newspapers again covered his powerful life story. His will was probated to distribute his wealth to CIM, Moody Church, Nile Mission Press, and other Christian organizations. Memorial services mourned his passing throughout the world, even in the little AME church that only now learned their former intern was a millionaire. The 1913 Student Volunteer Movement conferences all honored his memory; John Mott called them the "most powerful appeal for missionary service ever."
Back in Cairo his colleagues wrote tracts about his testimony, translating them into Arabic, Persian, and Hindustani. The Chinese version was eventually distributed to 35,000, opening doors for new mission stations throughout the country. And in 1914 in the provincial capital of Gansu, Lanzhou, CIM founded the Borden Memorial Hospital. Even the national parliament in Peking issued a letter of appreciation for Borden's life.
It is a life incredibly well documented, in all but one essential point: Borden's famous note, "no reserves, no retreats, no regrets," written in his personal Bible. Borden's archives are stored at Wheaton College and Yale University, and his most prominent biography, William Borden: A Life and Fortune Dedicated to the Cause of the Gospel, or alternately, Borden of Yale, was written by Geraldine Taylor. Extensive correspondence with both institutions revealed neither corroboration of these phrases nor possession of his Bible. Curiously, the three phrases appear only once in Taylor's biography, but in the context of his coming death. There is no reference to them being written by his own hand.
Neither is their confirmation in a recently rediscovered unpublished Borden biography written by Zwemer. The famed "apostle to the Muslim world" presided over his funeral in Cairo, and is said to have given this Bible to Borden's mother.
The biography was "written at the request of her to whom this volume is dedicated"—presumably Borden's mother. But though Zwemer reveals access to Borden's diary and personal, well-marked Bibles, he makes no mention of these phrases.
Ultimately, it is not Borden's words but rather his life that have had the greatest impact. His life of unreserved service to God and the way it was tragically cut short inspired countless missionaries to carry the Gospel across the globe during the twentieth century. William Borden's testimony continues to inspire, and his gravesite is open. "Are you willing to be made willing?" Borden once asked a student reluctantly considering missions. Come to Cairo and have a look.
Jayson Casper is the Middle East Correspondent for Christianity Today, resident in Cairo since 2009. His website, A Sense of Belonging, chronicles his writings as well as Friday Prayers, a weekly encouragement to seek God's blessing for Egypt.
Editor's Note: The cemetary is being renovated and maintained by The Friends of the American Cemetery, in cooperation with the Evangelical Presbyterian Synod of the Nile. For more information please contact Jean Isteero at jeanwist1@yahoo.com.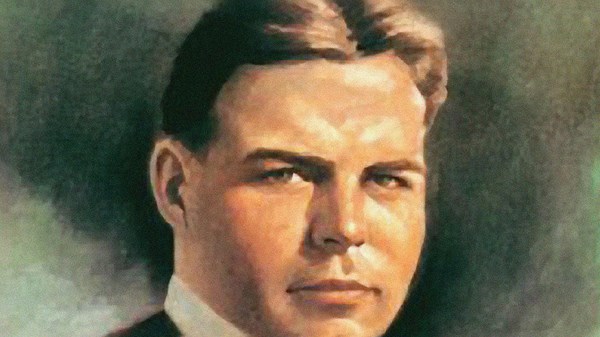 02/24/2017