Top Eight Historically Incorrect Christmas Songs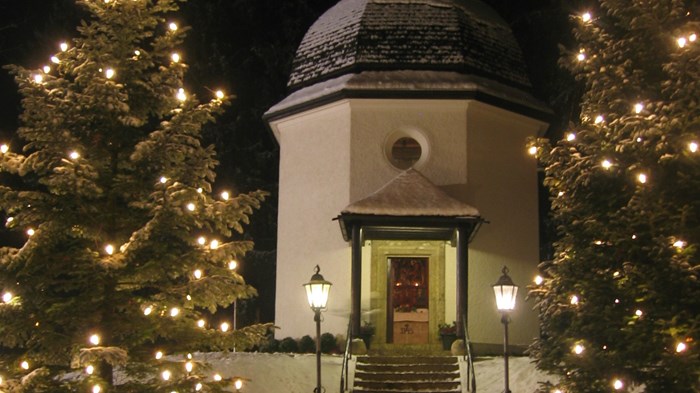 I love Christmas music. Not as much as the blogosphere's Ernie (Not Bert), Andy Cirzan, or some of the Christmas music nuts I've met. But still, 10,000 Christmas songs on my hard drive probably qualifies me as a fanatic.
There are ample songs that grate (if you think the Chipmunks are bad, try the Chippers, Woody the Chipmunk, or any of the Chipmunk ripoff albums that came after "Christmas Don't Be Late" hit it big in 1958). But there are other songs that are just plain wrong—and many of them are among the most popular of the season. Here, for your interrupting pleasure during your family singing, your Christmas Eve neighborhood caroling, or similar opportunities, are the best songs to cluck at.
An easy one just to start the list. Bethlehem is landlocked, so it is historically improbable that our savior Christ and his lady came sailing in on Christmas day in the morning. But that's not all that's problematic about the song. Where's Joseph? If it's just Jesus and Mary, why do they need three ships? Surely Mary didn't just arrive in Bethlehem the morning of the birth.
The history of the song is unclear, but several of the more reputable books on Christmas carol history suggest that its origins may have had something to do with a story of three ships carrying relics of the Magi to Cologne, Germany, in 1162.
The song as it is sung today first appeared in William B. Sandys's wonderful 1833 volume, Christmastide: Its History, Festivities And Carols. No surprise there: Christmastide also marked the first publication of God Rest You Merry, Gentlemen, The First Nowell, and other great carols. Sandys was interested in "the curious fancy" of three ships bearing the Madonna and Child, and noted that the carol is only one of several to take a maritime theme. He quotes an "ancient Dutch Carol" that began:
There comes a vessel laden,
And on its highest gunwale,
Mary holds the rudder,
The angel steers it on.
In one unbroken course
There comes that ship to land,
It brings to us rich gifts,
Forgiveness is sent to us.
Sandys quotes from Joseph Ritson's earlier collection of songs, which offered a similar Scottish song:
There comes a ship far sailing then,
Saint Michael was the stieres-man;
Saint John sate in the horn:
Our Lord harped, our Lady sang,
And all the bells of heaven they rang,
On Christ's sonday at morn,
An interesting history. But still: No ships in Bethlehem. Which led John Camden Hotten to note in his 1905 Christmas Carols, Ancient and Modern that the carol "has always been a great favorite with the illiterate, and from its quaintness will be found not displeasing to the more refined."
As long as we're in Sandys's volume, we might as well turn to his section on The First Nowell. Today we sing that the Noel was sung "to certain poor shepherds." Sandys's version had "three poor shepherds." In a note, Sandys explains:
According to some legends, the number [of shepherds] was four, called Misael, Achael, Cyriacus, and Stephanus, and these, with the names of the three Kings, were used as a charm to cure the biting of serpents, and other venomous reptiles and beasts. In the seventh of the Chester Mysteries, the Shepherds, who there are but three, have the more homely names of Harvey, Tudd, and Trowle, and are Cheshire or Lancashire boors by birth and habits. Trowle's gift to our Saviour is "a pair of his wife's old hose."
Fortunately, we don't have any popular carols about Trowle's hose. Joshua Sylvestre, in his Christmas Carols Ancient and Modern (published a few decades after Sandy's volume), complains about "two additional, but very foolish verses" in the song that seem unbiblical:
Between an ox stall and an ass,
This Child truly there born he was;
For want of clothing they did him lay
All in a manger, among the hay.

If we in our time shall do well
We shall be free from death and Hell
For God hath prepared for us all
A resting place in general.
But the verses we still sing are plenty ahistorical as well. Most of us know already that Christmas almost certainly did not come "on a cold winter's night" as the shepherds would not have been out in the fields in December. Also, it seems from Matthew's Gospel account that no one had paid much attention to the Star of Bethlehem other than the Magi. There's certainly no biblical account that the shepherds "looked up and saw a star shining in the East, beyond them far."
Vera Hall's song, recorded by ethnomusicologist Alan Lomax and made popular by the Kingston Trio on its 1960 album of the same name, is wonderful. (My favorite version is on the Blind Boys of Alabama's 2003 album, Go Tell It On the Mountain.)
Unfortunately, the lyrics serve only one purpose: To inform people that Jesus was born in December.
You can't blame John Henry Hopkins Jr. for making everyone think that there were only three Magi and that they were royalty. By the time the church music instructor at New York's General Theological Seminary published the song in 1863, those legends were well established. (See the reference to the relics, above.)
William Sandys, writing a decade before Hopkins penned his song, wrote, "There are numerous histories of the magi or kings themselves, all agreeing as to their number having been three, but some of them differing entirely in name," he wrote. Like Hopkins, Sandys considered the names Melchior, Jasper, and Balthasar" to be genuine. But he couldn't resist offering a historical alternative that was less "euphonious": Galagalath, Magalath, and Tharath.
Less euphonious, maybe, but the names rhyme! That's just begging for a Christmas carol.
Let's get rid of the fake Reformation history first: This was not written by Martin Luther. As the incredible website The Hymns and Carols of Christmas notes, "Verses 1 and 2 appeared anonymously in Little Children's Book for Schools and Families, by J. C. File, Philadelphia, 1885, and verse 3 is by John Thomas McFarland (1851-1913)."
As for the theological history, several scholars have noted a bit of heresy in the line, "no crying he makes." The argument is that such a line denies Jesus' humanity. More recently, N.T. Wright has criticized the hymn for emphasizing heaven rather than the New Earth. ("Fit us for heaven to live with thee there.")
If Wright was miffed about "Away in a Manger," he has been on a warpath on this one. Here's an excerpt from his 2006 Christmas Eve sermon:
"It Came Upon the Midnight Clear" catches the meaning of Luke 2 better than most of the much-loved but essentially escapist carols. All except, that is, for the last verse. Look at it and feel free to correct it in your copy! 'For lo, the days are hastening on, by prophet-bards foretold…' and then, leaving behind the Christian hope and opting for an ancient pagan superstition, it says 'when, with the ever-circling years, comes round the age of gold'. Well, if you think the ages go round in circles and every so often you get a Golden Age when everything is peaceful and happy, think again; if that were the case, why should we work for it? Why not just shrug your shoulders and wait? That's que será será theology—whatever will be, will be. That wasn't good enough for William Wilberforce; it wasn't good enough for God, and Christmas proves it. Something needs to be done.
You know that story about the Christmas Eve service where the organ didn't work and Franz Gruber had to pen the tune on the spot for guitar?
Yeah. Lies. All lies.
Here's the chorus:
There won't be snow in Africa this Christmastime
The greatest gift they'll get this year is life
Where nothing ever grows
No rain nor rivers flow
Do they know it's Christmastime at all?
There is in fact quite a bit of snow in Africa, where many things grow because of heavy rainfall and rivers. But more appropriate to church history, it was in fact Africans who first celebrated Christmas.
Clement of Alexandria, Egypt, wrote, "From the birth of Christ, therefore, to the death of Commodus are, in all, a hundred and ninety-four years, one month, thirteen days. And there are those who have determined not only the year of our Lord's birth, but also the day; and they say that it took place in the twenty-eighth year of Augustus, and in the twenty-fifth day of Pachon."
That was 1800 years ago. These days, '80s British rockstars may sleep easily know that Africans do in fact know that it is Christmastime.
* * *