God Bless, More or Less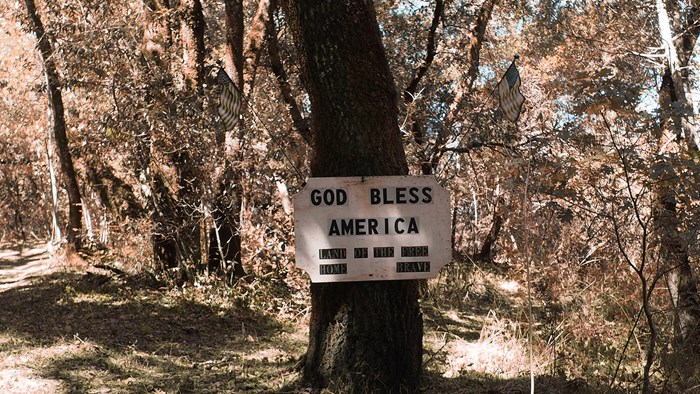 Almost immediately after Irving Berlin finished "God Bless America," on November 2, 1938, the song threatened to replace "The Star-Spangled Banner" as the country's top patriotic song. In recent weeks, "God Bless America" has once again become our unofficial national anthem, sung on the Capitol steps, on the floor of the stock exchange, even during the seventh-inning stretch.
At first glance, it seems strange that a song beginning with the contentious word "God" can get broad and heartfelt endorsement in our pluralistic society. Yet "God Bless America" is the ideal song of this cultural moment for at least four reasons:
1. "God Bless America" isn't really about God.
The God in this song blesses and guides, and he has a special place in his heart for America. He makes no specific demands and picks no favorites. That pretty well describes the deity of the American majority. While 95 percent of Americans believe in God, according to a 1997 Barna survey, 53 percent believe that all good people go to heaven, and fewer than half believe in moral absolutes.
Considering that Irving Berlin was a Jew who married a Roman Catholic and raised three daughters as Protestants, this lack of theological specificity is understandable. Besides, Berlin originally wrote the song for his World War I-era musical "Yip, Yip, Yaphank," which was hardly the setting for doctrinal explication. (Berlin eventually decided that "God Bless America" was too serious for the musical, so he held it for 20 years.)
2. "God Bless America" isn't about war.
President Bush recently said, "This nation is peaceful, but fierce when stirred to anger." Both qualities have been evident in our rhetoric and our foreign policy over the years, but most of our patriotic songs emphasize only the latter. "The Star-Spangled Banner," a product of the War of 1812, has rockets glaring and bombs bursting. "The Battle Hymn of the Republic," written during the Civil War, offers up grapes of wrath, a terrible swift sword, and that pointed abolitionist reference, "let us die to make men free." "God Bless the U.S.A." and "The Marines Song" cover similar ground.
Now that actual bombs are bursting, however, Americans don't want to think about them. They didn't want to think about war in 1938, either, when the United States was trying hard not to get pulled into World War II. Berlin (the songwriter, not the regime) understood this. Even while the United States was engaged in the conflict, his songs—of which "This Is the Army, Mr. Jones" is the most famous—reflected the ambivalence about warfare that would intensify in Korea, Vietnam, and beyond.
3. "God Bless America" isn't triumphalistic.
Though over 90 percent of Americans think their country is the best on earth, it's uncouth for them to come right out and say that. Fortunately, "God Bless America" speaks only of the nation's topography and its identity as "home sweet home," not of manifest destiny, political prowess, or the "beacon on a hill" mentality of the Puritans and their heirs. By contrast "America," the only other major patriotic song that doesn't dwell on war, starts with "the pilgrims' pride," extols the benefits of American education, gives a nod to the smiling "stars of progress," and claims the "birthright of our sires."
Even if "God Bless America" boasted as many verses (8) as "America," Berlin probably would not have mentioned pilgrims or birthrights. Berlin, after all, was a poor immigrant from Russia. After his father's early death, he literally sang for his supper on the streets of New York's Lower East Side. The United States was his beloved adopted home, as it is for millions today.
4. "God Bless America" isn't about money.
In other years, the song of the American moment would be a product of Hollywood or Madison Avenue, because commercialized entertainment is one of our hottest exports. Even now, it's noteworthy that Berlin was a popular balladeer instead of, say, an Episcopal Sunday-school administrator (Francis Scott Key, "Star-Spangled Banner") or a Unitarian social reformer (Julia Ward Howe, "Battle Hymn of the Republic").
That said, at a time when Americans are amazing each other—and the world—with their charitable donations, selfless service, and can-do spirit, "God Bless America" is especially appropriate. Berlin donated the royalties of the song, worth millions, to the Boy and Girl Scouts. He donated $10 million raised by the musical "This Is the Army, Mr. Jones" to the Army Emergency Relief. For these and other contributions he received the Army's Medal of Merit from President Truman in 1945, a Congressional Gold Medal from President Eisenhower in 1955, and the Freedom Medal from President Ford in 1977.
Berlin died in 1989 at age 101. He surely would have been gratified to see the role "God Bless America" is playing in 2001. Christians seeking deep solace in this time of fear, however, would find greater blessings in songs with more God and less America. Civic "religion" only goes so far.
* Click here for the lyrics of "God Bless America" and other songs mentioned above.
* Read an interview, covering Berlin's later years, and also his obituary.
* The Library of Congress exhibit on "God Bless America."
Elesha Coffman is managing editor of Christian History, and can be reached at cheditor@christiantytoday.com.
The online issue archive for Christian History goes as far back as Issue 51 (Heresy in the Early Church). Prior issues are available for purchase in the Christian History Store.