Mumford and Sons
British folk rock band Mumford & Sons developed an enthusiastic following for their high-energy bluegrass-style harmonies and lyrics full of Christian symbolism. The band's lead singer and namesake Marcus Mumford grew up a preacher's kid. Their debut record "Sigh No More" gained popularity in the U.S. in 2010, and their subsequent record "Babel" won a Grammy for album of the year in 2013.
Featured Articles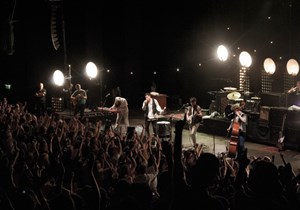 On the Road Home with Mumford & Sons
After winning Album of the Year, the band returns to Barclays Center.
Mumford & the Son

Exploring the Christ-haunted lyrics of Marcus Mumford and his popular band.

loading more